The 'OITNB' Cast Looks Perfect At The SAGs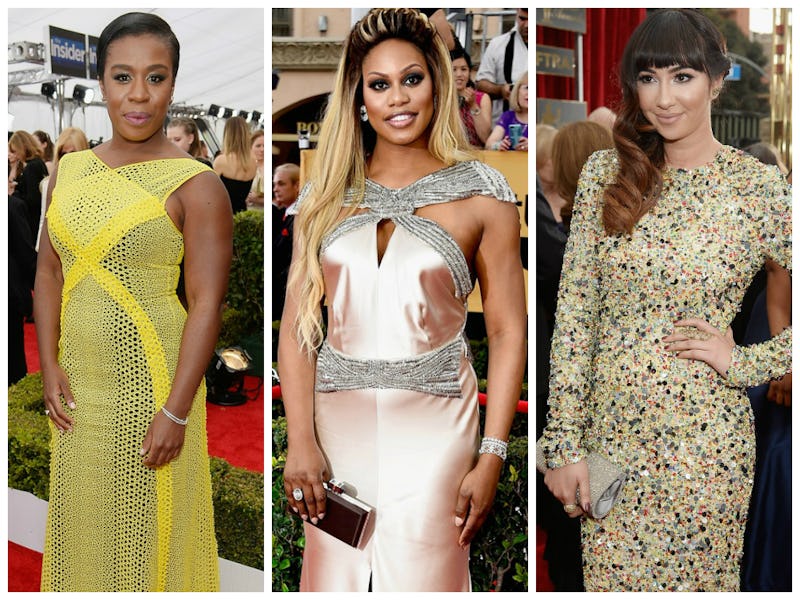 Two seasons in, Orange is the New Black remains Netflix glory at its best. The groundbreaking comedy drama has been an invaluable asset to TV — and arguably to the whole of 21st century life — since debuting in 2013. So that the show is nominated for the Outstanding Performance by an Ensemble in a Comedy Series at tonight's Screen Actors Guild Awards isn't shocking. But it's still incredibly important. Through the lives of Piper Chapman, Suzanne "Crazy Eyes" Warren, Alex Vause, Galina "Red" Reznikov, Sophia Burset and more, we've been gifted a plot line that delves into womanhood so profoundly that it catches you off guard. We've reflected on gender roles, LGBT rights, conditions for prisoners in America (even though OITNB gets things both right and wrong when it comes to representation of life as an inmate), our sexuality and our femininity. And on top of all that, we've fallen in love with seeing the actors off-screen — a fact that remains true when it comes to watching the cast of Orange is the New Black on this evening's Red Carpet.
If last year's Emmy's were anything to go by, I went into this evening fully expecting every single OITNB member to kill it. (Samira Wiley's yellow mermaid gown still holds a place in my heart 12 months later.) And they didn't disappoint. The most beautiful actors to watch always tend to be those whose talents transpose the screen: Who are in tune with the way the messages within their designated shows or films can be applied IRL. Who aren't afraid of going full-princess on a Red Carpet, but swapping the Jimmy Choo's for Converse the next day. And on tonight's RC, there is an eclectic vibe to the cast of characters that reifies just how versatile and complicated and endearing they really are.
LAVERNE COX
Wearing a Johanna Johnson gown and Forever Mark jewels, Laverne dazzles as always. Further proof that, you know, she's a princess. Now, how to get my hands on those silver and bedazzled shoulder pads?
TARYN MANNING
Taryn looked nothing like Pennsatucky in this Elisabetta Franchi number. The rose peach is super on-trend and perfectly complements her dark hair and smokey eye.
JACKIE CRUZ
Long-sleeved, all-over-sequin win. Jackie looks 80s glam gone couture, if you ask me.
UZO ADUBA
Leave it to Crazy Eyes to pull off a floor-length, yellow mesh gown. She is unique and divine.
DASCHA POLANCO
What an angel. Dascha's gown hugs each and every one of her curves exquisitely.
DANIELLE BROOKS
How beautiful does Danielle look in her floor-length navy gown? If Laverne is a princess, then Danielle is her mysterious and fantastical queen bestie.
LAURA PREPON
Laura attended last night's SAG parties looking like the epitome of flapper goth. This is probably one of my favorite celeb looks of 2015 thus far!
Images: Getty; Twitter