Claudia Jordan Flirted with Kordell on 'RHOA'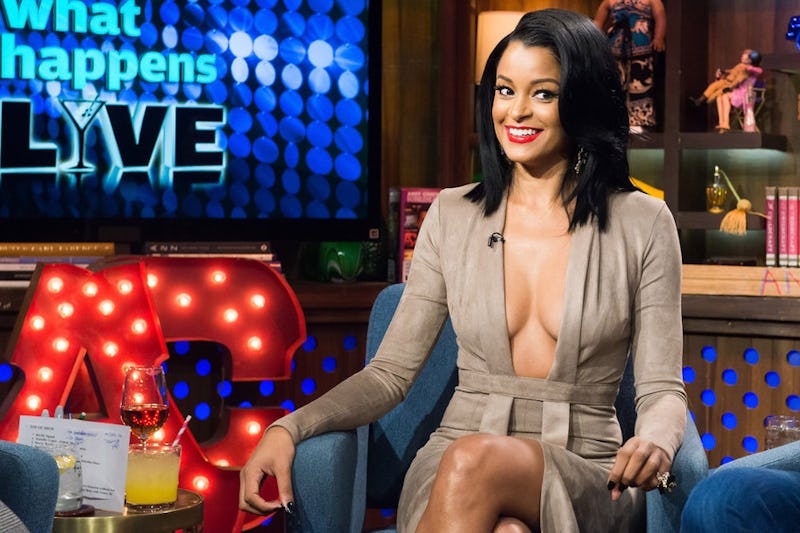 Claudia Jordan has been courting a lot of drama lately on The Real Housewives of Atlanta. She's had fights on screen, defended herself offscreen, and all in all has made for a very dramatic member of the cast, even flirting with RHOA exes. Claudia isn't dating Kordell Stewart, but she did spend some one-on-one time with him during Peter's Sports 1 opening event, culminating in a phone number exchange and a selfie. Kordell must be an investor in Sports 1, because he's credited as Peter's "business partner." And like Claudia, I'd never heard of that before this episode. And while the flirting seemed all in good fun and not that sexual, Kordell made sure everyone in the entire venue knew that he was single. But despite his thirst, Claudia kept things pretty cool, warning him against booty calling her (though they haven't been spotted out in public together, so looks like if they are hooking up, it's pretty on the DL).
Kenya, having a lot of fun not being on the single lady hot seat, coyly set up Claudia with Porsha's ex-husband, Kordell Stewart. The two had met before, but obviously Kordell was very impressed by the idea that this incredibly beautiful new women also happens to know his ex-wife, making for the ultimate revenge rebound. Plus he's known Claudia since the 90s, when he used to be a successful football player, so he must have been excited to relive those glory days rather than reflecting on his RHOA appearances, where he came across as a domineering, controlling bully who didn't respect his wife's autonomy at all.
By the way, Kenya, who was gleefully encouraging Claudia and Kordell to hook up right in front of the cameras, was absolutely insane this week on the road trip. Since Claudia has taken over as the "dramatic" one, Kenya is now the "mentally unstable" one, which she's adapted to very quickly. She was punch drunk from the minute she got into the Escalade, insisting that they play her single, sticking her butt out of the car window... just cuz. Thankfully, her shenanigans didn't make them too late. They rolled in only three to four hours after the event started, which is downright early for these ladies.
And Claudia may love drama, but she isn't stupid. She acknowledged that dating Kordell would probably be a bad idea since she works with Porsha. But judging from next week's preview, looks like these two are going to be fighting anyway... is it too much to ask that they add a little dating drama too?
Image: Charles Sykes/Bravo; Giphy