Does This Make Up For 'Selma's SAG Award Snub?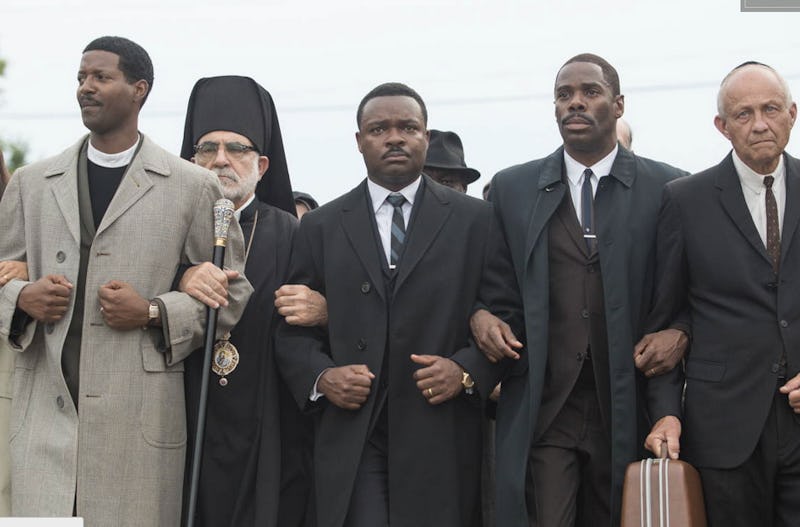 During the SAG Awards, you can expect to see certain things. People getting nominated for awards, for example, as well as sobbing acceptance speeches that tug at the heart strings and celebrities rocking some truly beautiful dresses. However, during the 2015 SAG Awards, we were ambushed by a montage of film and television clips surrounding social justice issues. This montage was introduced with a truly beautiful speech by SAG-AFTRA President Ken Howard, who said:
"Since the dawn of motion pictures, filmmakers have used this art form not only as entertainment but as a mirror to reflect vital issues facing society. In movies and on television, groundbreaking performances from Chaplin to Potier, from Hepburn to Streep, have informed and inspired. They have awakened audiences to, and spoken out about, basic human concerns. Tonight, as we celebrate the outstanding acting from the past year, we also reflect on some landmark portrayals which depict important subjects that affect us all."
Which is all well and good, of course, except for the fact that among the numerous films and television shows that had clips featured in the montage — ranging from The Simpsons to The Golden Girls — was, well, a clip from Selma. And, as we are all very well aware, Selma was not nominated for a single award at the SAGs this year. Thus, the only time you can expect to see even a hint of Selma at the SAGs is apparently in this montage celebrating "landmark portrayals which depict important subjects that affect us all." An Award for that landmark portrayal would have been going too far, I guess.
Of course, I could be viewing things a little too harshly. After all, Twitter seems to be split as to whether the montage was thoughtful, bewildering, or offensive to include Selma in without nominating Selma for an award. Where you fall on the scale probably depends on how upset you still are about #OscarsSoWhite, but I can't deny that it would have been nice to see Selma go home with more recognition than just being a brief clip in a social justice and diversity montage. Thus, while the montage might have been a response to the lack of diversity at the Oscars this year, it really just pointed out the continuing problem Hollywood has with diversifying.
Image: Paramount Pictures