Here's Your 'Americans' Season 2 Debrief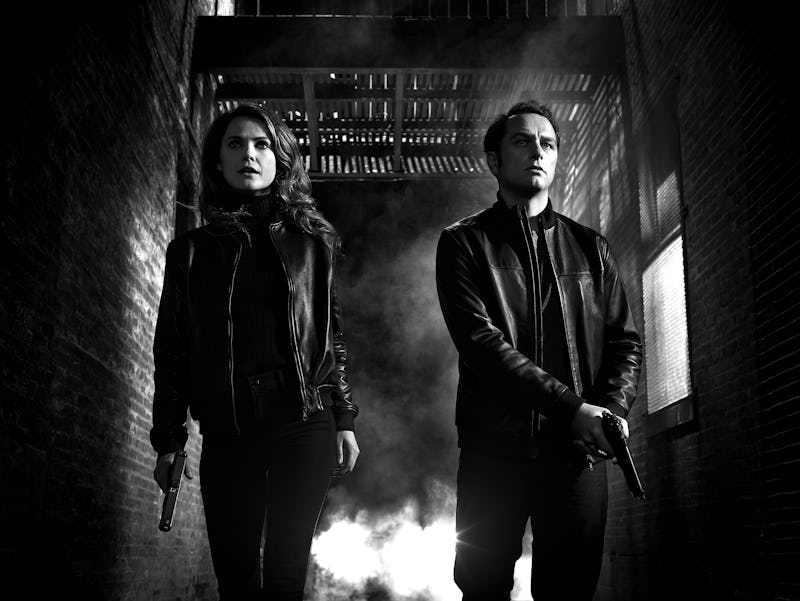 Alongside such award-winning fare as Fargo and American Horror Story, the Cold War spy thriller The Americans has helped establish FX as one of the premium channels for high-quality dramas. Now entering its third season, the series has the challenge of upping the ante once again, coming off what happened in The Americans Season 2 — a crackerjack season that exceeded the show's stellar first outing. Can they do it again? Can stars Matthew Rhys and Keri Russell continue to deliver the goods? They say the third time is the charm — and if that's true, then Season 3 of The Americans is looking to be one of the most nail-biting seasons in television history.
But just in case all the spy-on-spy action, double-crossing, and back-stabbing has your memory a bit muddled eight months later, I've put together a handy dandy refresher course for you. Don't feel embarrassed if you can't remember the difference between an Echo and an Oleg — even spies need to be debriefed, and this is your chance to get caught up so you don't get caught with your pants down. Your mission, should you choose to accept it: refresh your memory with this quick Season 2 recap, then tune in to the Season 3 premiere on Wednesday night at 10 p.m.
Philip & Elizabeth Jennings
Look at how adorable they are in their wigs and fake glasses and stick-on mustaches. Have you ever seen a cuter couple of Soviet spies? Me neither. Fortunately, Elizabeth quickly recovered from the gunshot wound she suffered in the Season 1 finale, and the Jennings were quickly back to their sabotaging shenanigans. Most of their Season 2 missions revolved around stealth technology, whether they be acquiring plans for new submarine propellors, recovering a Soviet scientist-turned-defector, or stealing a computer system called Echo. Not everything went well for them either; for example, though they were successful in getting their hands on the propellor plans, the plans themselves turned out to be faulty, resulting in the tragic sinking of a Soviet submarine.
Andrew Larrick
When they weren't on stealthy stealth missions, the Jennings' overarching plot for the season concerned their quest for vengeance for the murder of two fellow Soviet spies, Emmett and Leanne Connors, who were shot dead in a hotel room along with their daughter, leaving behind a grieving son. Claudia turned them on to the prime suspect: Andrew Larrick, a Navy SEAL-turned-Soviet spy who was being blackmailed by the Connors due to his homosexuality. Much of Season 2 was devoted to a cat-and-mouse game between the Jennings and Larrick, which culminated in a climactic confrontation in the season finale where it was revealed he didn't kill the Connors at all. Their murderer was, in fact...
Jared Connors
...their own son, Jared. It turned out that the KGB had ordered handler Claudia to turn Jared into an agent under the auspices of the Second Generation Illegals program, which recruited the American-born children of Soviet operatives into Russia's espionage ring. When she refused to turn their son behind the Connors' backs, she was unceremoniously replaced by younger, prettier Kate, who wooed the young man and seduced him to their cause. Apparently she did too good of a job. When Jared's parents found out he had been inducted into the KGB, they were furious and tried to talk him out of it — he killed them and his own sister instead of betraying his real homeland. Jared reveals all of this as he succumbs to one of Larrick's bullets, after he helped the Jennings take down the rogue agent.
Stan Beeman
The FBI agent and the Jennings' next door neighbor continued to be torn between love for his country and love for his beautiful FBI informant, Nina. Unfortunately, Stan also continued to be unaware that his lover had turned against him and re-swore her allegiance to Russia, becoming a double-double agent against the FBI. Nina's position is put in jeopardy when Stan asks her to take a polygraph to prove her allegiance to America... a test she passes after much preparation. But it's the FBI agent himself who's put in an impossible position when KGB Resident Arkady Ivanovich informs Stan that he knows of his affair with Nina and threatens to deport her to Russia to be tried for treason unless Stan steals the Echo computer program for them.
Nina Sergeevna
Throughout Season 2 Nina continued to spy on Stan (while pretending to spy for Stan) in order to prove her commitment to Russia. Her field office receives a new agent, Oleg Igorevich Burov, in charge of science and technology, from a very wealthy Russian family; eventually, Nina and Oleg fall in love. He coaches her through her nerve-wracking polygraph, and vows to protect her if Stan should refuse to betray his country for her. Sure enough, instead of sending the KGB the Echo floppy disk, Stan's package only contains a note reading, "Tell Nina I'm sorry." Nina is shipped off to Moscow to be put on trial, but she and Oleg share a look as she's being escorted out of the office.
Paige Jennings
Of course, in true dramatic fashion, the purpose of the Jared Connors twist was to mask the real twist of the Season 2 finale: that Philip and Elizabeth's daughter Paige was the next target for the KGB's Second Generation Illegals program.
Fortunately, Moscow had learned from their mistakes with the Connors family: they've reinstated Claudia as handler and they're not going behind the parents' back. Instead, Claudia informs Philip and Elizabeth that it will be their responsibility to recruit their own daughter. Paige, who spent the season falling in with a surprisingly religious crowd, seems in a prime stage of her life to pour her faith and devotion into a cause. Elizabeth is all for giving her daughter's life purpose. Philip is utterly opposed to the idea of turning his teenage daughter into a spy.
So the main questions going into Season 3 are: Will Paige finally find out the truth about her parents? Will Philip and Elizabeth recruit her to the KGB? Or will they betray their country to protect their daughter?
Images: James Minchin, Craig Blankenhorn (3), Patrick Harbron (3)/FX