6 Ways Reading Nora Ephron Will Change You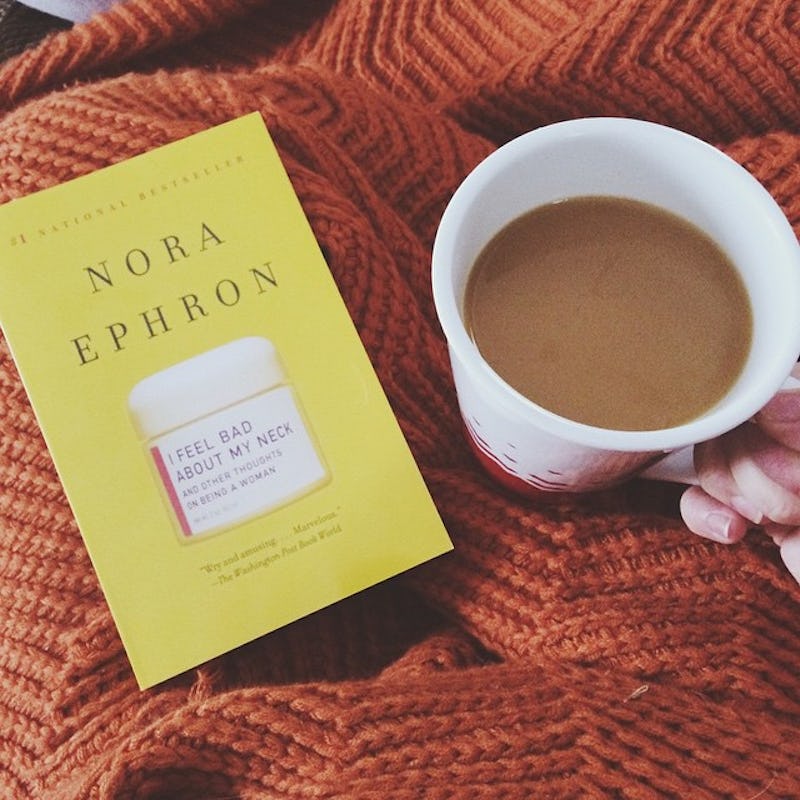 There's a lot to learn from Nora Ephron — the woman who wrote Heartburn, When Harry Met Sally, Silkwood, Sleepless in Seattle, and I Feel Bad About My Neck, to name just a few things. She was an award-winning journalist, essayist, screenwriter, and filmmaker. She went through marriage, divorce, and marriage again. She wrote hilariously and candidly about food, friendship, sex, love, and the problem with fancy purses. She was, as some have said, a national treasure.
Ephron left us way too soon, in 2012 at the age of 71. She has influenced humorists like Amy Poehler and Lena Dunham — Poehler waxes poetic about the power of Heartburn in the introduction to Yes Please, writing, "I kept a copy of Nora Ephron's Heartburn next to me as a reminder of how to be funny and truthful." Dunham dedicated Not That Kind of Girl to her.
If you've seen When Harry Met Sally and Julie & Julia but you haven't read any of Ephron's books, clear your schedule because once you start you probably won't stop. Check out Heartburn, I Remember Nothing, I Feel Bad About My Neck, and Crazy Salad for a start. And get ready, because losing yourself in The World According to Nora Ephron might just change you. Here's how.
You'll feel (a little) less crazy after breakups
Ephron writes honestly and tenderly about dating (and marrying) the wrong men. We've all been there, and she lived enough to learn a thing or two about relationships and love. "Sometimes I believe that love is essential, and sometimes I believe that only reason love is essential is that otherwise you spend all your time looking for it," she writes in Heartburn. Ephron makes your own post-breakup mania seem OK. She reminds you that you're not the only one who has acted like a lunatic when love goes wrong.
You'll start cooking (SpaghettiOs don't count)
Ephron's love of cooking comes through in all of her books. Heartburn even includes recipes, and her film Julie & Julia is obviously a tribute to her love of food and flavor and Julia Child. Crawling into bed with some mashed potatoes when you're lovesick is a wise move in her universe.
You'll appreciate the idea of aging gracefully
In her book of essays about aging (sometimes gracefully, sometimes not) I Feel Bad About My Neck, Ephron covers parenting, JFK, serial monogamy, her passion for books, the wrinkles in her neck, and New York City real estate. She makes the reality of getting older hilarious instead of tragic. OK, maybe it's a little tragic.
You'll feel empowered
She's been called a funny feminist, which doesn't seem like a stellar label these days since we know that being funny and being a feminist isn't some rare, shocking feat. Ephron was and is a voice for strong, independent, relatable women. In a commencement speech at Wellesley College she said, "Whatever you choose, however many roads you travel, I hope that you choose not to be a lady. I hope you will find some way to break the rules and make a little trouble out there. And I also hope that you will choose to make some of that trouble on behalf of women."
You'll stop stressing about dessert
One of the life lessons Ephron learned is that you can and should order two desserts. Live a little. Taste it all. "If there is a Nora Ephron signature anything it is that there's slightly too much food. I have a friend whose mantra is: You must choose. And I believe the exact opposite: I think you should always have at least four desserts that are kind of fighting with each other." So stop freaking out over the crème brûlée. Get that and the Key lime pie and love every bite.
You'll cherish every second
Ephron's life and career was cut way too short, and reading her later work is a little bit haunting. It does remind you to be thankful for every moment — and to rock a bikini while you can. "Oh, how I regret not having worn a bikini for the entire year I was 26. If anyone young is reading this, go, right this minute, put on a bikini, and don't take it off until you're 34."
Actually, rock that bikini after 34 if you want to. Rock it until the very end.
Images: shantaylor_/Instagram; Getty Images; Columbia Pictures