Need Something To Fantasize About Right Now?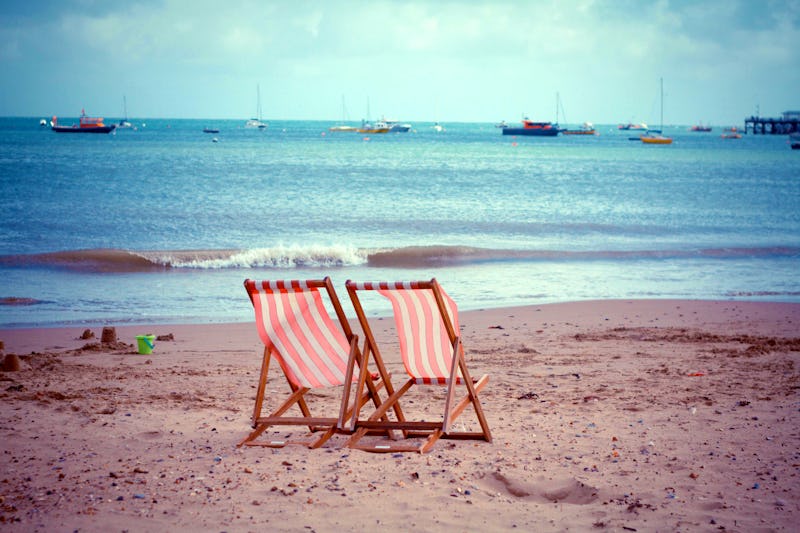 With freezing temperatures and this so-called Blizzard of 2015 taking over the Northeast, there are about a billion other places many of us would rather be right now, especially those of us who find ourselves knee-deep in snow. The best remedy to keep S.A.D from totally swooping in? Envision yourself someplace else... someplace else that has never seen snow, ever. These beautiful beaches and warm travel locations might make you pine, and I'm sorry for that, but if there was ever a time to look at people sunbathing — or to plan your next getaway — it's now. We might not be able to physically enjoy these sun-filled vacations at the moment (you know, with cancelled flights to EVERYWHERE), but that doesn't mean we can't dream.
Don't get me wrong, the snow is beautiful. Really, it is. I could spend all day taking pictures of it and tacking on Instagram filters — but what I can't do is spend all day actually in the snow. And while a snow day is fun, being cooped up inside for too many days straight can make anyone a little stir-crazy. What I wouldn't give to be stretched out on a warm, breezy beach smack dab in the middle of winter… especially any one of these seven. I love you America, but the Southern Hemisphere takes the cake when it comes to January weather. For real guys, just look at these seascapes…
1. Cayman Islands
The Cayman Islands may hit their cool stride during January and February, but when those cool strides equate to being in the lower 70s, I'll take it. With the shallow sandbars of Stingray City, a marine theme park, and two underwater shipwrecks, exploring the clear, blue seas of the Caribbean sounds a lot more fun than shoveling through the snow this week.
2. Negril, Jamaica
The resort town of Negril offers up a seven mile beach with breathtaking sunsets and adrenaline-pumping jump points for daredevils. Averaging 76 degrees in January, it's hard to think of many other places I'd rather be this time of year.
3. Cartagena, Colombia
While January may be the chilliest month for most of America, it's actually the warmest in Cartagena, Columbia. Having highs that reach an average of 85 degrees during the day, it's the perfect time to hit the city's beaches, or explore old town Cartagena by foot and take in the city's bright and beautiful architecture.
4. Rincón, Puerto Rico
With temperatures staying above 80 degrees during January, Rincón is a surfer's paradise — and just about anyone else's during this harsh winter. With the feel of a mellow, low-key community, this beach town spells out relaxation in a way that not many places can.
5. Cancun, Mexico
Hitting up Cancun, Mexico isn't just for wild spring breaks when you're in college, it's for visiting in the middle of January when the rest of the Northern Hemisphere is freaking cold. With Cancun's average highs of 82 degrees and "lows" of 69 degrees, spending the day poolside with a drink in hand sounds infinitely better than wrapping up in scarves, boots, and mittens.
6. Goa, India
Goa is where I want to go-a. But seriously, with average 89 degree highs and 67 degree lows, this coastal paradise makes for a perfect getaway during these winter months. Filled with amazing local restaurants, religious artifacts, and stunning Indo-Portuguese architecture, Goa is definitely worth the 15-plus hour plane ride.
7. Phuket, Thailand
Phuket offers incredible weather during the month of January, and the average 89 degree highs make for the best possible beach weather, which this beautiful destination has plenty of. Oh to be lying on these lovely beaches, taking in the sunshine and warm weather right about now...
Images: poppet with a camera, Michael Hicks, patrix99, Chris Ford, BORIS G, Galaga Gal, Chris Martino, Amit Rawat, Luke Ma, Pedro Szekely, Robert Pittman/Flickr