Kelsey's in For a Dramatic 'Bachelor' Episode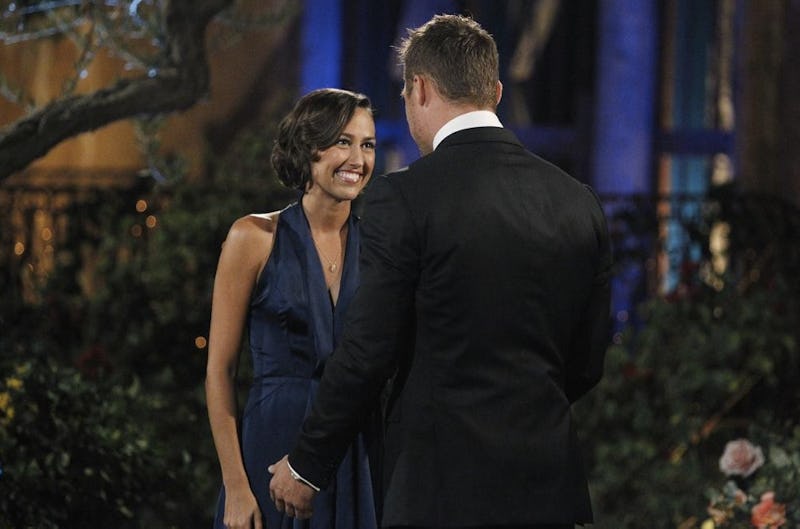 If you're as done with Kelsey on The Bachelor as I am, next week's episode could be really bad for you... or really good. In the latest ominous promo from ABC, we see Kelsey in a variety of questionable positions. First, she may or may not be interrupting Chris on a date with someone else, and then she starts getting ultra-competitive, which obviously doesn't do her any favors in the way of making friends with the other women in the mansion... and then, she's on the floor, crying as a paramedic stands over her. We're a week away from this episode, and I already have a headache. Of course, I'm a little curious about what is happening to Kelsey next week, but after the way she behaved on the camping group date, I don't know how much more of her I can take.
The bad news: ABC was just as foggy on the details as usual (probably in an effort to make what goes down seem way more epic than it actually is). Unfortunately, that leaves the rest of us to figure out what happened to make Kelsey collapse on the floor in pain — and make every single one of her temporary roommates immediately dislike her and call her "conniving."
Kelsey Fakes An Injury
I will feel terrible if Kelsey is actually hurt or sick next week, but she wouldn't be the first contestant to egg on a medical issue for attention, or as a ploy to get Chris to forgive her for something she did wrong. It would totally make sense for the other contestants to roll their eyes at her for something like that.
She Confronts Chris With An Ultimatum
Being that she definitely has a take-charge attitude — and the fact that she is way overconfident that Chris is ultimately going to choose her as his wife — would it really be that far off to say that she truly believes this whole thing is just one long date between her and Chris only so she starts to get a little fed up that he has eyes for anyone but her?
She Starts Stealing Other Contestants' Time With Chris
She's open about this in the promo, saying that she will get her time with him regardless of whether or not she has to "steal" it. Maybe she takes this a little too far, and that is why she's embarrassed to face him at the rose ceremony. Either way, I'm crossing my fingers she gets eliminated in Week 5. She's clearly unhappy being on The Bachelor, so it'd be for the best.
Image: Rick Rowell/ABC