The Haunting Fashion of 'Breaking Bad'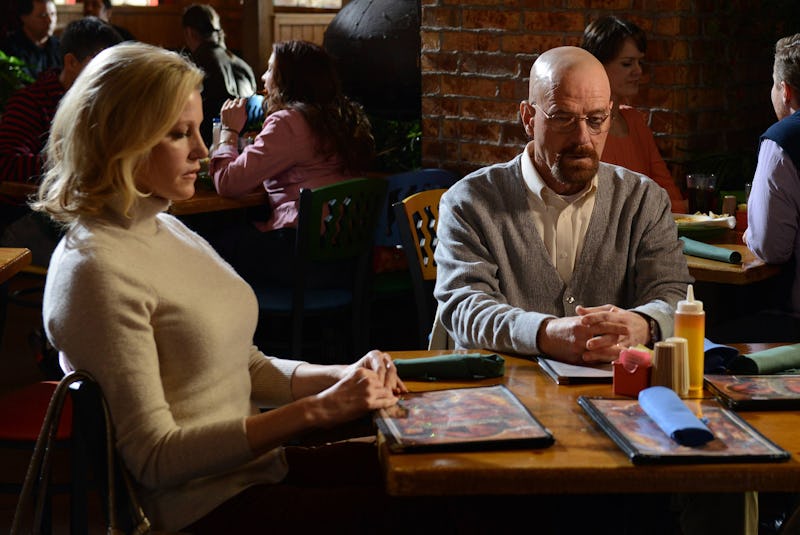 Breaking Bad is over, but I can't stop thinking about each cast member wore. Against the runway of the desert — backlit in punishing light — a stream of glittering grills and caution-yellow hazmat suits and ostensibly banal casualwear keeps streaming through my mind.
With any smart show, of course, wardrobe and costume are painstakingly curated to highlight crucial aspects of a character and their narrative arc. But Breaking Bad did this in a special way; even seasons later, many of the sartorial choices remain vividly emblazoned in my mind. The clothing was often seemingly workaday, but it was also intricate and codified — color and fabric as signifiers. I'm no Tom and Lorenzo, but I continue to be fascinated by the way a simple pair of khakis, tumbleweeding their way across the desert floor, can speak so loudly.
Even transitory Breaking Bad characters and their costumes retain this visual weight: think of Wendy, for example, the meth-addicted sex worker from Seasons 1 through 3. Slender choker, fuzzy leopard print coat, and the piece de resistance — those huge white go-go boots, scratched and smudged because she's a working girl and she walks in filth of the literal and metaphorical variety. Her outfits are so sad — such a childish and soiled attempt at glamour — and yet she wears them with a hard nonchalance, pure steel beneath the cheap sugar coating. Wendy may look dumb, but she has your number.
Or the murderous cousins, from Season 3, radiating power and menace and other-worldliness. Their sharkskin suits glitter in shades of smoke and fog; again, we see boots, but of an entirely different variety than Wendy's. These boots are molded to the feet like second skin, each toe tipping slightly upward and adorned with a silver skull. Like the cousins themselves, such shoes are singular and crafted to exact and terrifying specifications.
The main players cultivate entire narrative arcs through their clothing. Jesse began Breaking Bad with endless iterations of skater/hip-hop wear: skulls and stripes and printed flames licking at the hems of his t-shirts. He walked around in puffy layers, like a baby being swaddled; as the seasons progress, we see the winnowing of such clothing, edited down to tighter things like jeans that actually fit and that black leather jacket, the collar just framing his face. Without his trademark padding, we get bone and sinew — the essence of what's been stripped away.
Skyler, too, is generally wrapped in soft, shapeless cocoons of ivory and eggshell and ecru cardigans and mom shirts. When she does wear something different — like a silky blouse in an emerald green so hard that it almost hurts the eyes — some interior force is clearly pushing her, mirroring internal tumult. Think of her white shirt and cornflower blue maxi skirt, billowing on the bottom of the pool as she attempts to Virginia Woolf-it all away.
This brings us to Walt, and so much has been said about that infamous pork pie hat that I'll just note it's like pure shadow snared in dark wool. But there's also the sad utility of Oxford shirts in celadon and snow and butter yellow, and of course those pressed khakis, crimson stains, and desert sand charting a map within the seemingly staid folds. Department store clothing as terrifying as a sharkskin suit, in its own way.
I don't expect the ghosts of this collective wardrobe to leave me anytime soon; it so perfectly illustrates how clothing can hide us, button-down shirt us into invisibility, but can also project our deepest aspirations, our desire to become what we were meant to be. I'll miss the writing and plot lines and crafting of Breaking Bad, but I'll also miss the illuminating qualities of its style.