Loved 'The Girl On The Train'? Try These 12 Books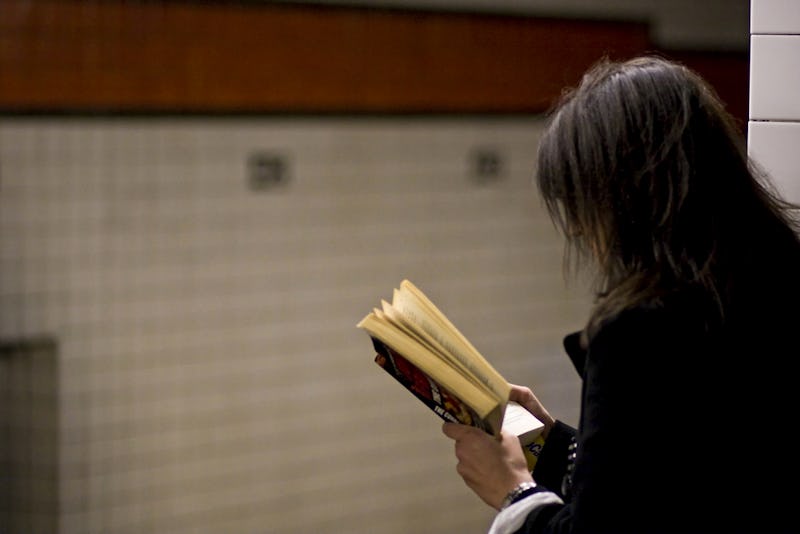 Even before its release, Paula Hawkins' debut novel The Girl On the Train was insanely buzzworthy — we were even talking about it here on Bustle. And now that it's been out for about a month? Well, I don't have to tell you much, because you've heard all about it yourself. It's all anyone can talk about: the suspenseful plot, the big twist, the unreliable narrator — Hawkins has spun herself a winning formula for sure. Oh, yeah, and it's looking mighty cozy on that bestseller list, too. Translation: The Girl On the Train lives up to the hype.
If you've already gobbled up The Girl On the Train, you're probably hungry for something similar to read that hits lots of the same notes. You want a page-turner that'll keep you guessing, and a fast-paced mystery in which you're tearing through the story just to find out what happens next. (And I'm going to bet you've already read Gone Girl, the novel to which The Girl On the Train is being so hotly compared.)
Lucky for you, women write some of the best twisty, keep-you-up-at-night mysteries. Here are 12 follow-up reads for The Girl On the Train (that aren't Gone Girl) to fill the hole that Hawkins left when you hit the final page on Rachel and Megan's story.
Mary Kubica writes an emotional story of a kidnapped girl, Mia, and her mother's relentless search to find her daughter. Told in alternating perspectives much like The Girl On the Train, The Good Girl will draw you in and won't let you go until you know the fate of Mia and her captor.
Jodi and Todd have been together forever, but they've never officially tied the knot, never had kids. They have their arrangements and agreements and they stick to what works for them. They never deviate from their patterns. Until one day, Todd does, and Jodi begins to plot the unthinkable in A.S.A Harrison's race against the clock thriller.
If YA is more up your alley, this is the perfect read for you. A group of friends spend spring break in Aruba. They expect nothing more than a blissful week of sun, sand, and drinks, but find themselves in way over their heads when one of their group, Elise, is found dead in her room. Told with the same "who can I trust" tone of The Girl On the Train, Dangerous Girls is the perfect mystery, and one you can read in a day.
S.J Watson's Before I Go To Sleep will keep you up way past your bed time as you step into the shoes of Christine, a woman wakes up every morning with no memory of who or where she is. But she keeps a notebook and sees a note in her own handwriting warning her not to trust Ben. But Ben is her husband, and she can't remember why she wrote that. Much like The Girl on the Train, Christine's memory loss and struggle to piece together the puzzle of her life will keep you guessing all the way through!
Tana French has become known for her crime novels, all set in Ireland and centered around the Dublin Murder Squad. The Secret Place explores the world of teenage friendships, and what it takes to make it into the Dublin Murder Squad once and for all. With similar themes of family and friendship, The Secret Place is ideal for fans of The Girl On the Train.
Naomi Carradine was admitted to a psych ward one month ago. Two men have been to visit her: Lachlan, and Max. One believes she is crazy, the other tries his best to convince her otherwise. Left on her own to unravel the web that her life has become, Naomi is determined to figure out what happened to her before she loses it, for real.
What would you do if you lost an entire decade of your life? Known for her bestsellers The Husband's Secret and Big Little Lies, Liane Moriarty tells the story of Alice, a woman who wakes up at 39 with no recollection of the last ten years of her life. She's divorced with three kids, and her sister will barely speak to her. What happened to her, and why can't she remember?
Art theft, Paris, and a small town girl come together in Rebecca Scherm's debut psychological thriller, Unbecoming. When an art theft she planned goes terribly wrong, Grace is already on a plane to Prague, but her two friends are found guilty of the crime, and she can never go home again. A game of cat and mouse ensues when the two are paroled, and Grace is still free in Paris.
What the majority of the books on this list have in common, aside from being page turning thrillers, is a comparison to Gone Girl. Elizabeth Little's Dear Daughter is no different, being called the Gone Girl of mother-daughter relationships. Janie was convicted of murdering her mother, and after 10 years in jail, still cannot imagine something to heinous. But she does know they never got along, and someone did kill her... is is possible she really was guilty?
In another stunning debut, an elderly woman believes her best friend, Elizabeth, is missing. When no one will listen to her claims, she embarks on her own journey to find out the truth of what happened to her friend, a truth that leads all the way back to WWII.
In stark contrast to Dear Daughter, Don't Try to Find Me would be every parent's nightmare: 14-year-old Marley goes missing, and the police come up with nothing. Her parents turn to Twitter, Facebook, and make a website dedicated to finding their daughter. But when the press they've depended on turns against, them, Marley's mother becomes the prime suspect in her daughter's disappearance. With the missing person vibe of The Girl On the Train, Don't Try to Find Me is a fantastic choice for any mystery or thriller fan.
Bittersweet by Miranda Beverly-Whittemore
Mabel is an outsider turned insider when she befriends Ev Winslow, the daughter of a wealthy family, at East Coast College. A scholarship student herself, suddenly everything Mabel has ever wanted seems to be within her grasp. But as she continues to see what truly goes on in the Winslow family, she comes to find that things are just as charmed as she once believed.
Image: Stefano Corso/Flickr