10 Small Cities You'd Actually Want To Live In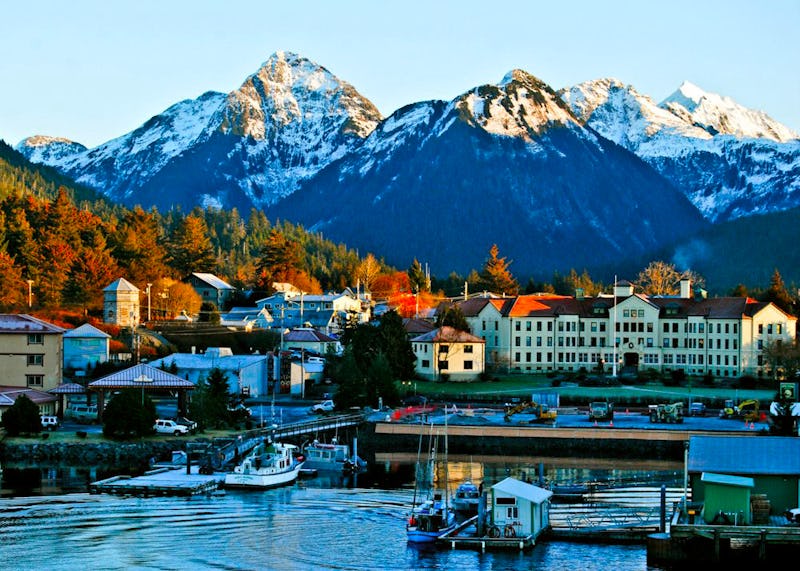 While most of the U.S. is drawn to America's skyscraper cities and famed metropolises, there are many more breathtaking destinations hidden in the pockets of this country that most of us have probably never even heard of. Founded by independent and adventurous spirits, these are some of America's coolest small cities, and ones that you would actually want to live in, not just visit for the weekend. Some of these towns see their fair share of tourists during the appropriate seasons, but many of them are happily flying under the radar, remaining well-kept secrets to most Americans.
These cities all have populations of less than 15,000 residents, which is smaller than many state-run universities. While each one of these towns has an undeniable charm to it, there's a lot more going on than meets the eye. Thriving, alive with culture, and surrounded by some of the most scenic landscapes you'll ever see, these small cities are probably going to make you rethink where you want to find yourself "settled." America was built on the idea of independence and exploration, and there's no shortage of either in these majorly cool, non-majorly sized cities. From east to west and north to south, the United States is a whole lot more than just its capitals and queen cities.
1. Park City, Utah
Population: 7,900
You've probably seen commercials for Park City highlighting its beloved ski slopes and winter wonderland feel, but what you probably didn't know is that at only 17 square miles large, this tiny town's number of tourist visitors greatly exceeds its normal population. This city was voted one of the United State's "prettiest towns" by Forbes in 2008, is home to the U.S. ski team, and offers endless opportunities for biking, hiking, and exploring around the town's perimeter. And as if this ultra destination doesn't already have enough going for it, Park City is also the annual home of the Sundance Film Festival, the largest independent film festival in America.
2. Carmel-by-the-Sea, California
Population: 3,800
Carmel-by-the-Sea, which sometimes just goes as "Carmel," is a true jewel when it comes to coastal living. Filled with artists, poets, and writers, this small city was reportedly founded by a majority of citizens who were affiliated with the arts, and with a scenic landscape like this one, it's really no surprise. Located in Northern California, off the wild and beautiful Pacific Coast, this town may be small, but it is filled with a lively theater and music scene, as well as a plethora of independent restaurants. An extra quirk that makes this town a unique one? There is a law against wearing high heel shoes without a permit (though it is not actively enforced). Perfect for all you lovers of ballet flats!
3. Aspen, Colorado
Population: 6,700
Colorado, in general, is one of the most breathtaking states in America, and Aspen definitely lives up to the hype year round. While it is a tourist-filled town during the winter thanks to its snow-covered slopes, this scenic city has also been the home to a wide range of films sets, television episodes, and even some video game scenes. While this city is one of the most expensive in America, if you can afford it, you'll feel secure with some of the lowest crime rates in the country, astonishing views of the Rocky Mountains, and abounding fishing opportunities in the Roaring Fork River that runs alongside the town's perimeter.
4. Destin, Florida
Population: 13,200
Destin probably isn't the first city you think of when you imagine the state of Florida. In fact, you may have never even heard of it if you're from out of state, keeping it one of the best kept secrets of the South. This tropical paradise started out as a small fishing village, but has grown to become a favorite day trip location for thousands of Floridians. Surrounded by emerald green water and pristine white beaches with sand that actually comes from the Appalachian Mountains, this city is seriously standout. Visitors and locals can find their way to the shore through any one of 12 beach access points across the town.
5. Brattleboro, Vermont
Population: 12,000
Bordering the New Hampshire state line and the Connecticut River, the small city of Brattleboro, Vermont is known for its vibrant community of artists ranging from radio and television hosts to independent newspaper publishers. Also home to two graduate schools, a charming Main Street, Fort Dummer State Park, museums, and art centers, Brattleboro offers a small town feel that is still filled with lively amenities.
6. Hood River, Oregon
Population: 7,300
Hood River is a small port city on the Columbia River in Oregon, and its mix of local charm and unlimited outdoor activities makes it an exciting and eye-catching place to live. Residents can be found windsurfing, picking blueberries, hanging in any of the town's well designed parks, or exploring the rural beauty that is the Oregon countryside on the daily.
7. Sitka, Alaska
Population: 9,000
Some of us probably picture Alaska as a barren ice land filled with huskies pulling sleds. While Sitka, Alaska might have some resident huskies, it's far from barren. The awe-inspiring Sitka National Park is filled with trails to be explored and totem poles to find along the way. Lush scenery, fantastic salmon fishing, and a rich cultural background make the shores of Sitka an adventurous and photogenic place to live.
8. Provincetown, Massachusetts
Population: 3,000
Nestled nicely in the heart of Cape Cod, Provincetown provides that small coastal town feel minus the conservative background. A hotspot for LGBT events, crowd-pleasing entertainment, and seemingly endless art galleries, this town is alive and thriving. With a resident population smaller than some high schools, Provincetown's aesthetic is seaside-inspired and covered with independent flare.
9. Galena, Illinois
Population: 3,400
Galena may have the cutest downtown you've ever seen thanks to its old-school architecture and provincial feel. A historically fueled background, this town gets its name from the mineral galena, which was plentiful in the early 19th century, leading to the first major mineral rush in America. Situated along the Galena River, and known as a popular "steamboat hub" in the midwest, this town is a favorite spot for many Chicago residents who keep a second home in the area year round.
10. Haiku-Pauwela, Hawaii
Population: 8,000
It's hard to imagine any part of Hawaii not being an ideal place to live, but Haiku-Pauwela has to top the list of tropical towns on the much loved islands. Founded on the coast of the Maui island, this small town is lucky enough to escape most of the tourist chaos during the year while still offering residents the opportunity to parasail, windsurf, scuba dive, jet ski, or charter fish on the regular. The downtown area of this destination is a surf city, coastal living dream, blending in perfectly with the island's beach vibe.
Images: Marc Cappelletti, Tom Kelly, Charlie Day, John Fowler, David Kosmos Smith, Professor Bop, Zach Dischner, Kool Cats Photography, m01229, Jasperdo, Forest and Kim Starr/Flickr