Where to Find Victoria's Kitchen Almond Water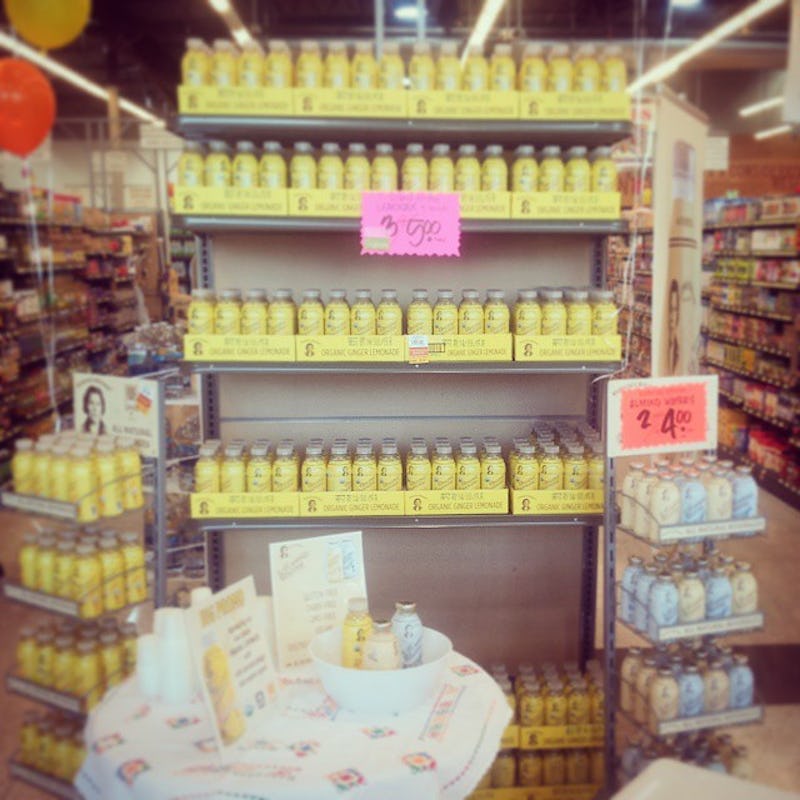 Victoria's Kitchen is looking to fill up the Shark Tank with something a little old school that reads a little new school: Almond Water. It's all natural, it's delicious, and it's a family recipe that the Menianes have churned into a business. And if Victoria's Kitchen has any luck on Shark Tank, that business could turn over a few (million) bucks — and it's all thanks to grandma. David Meniane grew up on almond water. To him, it was no different than a lemonade or maybe even a soda if a kid's parents are feeling dangerous. I like that about David's quest to quench thirst: almond water isn't a supplement, or a nutrition drink, or a energizing shot… it's just good. Damn good, according to the Victoria's Kitchen website.
Presumably, this is a different Victoria than that of the lingerie franchise, but similarly, David's grandmother had a secret, one that she was willing to share with her family. And when David met his now-wife Deborah, he spilled on the tasty secret, too. And after sharing it with friends, there was no choice but to spread the flavor. But really, the drink isn't much of a secret — there's a recipe right on the Victoria's Kitchen website. But the secret is how successful the Menianes have made their product. This is not grandma operating out of her garage operation…
The History
David and Deborah Maniane are both from France, as was David's grandmother. That's where the kitchen was that she served her children and grandchildren endless glasses of Almond Water, a drink that David remembers from his childhood as, "so refreshing and sweet; an amazing afternoon treat." But David's grandmother didn't realize the winner she had on her hands, even when people begged to take the treat home with them. That's where David and Deborah come in, decades later. Once they moved to the U.S. and their friends caught wind of their special family refreshment, they knew they had to start bottling the stuff. The started showing it around at local L.A. retailers, but once they exhibited Victoria's Kitchen Almond Water at The Winter Fancy Food Show in January 2012, the rest was history (well… more history).
The Water
So, this magical water, how is it made? Well, Grandmother Victoria's recipe to try for yourself (with exact measurements determined by Grandson David) is right on the website: raw slivered almonds, mineral water, cane sugar, almond extract, vanilla extracts, and a little rose water make up the classic concoction. But Victoria's Kitchen says that their artisanal secret is "love .. respect of family traditions," and of course, the best ingredients. Though Victoria's Kitchen proudly declares that its products "will not give you wings, it won't make you more energized nor relaxed ... simply quench your thirst and make you happy," it still has some trendy things going for it: it's an all natural, gluten free, dairy free, vegan low calorie, but still indulgent, treat. And...cocktail recipes.
The Chances
With what seems like a lot of hustle from its French export owners, Victoria's Kitchen Almond Water is sold at 800 locations nationwide, including huge grocery stores like Whole Foods and H-E-B, as well as on Amazon and their own website. But their products are mostly focused on the East Coast right now; it's likely that they need an investment from the Sharks in order to expand their business and their brand (surely Grandmother VIctoria had some other recipes up her sleeve). Getting an investment will rely on two things: taste and sales, and with pretty huge distribution numbers, it seems like Dave and Deborah's pitch will mostly come down to how much each Shark takes to their Almond Water. If she likes it, Barbara has a proven track record in the food and beverage industry, and a major love for go-getter families.
Images: Victoria's Kitchen/Instagram (4)