Why Did 'Avengers' Toys Leave Out Black Widow?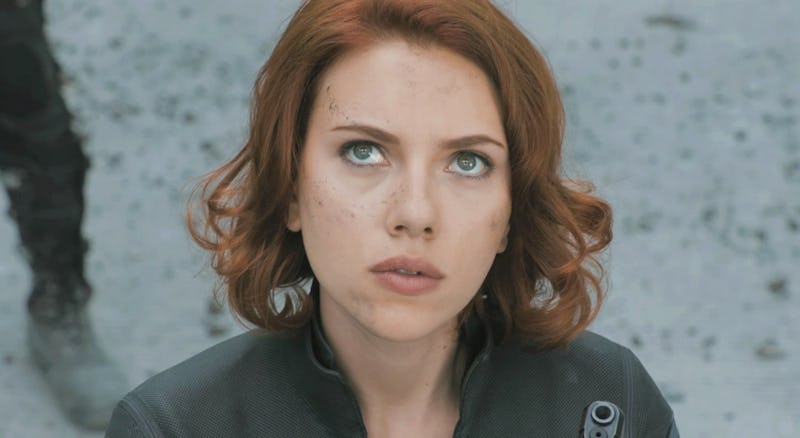 Those cute little toys that Funko makes of everyone's favorite characters just released its set for Avengers: Age of Ultron. Unfortunately though, it seems that one key character was left out of the line-up: Black Widow. I know, it sounds insane, considering how huge her roles in the films are — but it's sadly true. While all the rest of the characters, old and new — Hulk, Iron Man, Captain America, Thor, Hawkeye, Ultron, Vision — are all present and accounted for, Black Widow (portrayed by Scarlett Johansson in the film) is not.
As Nerdist points out, this absence does not mean that Black Widow won't be in the upcoming Avengers: Age Of Ultron film — in fact, she's supposed to have a large role in the upcoming Avengers installment. Joss Whedon has even explained why she has such a big part in Age of Ultron:
Natasha is a huge part of the sequel because you do want to concentrate on the people who don't have their own franchises...She was the most fun for me because she's not a hero, you know...And that just makes her so interesting to me. So yeah, the stuff I've got going on with her in the second one is killer.
From Whedon himself — even her added presence in the upcoming Age of Ultron is meant to make up for the continued and noticeable absence of a Black Widow movie (while just about every male superhero, on the other hand, gets a film, a sequel, and a prequel). And this is all in spite of the fact that she's an incredibly interesting character.
However, one would think that her large presence in the movie would warrant an action figure at the very least — but that, unfortunately, does not seem to be the case. Sadly, Marvel digital media director Ryan Penagos didn't have much of a response:
I'm sure the reason behind it is that Funko's prime target for these toys is young boys, who may not want to buy a female superhero figurine over a male superhero one. But why limit the number of figurines to seven? After all, Game of Thrones gets a ton — surely there was more than enough room to produce a figurine for one of the important, main characters in the film.
Nerdist also notes that this isn't the only instance of an exclusion in the realm of Marvel merch. Additionally, most Funko collections include one or two women in their collections of figurines, or just exclude them overall. From a quick glance, their Arrested Development, Breaking Bad, and Fantastic Mr. Fox sets didn't feature any female main characters. Not only is this extremely troubling, but it sends a particularly bad message to women everywhere — and there's absolutely no excuse for that.
Image: Marvel