You Can Now Buy A Big Mac With A Selfie. Really.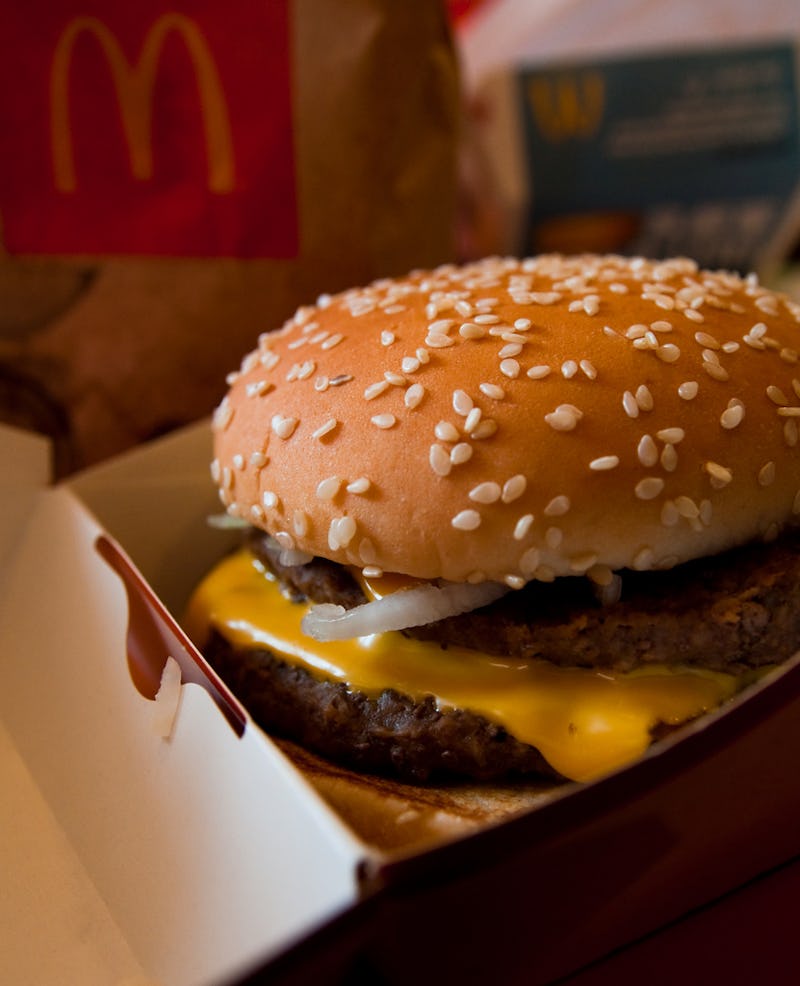 Wow, McDonald's is really trying to stretch their tagline as far as they can, huh? Earlier this month, the fast-food chain relaunched its famous "I'm Lovin' It" campaign with a renewed emphasis on positivity as part of its ongoing brand transformation. Now, to emphasize that their new, extra-positive outlook is sincere, McDonald's will accept selfies and hugs as payment, or what they're calling "lovin'," from randomly selected customers. That's right – starting February 2, you'll be able to pay for a Big Mac with picture of you in front of a bathroom mirror. We're not kidding.
McDonald's new payment plan, which will run from February 2 to February 14, allows customers to order during pre-selected times for a chance to "Pay With Lovin'." Certain participating customers will then be selected at random to purchase their Quarter Pounders and Chicken McNuggets with an act of love, like a hug, high five, or selfie (I guess self-love counts?).
A spokesperson for McDonald's told ABC News:
We want to thank our customers for making our day and hopefully they will make someone else's as well — that's what Lovin' is all about. From selfies, hugs to high fives — we have a bunch of fun ways to express your Lovin'.
Last Sunday, the chain teased "Pay With Lovin'" in a 30-second ad that mysteriously announced, "This February, McDonald's will be randomly accepting a new form of payment." And this Sunday, during the Super Bowl, McDonald's will air a full ad for the promotion, which the chain has already posted to its YouTube Channel.
The one-minute commercial gives you a glimpse of how it works, and other forms of "lovin'" you can pay with in exchange for burgers. For example, in what looks like candid footage of real customers, one customer who orders two hash browns and a small coffee is asked to pay by calling his mom and telling her he loves her. Another customer is told to pay with a pound.
Another gets "rung up" and is told to say what she loves most about her son, who stands next to her. The employee tears up as she watches the mother and son share a hug. And another customer's "total" is a dance. When the elderly man hesitates, the cashier says, "That strawberry sundae's waitin' on you." So he dances.
In the commercial, McDonald's employees dance side by side with the customers, families hug, other customers applaud and cheer. In other words, it's nothing like a real McDonald's. It's total marketing manipulation and I'm angry that it made me choke up a little, because I know that's exactly what the brand specialists want! The commercial completely succeeds in humanizing McDonald's, and if your heart isn't as black as mine, then you'd totally be touched by this saccharine-sweet ad.
Cynicism aside, "paying with lovin'" is hard to argue with, because it's essentially the same as "getting free burgers." Although it's unclear whether there's a price cap, but nobody in the commercial was heard ordering three Big Mac combo meals super sized and an extra four large fries. And I'm still wondering how the selfie thing works.
Watch the video below.
Images: Aaron G./Flickr