10 Books All 'Eye Candy' Fans Need To Read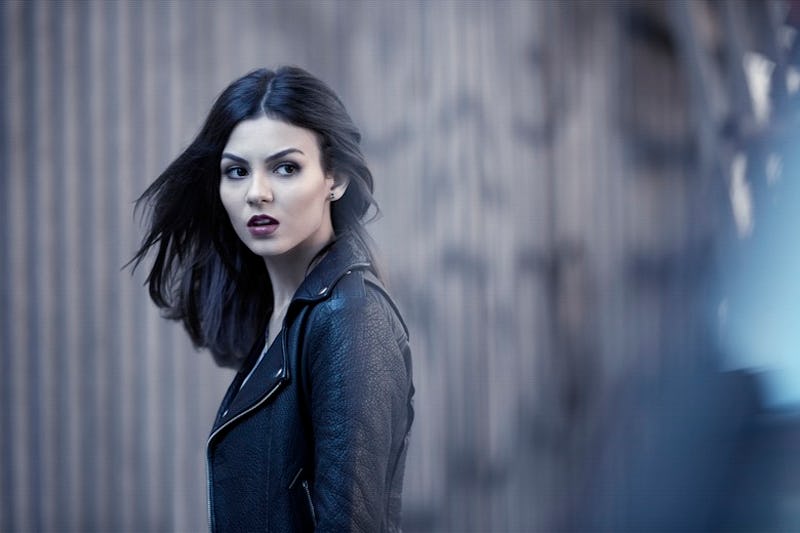 When a popular novel is taken to the small screen and it goes well, there's almost nothing better. MTV reached that height with its new hit series Eye Candy, where Victoria Justice plays a disturbed cyber-hacker trying to find her missing sister who is simultaneously hunted by a sadistic, murderous cyber-stalker. In case you weren't aware, the suspenseful and thrilling 10-episode series Eye Candy is adapted from R.L. Stine's book of the same name. Unfortunately, Eye Candy is just one book, not a series, but if you're looking for something to read on a chilly day, there are plenty more where that came from.
Victoria Justice's character Lindy Sampson is a classic example of the typical "whodunit" novel protagonist. Generally the primary character in these novels has a troubled past, is constantly misunderstood, has serious authority issues, and gets a little obsessed with whatever investigation dominates the story. When Lindy's sister was abducted before her eyes, it severely affected her emotionally, making her obsessed with the case and giving her total determination to do whatever it takes to complete her missions. If you love a strong, well-rounded character like Lindy, these are the books you need to pick up when you're waiting for a new episode of Eye Candy.
The Cuckoo's Calling by Robert Galbraith (aka J.K. Rowling)
Galbraith is actually a pseudonym of the beloved Harry Potter author Rowling, who admirably worked her ass off to get this book on the bestsellers list on its own merit. And it worked big time. Wounded war vet Cormoran Strike has as troubling a past as Lindy, which is exactly what makes the two of them such talented investigators. Oh, and it's going to be a TV series too.
The Girl With the Dragon Tattoo by Stieg Larsson
In the novel, a once-respected financial journalist is asked to spend a year investigating the disappearance of a girl who's been gone for more than four decades. He becomes a little obsessed — sound familiar? And then enters the dragon-tattooed Lisbeth Salander, a misunderstood genius with a cache of authority issues. So basically, Lindy in a nutshell.
Dark Places by Gillian Flynn
If you plan on reading this novel, or anything by Gone Girl author Flynn for that matter, take the word "dark" in a very serious sense. It is not for the light-hearted. Like Lindy, Libby Day has a seriously disturbed past since she witnessed the butchering of her family at only three years old. Her brother went to prison for the crime, largely thanks to her childhood testimony, and decades later she begins on a mission to discover the truth about that night.
Sharp Objects by Gillian Flynn
Flynn is on here twice because she is the master of the dark stuff you see on Eye Candy. The serial killer in Sharp Objects strangles little girls and rips out all their teeth. The reporter investigating the case has a sad past of her own, as evidenced by the words she's carved all over her body.
Pretty Little Liars Series by Sara Shepard
You knew this series had to be on here. PLL is so similar to Eye Candy because, for one thing, the killer is out to destroy anyone who knows too much, in addition to stalking the main characters like it's their job. And just like we have no idea who the killer is on Eye Candy, PLL's "A" is still a total mystery, could actually be more than one person, and may very well be one of the beloved main characters.
The Lovely Bones by Alice Sebold
This novel is great because the voice is so different from any other murder mystery you'll read. The teenager who narrates the story is actually recounting her own murder from the afterlife as her family searches for peace and a little closure on Earth. She watches as her family desperately tries to find and punish the killer, much the way Lindy is seeking out the person who kidnapped her sister.
The Da Vinci Code by Dan Brown
The Da Vinco Code is great to practice finding and uncovering clues, which should definitely help you get to the bottom of Eye Candy's mystery. It's own plot centers on the murder of an elderly curator of the Louvre, whose body is found covered in crazy symbols, leading to a trail of clues hidden in the works of Leonardo da Vinci.
The Hound of the Baskervilles by Arthur Conan Doyle
If you're a fan of Eye Candy and you've never read a Sherlock Holmes novel, this is the one you want. The story is about the legend of a devil-beast that haunts the Baskerville family, warning the descendants never to venture out in those dark hours when the power of evil is exalted. But it's not as weird as it sounds. When Holmes and Watson are on a case, you can expect for than something more terrifying than the fantastical creature.
The Lying Game by Sara Shepard
Written by the same author as PLL, this is another suspensful whodunit novel revolving around Emma Becker, a former foster child who finds out she has a twin sister who is apparantly dead. Emma is like Lindy in that every time new clues come up, more suspects are revealed. Turns out almost everyone had a motive to kill her sister, so Emma's got some work to do.
Gossip Girl Series by Cecily Von Ziegesar
During my interview with Eye Candy star Kiersey Clemons, she mentioned how similar the MTV show is to the Gossip Girl books, and I immediately agreed. Even though it's not technically a serial-killer novel, Gossip Girl is a serial reputation-destroyer who totally stalks the series' characters. The New Yorkers from the Gossip Girl series are constantly being tailed and posted about on a blog that could make or break them and you're left guessing who GG is until the very end.
Images: Getty Images (7); Giphy (3)