Maybe Lisa Vanderpump Fake-Fired Kristen...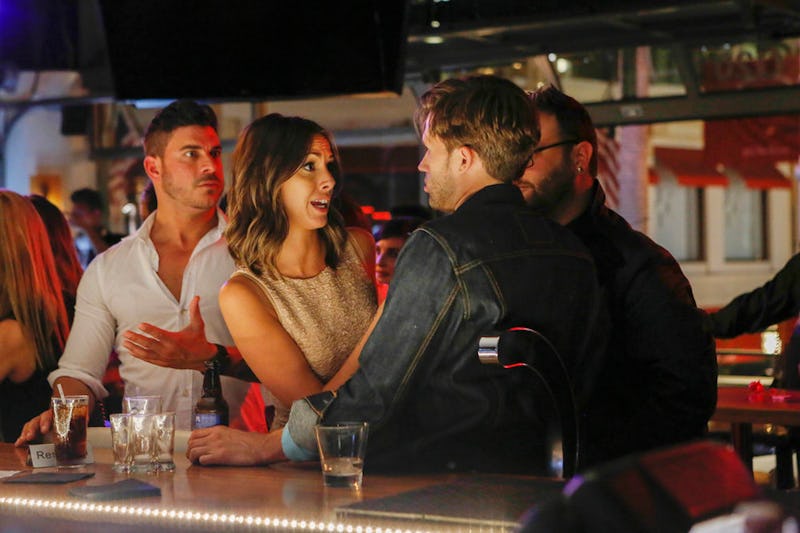 For those who complain that TV shows are too afraid to make casting changes, just check out Bravo, because they have no fear when it comes to changing things up. It sure looked like Kristen Doute was fired from SUR at the end of the last Vanderpump Rules episode. Boss Lisa Vanderpump (who, it doesn't need to be said, rules the restaurant) was totally fed up with her behavior in the restaurant, especially because she flipped out and screamed at not just coworkers Tom and Ariana, but her boss. And if there's one rule at SUR, it's that everyone better respect the G-D upper management. Respect your own coworkers at your leisure, but when it comes to the non-TV star superiors, shut up and listen.
But Kristen may have inadvertently revealed that Lisa's decision may end up getting reversed later in the season. She mentioned in a Tweet just a few days ago that James Kennedy, her boyfriend/former coworker was DJ'ing in PUMP Restaurant, and that his high-energy song choices were a challenge for her to "keep up with." Now that's what happens when you date someone in their early 20s when you're closer to 30, but would Kristen be making that comment if she wasn't working at PUMP that night?
Unless she was just trying to save face because fans thought she'd lost her job? But aside from that one mention, she's stayed pretty quiet on the subject of work. So whether she's still working at SUR or still fired, it doesn't look like Kristen has gotten a new job.
But were she to lose her job and have to find a new one, she does have a few types of jobs that should find their way to the top of her search:
Spin Doctor
I know most people who go into politics have tons of education and connections, but Kristen has one hell of a natural gift for spin. She can justify anything to herself, which is the first step in justifying it to everyone else. She still seems to think that bringing the Miami Girl to work was an acceptable choice.
Daytime Talk Show Host
Bringing alleged cheating victims to confront the alleged people they slept with, yelling, judging everyone for their sexual activity, and the ability to sit for a long time in the hair and makeup chair? She's a regular Steve Harvey.
Musician/Actress
That's what listed on her Twitter profile. I have to say, I think that ship may have sailed, but you never know. She did appear in this NSFW music video last year for Lena and the Stone's "Cha Cha Diva." Maybe now that she might be taking a break from SUR and Pump, Kristen is finally fulfilling her dreams.
Image: Vivian Zink/Bravo; Giphy