14 Valentine's Day Episodes on Netflix to Get You In The Mood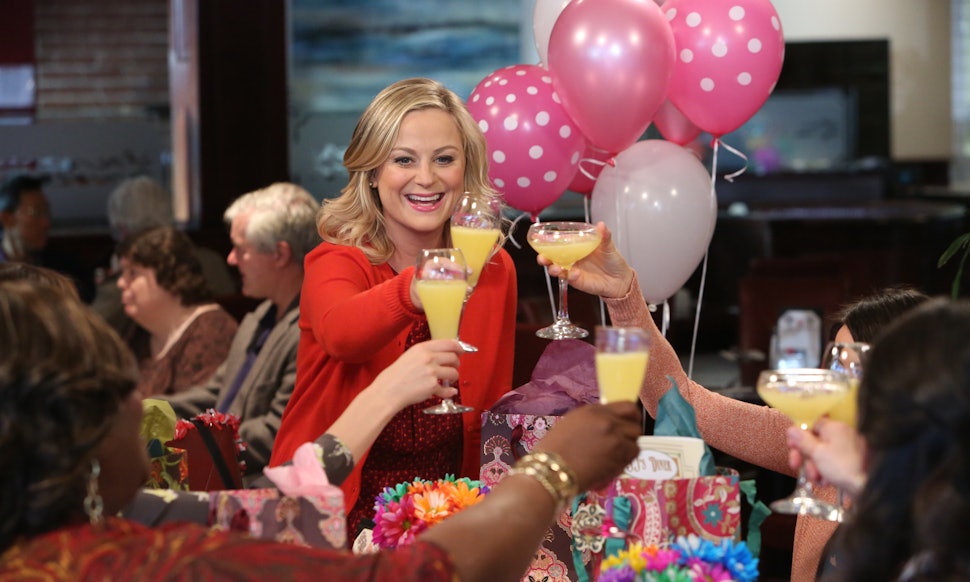 This Valentine's Day include Netflix in your plans by bingewatching these 14 best Valentine's Day TV episodes. Whether you have a significant other or not, watching other couples fall in or out of love is a great way to spend the Feb. 14 holiday. With episodes ranging from Parks and Rec to Once Upon a Time, there's something for everyone.
You don't have to spend this V-Day alone, now you can spend it with your one true love: Netflix.
Image: NBC
"Valentine's Day," Season 2 of 'The Office'
It's really frustrating to watch Pam suffer over Phyllis' numerous gifts, but if Valentine's Day isn't frustrating, is it really Valentine's Day? Although this isn't the sweetest episode (Jim doesn't get anything for Pam, Ryan regrets hooking up with Kelly, etc.) it illustrated a pretty realistic take on the holiday, and it showed viewers that Roy was really, really the worst and Jim was the best. Plus, this episode introduced us to Dwight's bobble-head doll and it doesn't get any better than that.
Images: NBC (2)
"My Funky Valentine," Season 1 of 'Modern Family'
Two words: Clive Bixby. Phil concocts this alter-ego to spice things up in his love life and it is hilarious.
Image: ABC
"Galentine's Day," Season 2 of 'Parks and Recreation'
Leslie Knope is my favorite person for introducing the idea of Galentine's Day. If you don't have a honey for the big day, doesn't matter! Grab brunch with your girlfriends instead because they're better anyway.
Image: NBC
"The One With the Candy Hearts," Season 1 of 'Friends'
In this episode we get the return of Janice which is always appreciated. Better yet, the ladies set fire to their ex-boyfriends' things because nothing says Valentine's Day like a roaring fire built from the mementos of failed relationships.
Image: NBC
"Heart," Season 3 of 'Glee'
As a Brittana fan, this episode broke me. It featured the formerly-closeted Santana proudly declaring her love for her girlfriend Brittany. It also contains the show's first on-screen lesbian kiss so it was a big win for LGBT diversity. But aside from that, it was just a sweet episode in general with all the couples singing love songs to each other and generally being happy. It will make you feel warm and fuzzy inside, even if you don't have a significant other.
Image: Fox
"Operation Ann," Season 4 of 'Parks and Recreation'
In her continued reign of Best BFF, Leslie organizes a singles mixer entirely for Ann to find her a V-Day date because she cares so much about her happiness. This episode also features depressed Chris Traeger as DJ, and he's a scene-stealer.
Image: NBC
"Anna Howard Shaw Day," Season 4 of '30 Rock'
Liz Lemon, everyone's resident spirit animal, introduces us to Anna Howard Shaw Day, which you can celebrate instead of that pesky other holiday on Feb. 14. (The birth of the leader of the women's suffrage movement is way more important anyway.)
Liz also gets a root canal to avoid feeling lonely on the day, and Jack shows up when she has no one else to take care of her, proving that their friendship is the best.
Image: NBC
"Silly Love Songs," Season 2 of 'Glee'
For the Klaine lovers out there, this one is for you. This sweet V-Day tribute features Kurt confessing his feelings Blaine for the first time.
Image: Fox
"All You Need is Love," Season 8 of 'Grey's Anatomy'
This episode is a throwback to happier times. If you need a pick-me-up while watching the current depressing season, check out this Valentine's themed episode. It features a lovey-dovey Meredith and Derek. As a bonus: Callie and Arizona are still madly in love. Sigh, good times.
Image: ABC
"Desperation Day," Season 6 of 'How I Met Your Mother'
Barney announces that Feb. 13 is "Desperation Day" because NYC's women are all out looking for a Valentine's Day date. But the episode actually introduces Barney to one of his long-term partners and forces him to confront the fact that he may want more than just a hookup after all.
But the best part of the episode is the Marshall and Lily story line. He's away in Minnesota and Lily creates the adorable "Marshpillow" to take his place.
Image: CBS
"Skin Deep," Season 1 of 'Once Upon a Time'
This show rarely ever slows down for pesky things like romance, but for this episode it did. The Valentine's Day-themed episode featured the women of Storybooke having a girl's night out. It's one of the few times all the ladies of the show get together and it's always fun to see Cinderella and Red get included in the plot for once.
And meanwhile in the Enchanted Forest, Belle starts to fall for Rumpelstiltskin, and introduces fans to the wonderfulness that is Rumbelle.
Image: ABC
"Harry And Mindy," Season 1 of 'The Mindy Project'
Not only does this episode guest star B.J. Novak as Mindy's boyfriend, but it ends with some sweet Danny/Mindy time. This was back before they knew they loved each other which makes it all that much sweeter for fans of the eventual couple.
Image: Fox
"Valentine's Day," Season 1 of 'New Girl'
There are few things more charming than Jess trying to navigate the dating world. This episode features her with Schmidt as her wingman as she tries to hit on a stranger. It's just as quirky and cute as you'd imagine.
Image: Fox
"Valentine's Day Massacre," Season 6 of 'Grey's Anatomy'
For the more cynical of you, here's an episode full of destruction. The doctors must work through the holiday to save patients involved in a Valetine's Day restaurant roof collapse.
Image: ABC