Valentine's Date Outfit Inspo From On Screen Loves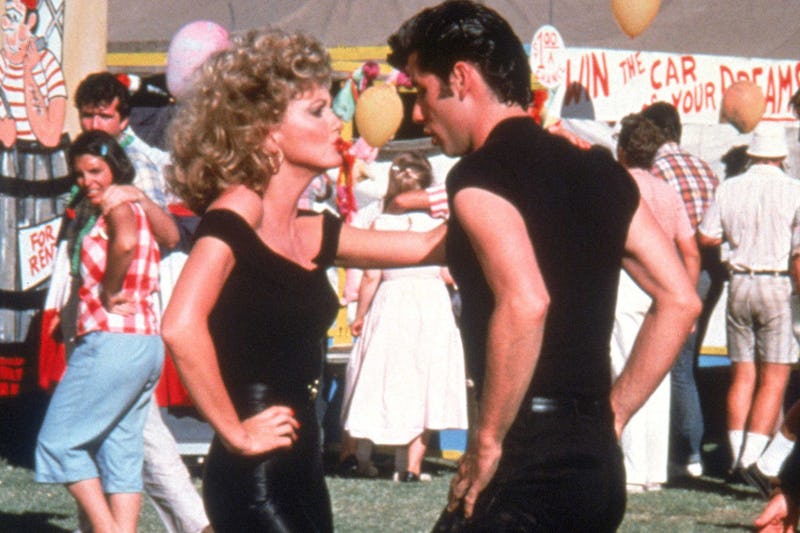 If we're being honest with each other here, film and television romances are not often the greatest sources of realistic expectations. If we're not examining dramatic romance and romantic comedies whilst watching them critically and acknowledging that they are works of science fiction or fantasy, chances are we are taking them as "dating how to's," — a fact that will ultimately lead to a lot of disappointment in our lives. Even in movies that aren't necessarily about love, relationships and romances are most often used as plot lines for character development. If that sounds like a healthy means of viewing your own relationships, then good freaking luck out there. And side note: The reality is that movie dates are also kind of useless. They're a go-to in our collective repertoire, but essentially create a cone of silence while on a date. Like, yeah: Let's sit in a dark room silently with strangers! We'll definitely get to know each other that way!
As style inspiration, though, they can be a part of a perfectly balanced Valentine's Day date. While you could comb through Pinterest and the Instagram accounts of fashion bloggers for inspo, you really needn't look further than your favorite on-screen couples. There are fashion cues to being taken from TV and film, whether you're more of a classic woman like Audrey Hepburn, a romantic like Rachel McAdams in The Notebook, going for the full-on sexiness of Olivia Newton John's "Bad Sandy," or the simplicity of Barbra Streisand in The Way We Were. Just remember to emulate their outfits — not their relationships — and you'll be just fine.
1. CLUELESS
It happens to the best of us: We end up being the one trying way too hard and/or reading our crush's signals all wrong. For that, Cher is the patron saint of unrequited love on Valentine's Day. I mean, if there's a chance you're going to end the night in heartache, then you might as well look really good! A slinky Calvin Klein dress is hardly ever a bad idea, but might be a bit much on February 14th. Try a springy blood orange color or classic black instead. Accessorize with yearning desire and a jeweled hair clip.
2. BROAD CITY
Who says V-Day dates can't be spent with your best girl? Book the fanciest dinner that you (or your date) can afford and dress in whatever makes you feel like a bombshell, dude. Two-piece coordinates and gold hoops or a jewel-toned bodycon dress — it's all good. Just please, please don't knowingly eat food you're allergic to. Dumpster joint break optional.
3. GREASE
If you don't think Bad Sandy is a supreme babe, well — you're just wrong! When she shows up at the carnival at the end of Grease? There are few more dramatic fashion transformations in existence. Go for that classic bad girl look mixed with some modern twists — think Cara Delvingne meets Sandy. Keep the leather jacket, skintight black pants, and off-the-shoulder top but sport tousled, messy hair and some seriously stacked, heeled ankle boots. This look will reply in multiplying chills, losing of control, and so on and so forth.
4. FERRIS BUELLER'S DAY OFF
Skipping out on work to spend the day with your devastatingly handsome beau? Sloane Peterson only wears one outfit on her day off and it's pretty much perfect. A fringed jacket over a blousy top tucked into high waisted shorts (you could do a skirt, too) and finished off with slouchy boots — cool girl genius. If you're in a cold climate, add some tights underneath for your date with "The Sausage King of Chicago."
5. THE MINDY PROJECT
Mindy is a modern glamour girl who would not slack off on her Valentine's Day ensemble. While you might be into the idea of a romantic gown for an evening dinner date, this look is perfect for a romantic afternoon spent with your very own Danny Castellano. A sporty jacket and contrasting printed dress paired with bright stilettos is about as causal as you get.
6. WHEN HARRY MET SALLY
Hanging out with someone on Valentine's Day who's just your friend? But maybe there's a bit of potential for something more? Sally has the perfect outfit for a not-explicitly-romantic date at an art gallery or over lunch. To get her look, wear a printed silk blouse under a tailored blazer and swap wool pants for high-waisted denim. Glasses on a neck chain are totally optional.
7. THE WAY WE WERE
Hubbel and Katie are one of the most effortlessly stylish on-screen couples of all time: Never more so than when they were being casual. If you're heading to a cabin or maybe just having a day-long adventure date at the beach or in the forest, take Babs' lead outfit-wise. A button-down underneath an oversized cardigan and a beanie with some great denim is comfortable and casual, but still so cute.
8. SEX AND THE CITY
Watching the show back now, Big and Carrie's relationship was actually extremely unhealthy and both of them were maybe a bit narcissistic. However, it's the love story of our time (or whatever) and you can't deny they at least looked great. Carrie's look here is actually the perfect romantic, dramatic date look: A full flowy skirt with a form-fitting top, and cropped coat. Fashion forward, but still romantic. Change it up a little with a crop top for an extra sliver of exposed skin and ditch the muff for a faux fur jacket.
9. BREAKFAST AT TIFFANY'S
Maybe you're a lonely girl with a complicated past who keeps falling for the wrong men or maybe you just wish your life was as dramatic as Holly Golightly's. Either way, there's no denying that: A) Kissing in the rain is romantic and B) You can't go wrong with a great trench. For a classic look like Holly's, book yourself in for a slightly undone updo and find the most chic wedges that money can buy. A simple sheath dress underneath will make you look absolutely timeless.
10. THE NOTEBOOK
Allie and Noah, blah blah blah — this is your obligatory mention of The Notebook. If you thought there was going to be a list of the most romantic dates without these two, you might need to rethink a few other things in your life. Maybe your V-Day doesn't involve the near-death experience of laying in a major roadway, but you can still channel the cute vintage vibe of Rachel McAdams. A printed dress, bright cardigan, and some ankle strap sandals are a classic look that can still be modern. Choose bright colors and a non-floral print. Paint on a bold lip, set your hair in curlers, and practice saying that you're a bird.
11. WALK THE LINE
Maybe don't pull relationship inspiration from Johnny and June, but definitely look to Mrs. Carter Cash for a little wardrobe direction. Is your idea of "romantic" going out to see some live music or maybe spending the evening drinking beer and making out in the corner booths of country bars? Pair a fit and flare dress with teased hair, dewy cheeks, and peony pink lips. Extra credit for going all the way with some cute cowboy boots.
12. IT'S COMPLICATED
I get it: It's rainy/snowy and cold and y'all are tired — it can be hard to get the motivation to get all dressed up and go out. Personally, the type of Valentine's Day date I'll be dressing for looks a little like this. Whether you're having a staycation at a hotel, on a romantic weekend getaway, or just spending the morning at home, waffles are always the perfect accessory.
Images: Paramount Pictures; YouTube; Twitter