Get Ready To Jumpstart Your Spring Beauty Inspo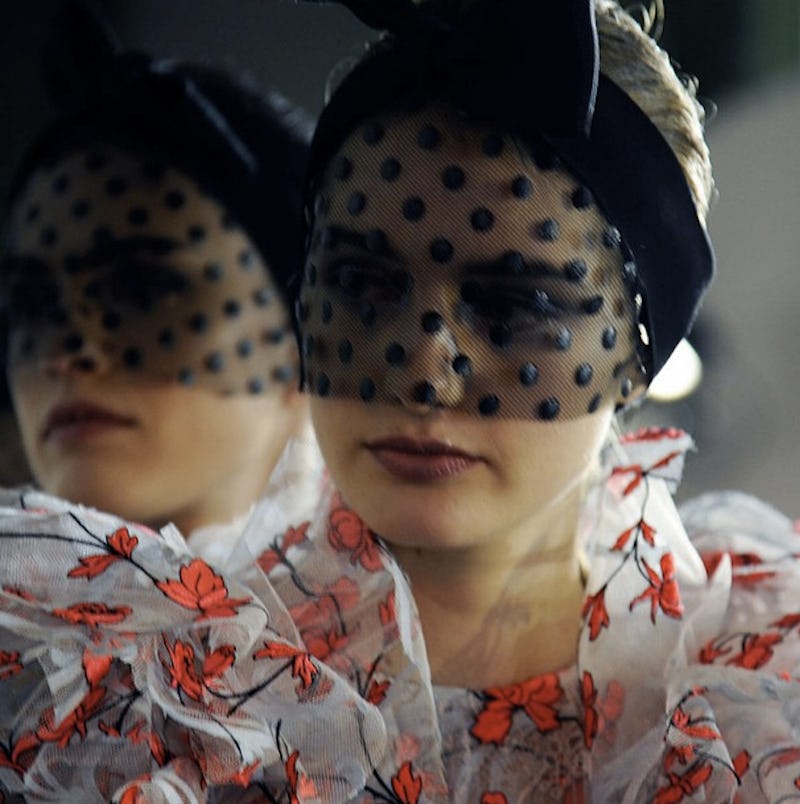 Fashion month is well underway, and alongside all the amazing clothes are, of course, the equally amazing beauty looks — and MAC Cosmetics' Instagram shows the brand backstage at Paris Couture Fashion Week to create a bunch of them. We've had quite a Spring 2015 Paris Haute Couture Fashion Week, haven't we? There were the wonderfully eccentric florals at Giambattista Valli (I still think Lena Dunham should take some of the floofiest numbers out for a spin), there were the arguably even more eccentric florals at the Chanel show (the whole thing was like Alice in Wonderland-squared), there were the whole host of summery dresses for Dior spokeswoman Jennifer Lawrence to wear at her various premieres and award shows, there were the retro-fabulous delicately-detailed yet ultra-structured dresses walking down the runway at Ulyana Sergeenko... basically, the list of gorgeousness goes on (and on).
The emphasis is definitely all on the clothes, but let's not overlook some of the awesome beauty game the couture shows had going on — it's not really a surprise MAC was behind a lot of them. They created some of the coolest looks in town — they were the artistic prowess behind the veiled drama at Giambattista Valli, the bright (really bright!) lips and wild (really wild!) afros at Schiaparelli, and the understated glam of the Alexis Mabille show. Basically, they won Paris Fashion Week — and they have the the special backstage Instagrams to prove it.
Let's take a look!
Alexis Mabille
Schiaparelli
Giambattista Valli
What do you think? Will you be taking any of these looks out for a spin? I'm a particular fan of the mega-watt lips at Schiparelli, myself!
Images: maccosmetics/Instagram