7 Reasons Why You Should Be Watching HBO's 'Veep'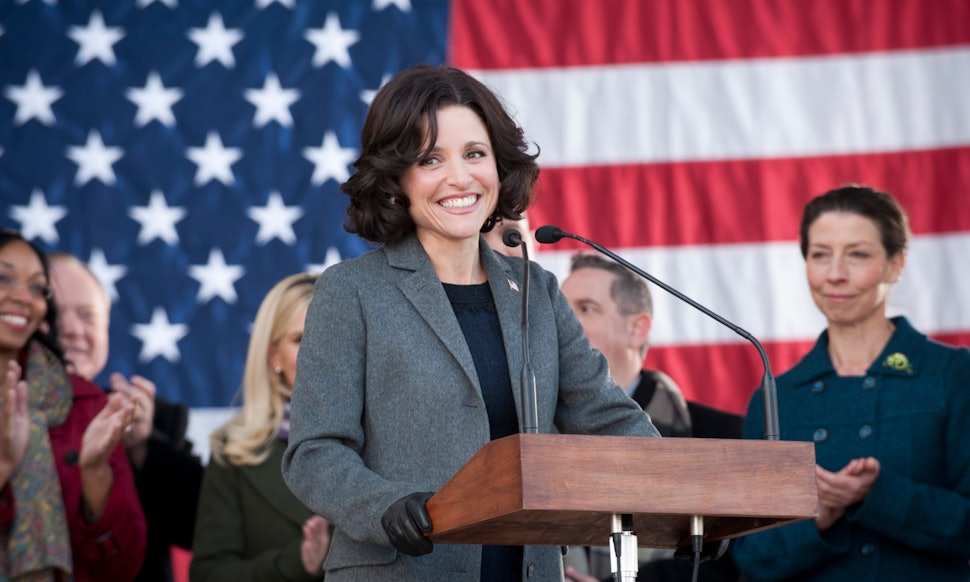 This Sunday marks the second season finale of HBO's brilliant political comedy Veep. Unfortunately, for much of its season, the series was overshadowed by other Sunday night heavyweights, like Mad Men and Game of Thrones. And it's too bad — if you haven't been watching, here's why you should catch up and get ready for next year's third season. [Images: HBO]
Sunday Night has Comedy Too
This Sunday marks the second season finale of HBO's brilliant political comedy Veep. Unfortunately, for much of its season, the series was overshadowed by other Sunday night heavyweights, like Mad Men and Game of Thrones. And it's too bad — if you haven't been watching, here's why you should catch up and get ready for next year's third season. [Images: HBO]
Julia Louis-Dreyfus
The star of Veep is Julia Louis-Dreyfus, or as we all still think of her, Elaine from Seinfeld. As the self-centered, well-intentioned Vice President Selina Meyer, Louis-Dreyfus is at her absolute best. She won the 2012 Outstanding Lead Performance by an Actress in a Comedy Series Emmy, and her performance in the second season, when Meyer really struggled, has only gotten better.
Tony Hale
Buster Bluth is back on TV (and we're not talking about Netflix). His character on Veep, Gary Wlash, the Vice President's aide, is actually similar to the youngest Bluth brother. Just take that undying devotion to his mother and transfer it to his boss, the veep. Hale is always funny as he chases Meyer, carrying a bag full of her essentials, and gets made fun of constantly by his coworkers.
...and the Rest of the Cast
Filling Meyer's team are Anna Chlumsky from My Girl as her uptight chief of staff Amy, UCB alum Matt Walsh as her bumbling director of communications Mike, and Reid Scott as the conniving deputy director of communications. Then there's Timothy Simon as Jonah, the VP's liaison to the President and office punching bag. The ensemble is great, each delivering the hysterical, insult-riddled script perfectly.
Non-Partisan Takedowns
Even though Veep is about a fictional vice president and set completely in the world of politics, you never hear the words "Democrat" or "Republican." There's no indication of what political party anyone belongs to, and the issues used on the show are kept pretty vague. So instead of making fun of any particular view, Veep just makes fun of the government and politics in general. And does so very effectively.
The Best Insults Of All Time
If nothing else, watch Veep to pick up some tabs on how to make fun of your friends. Meyer hates most of the people in Washington and isn't afraid to show it. The same can be said of her staff, who hate each other and everyone else. Almost every line includes some kind of curse, and when poor Jonah walks into the room. Get ready for some of TV's most colorful dialogue.
Completely Ridiculous Storylines
Nothing is off-limits on this show. From a pregnancy scare to a flu epidemic to inappropriate groping, it's happened to Vice President Meyer. A highlight from this season had Meyer forced to give a statement on the Israel/Palestine conflict while standing in front of a pig roast.
Great Off-Camera Moments
Veep lead to this moment: Louis-Dreyfus sitting with Joe Biden at his desk. Enough said.