Your Guide To Building An In-Betweeny Wardrobe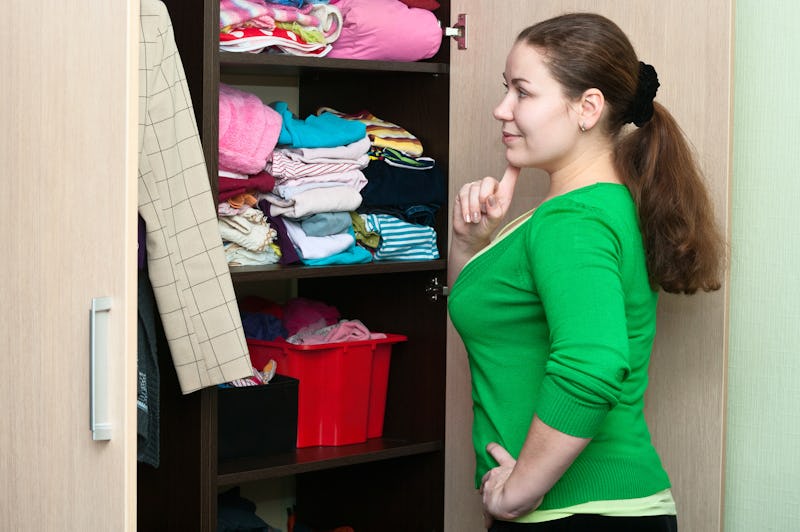 Thanks to all sizing being so inconsistently different and, you know, the natural variation of human bodies, it's easy for people to slip between the cracks. Well, not so much cracks as arbitrary sizing discrepancies. As I know from experience, my body can range from a straight-size 10 to a plus-size 18 and from a size L to a 3X — all depending on the day, the clothing line, or even the specific garment. My mottos have always been, "Try things on, you never know!" and, "The size doesn't matter, the fit does!" Whilst both are true, they're also necessary maxims because clothes fit in the weirdest of ways. But that doesn't necessarily make trying on approximately 1000 items more palatable or enjoyable, especially when you're somewhere between plus and straight sizes. Double that frustration when you need to shop in both plus and straight-size stores to rustle up something that resembles a wardrobe. Wouldn't it be lovely if all stores just sold a wide range of sizes so that this wasn't even an issue?
This intermediary place has been described by Tim Gunn from Project Runway as "The Cusp" and after Emily McCombs of xoJane embraced both the term and being a cusper, I did too. But deciding it's OK to rest along that arbitrary line and knowing how to dress your body at that size are two totally different things. What should you be looking for in straight sizes? What are plus-size lines going to naturally do better? While my body and your body are probably going to be at least a little different, there are definitely some universal truths. So let me be your guide through the world of closets and clothing sizes:
1. PANTS
Generally, pants are going to be an area where you'll want to skew on the plus-size of things. Specialty plus stores and lines are going to have a bit of extra room and a more generous cut in the hips and thighs, if that's something you need. Most of the plus pants I've put on also have a decent amount of stretch, which helps to skim any curves you have and make going between sizes easier.
Kady Fit Ankle Pants, $80, eloquii.com
2. SKIRTS
Straight size a-line skirts (the pleated variety, especially) with stretchy waistbands are my wardrobe staple. Whether I'm up or down five pounds, I know they'll fit just right. I've actually had quite a bit of luck wearing longer straight-size skirts a bit higher up than my natural waist. But for anything shorter or non-stretchy, definitely go with plus.
Accordion to You Skirt, $35, modcloth.com
3. TOPS
Tops can be another tricky one. If you're looking for a button-down and are on the busty side, you probably already know you're going to need to turn to plus-sizes. Floaty tops and blouses generally have a bit of wiggle room, depending on the fit you like, and I have an empire waist top that's a BCBG size 10. Again, TRY EVERYTHING.
Foxcroft Denim Tunic, $132, nordstrom.com
4. DRESSES
Dresses are funny and are pretty much going to need to be assessed on a case-by-case basis because they're all about proportions. When you have something that's supposed to fit you on the top and bottom, it's gonna be a crapshoot: Even more so if you're thick in the bust, waist, or hips/butt. I find dresses to be one of the more forgiving garments, though, so it can be worth a shot. Bridal gowns and formalwear, though? Generally prepare to size up.
Grafitti Girl Dress, $90, citychiconline.com
5. OUTERWEAR/JACKETS
I've found that I need to follow a solid size up rule with coats. There's nothing worse than feeling a pull at the shoulders, midsection, or thighs while you're trying to go about your day. These are great pieces to get tailored to fit though, so make sure your arms and thighs have lots of room and take everything else in.
Textured Shawl Collar Blazer, $40, forever21.com
6. LINGERIE
OK, so here's the deal: Bra sizes are bra sizes and most plus-size lingerie stores carry a variety of cup sizes with an emphasis on larger band width. Band sizes affect the fit of the cups, so may I recommend a bra fitting? If you have big ribs like me, these can change your whole life! As far as underwear goes, if you have a bit of a tummy, plus-sizes will do you right. Underwear that's cut to accommodate a more curvaceous stomach is going to be more comfortable and not dig into the tender fleshy spot below your belly button and above your pelvic bones.
Gisele Allover Lace Thong, $10, hipsandcurves.com
7. BOOTS
Are you envious of everyone wearing Hunter rain boots? Me too! I tried to wedge my thick calves into them and failed so miserably. They're not the only boots a little snug in the leg, but wide-calf boots can be few and far between. Surprisingly, many plus-size clothing stores carry boots for your curvy calves that don't require you to buy a size too big and stuff the toe.
Over The Knee Leather Boot, $100, additionelle.com
Images: Fotolia; Giphy; Courtesy Brands