Will Lori Greiner Like the "Swuit" on 'New Girl'?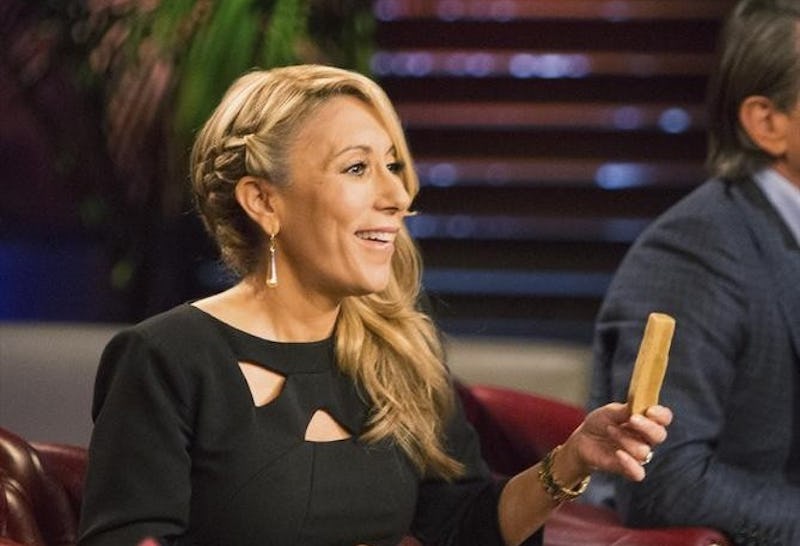 Nope, your eyes are not deceiving you. Lori Greiner of Shark Tank is on New Girl – as herself, no less. Naturally, Schmidt and Nick are teaming up to pitch their "swuit" to the beloved entrepreneur. You didn't think their partnership was going to die after one episode, right?
If you don't watch Shark Tank, it's a reality show with very real stakes: entrepreneurial hopefuls present their new inventions to a panel of five über-successful potential investors (the show describes them as "self-made business experts worth billions"). It's the kind of show that'll make you sweat bullets — it's complete with fast-paced, tightrope-like business decisions, ominous music, some very sharply dressed panelists and a long, austere hallway that the contestants must walk down before their fates are decided for them. In other words? It's going to be a lot of fun to watch Schmidt and Nick go head to head with one of the shows titular sharks.
Let's get back to Lori, though — what do we know about her? And here's the million-dollar (perhaps literally) question: Will she choose to invest in Schmidt and Nick's swuit?
She's the "Queen of QVC"
According to the opening sequence on Shark Tank, she "holds over 100 patents and has launched over 400 products." She started her empire with an innovative jewelry organizer and is now worth a half a billion.
As QVC's reigning queen, she usually helps her investees get on QVC to promote their invention — and I could be getting ahead of myself here, but I'd personally invest in the swuit myself if it meant I got to see Nick and Schmidt shill the swuit together on TV.
She's the "Warm-Blooded" Shark
She's known for being one of the kinder, more compassionate sharks on the show — which could bode well for the swuit... but then again, a shark is a shark is a shark. I mean, at the very least, she'll likely offer them some advice and let them finish their pitch — but compassionate or not, she's no patsy.
Is She In?
According to a recent interview with Zap2it, Max Greenfield and Jake Johnson are very optimistic about the swuit — Greenfield called it a "pretty special" "meeting of Nick and Schmidt," while Johnson joked, "I as Jake would wear it."
Unfortunately for New Girl's crack entrepreneurial team though, I think Lori's going to smell the blood (or Nick's flop sweat) in the water a mile away. First off, knowing their combined propensity for ungainliness, their pitch is most likely not going to run smoothly (Nick can't tell a lie to save his life, and last week Schmidt had a meltdown in front of the city council about his sleeve lengths). Plus, let's be honest, does the swuit really have potential as a product? If pajama jeans didn't set the world alight, I don't know if there's much hope for the swuit — but we'll have to leave that up to Ms. Greiner to decide.
Images: Michael Desmond/ABC; Giphy (3)