The Grammys Edition Of Mean Tweets = Best Ever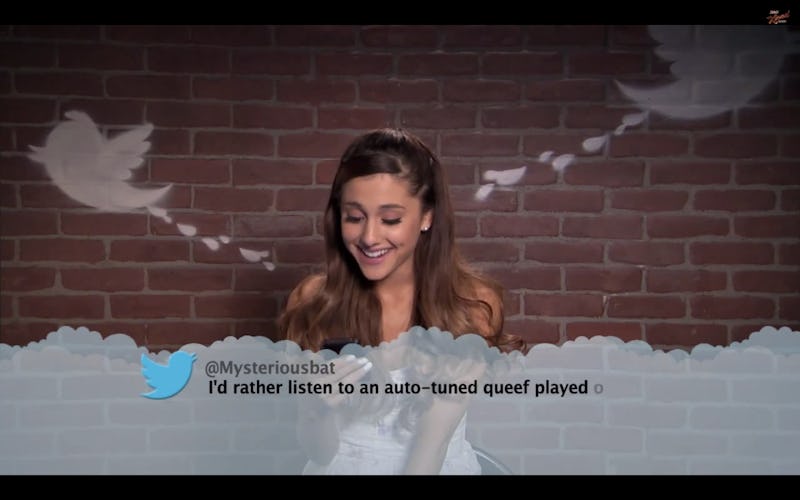 To me, the best part of having celebrities read mean tweets about themselves on Jimmy Kimmel Live is not just the content of the tweets, but also the celebrities' reactions to those tweets. I mean, after kicking off the week with a 13 minute lip sync battle with Will Ferrell and Kevin Hart, I thought The Tonight Show would be the late show that was winning everything, but Kimmel's Celebrities Read Mean Tweets: Music Edition 2 just gave Jimmy Fallon a run for his money. Collecting everyone from Ariana Grande to Childish Gambino to Blake Shelton to have them sit down and read mean tweets about themselves is comedic gold-mining potential, but, man, some of their reactions made this utterly priceless.
One celebrity replied, "Fair," to a tweet's assertion. At least two celebrities just plain started cracking up, some even before they finished reading the tweet. An exaggerated pout is, sure, a good way of showing people that you're meant to be sad but aren't really all that sad, but too many of the celebrities do that for me to feel any kind of sympathy. Above anyone else, the celeb who gave the best response to their tweet was Psy, who, fittingly, ends the video on a high note before walking off with a laugh.
However, the thing about Celebrities Read Mean Tweets is that it kind of doesn't inspire anyone to stop writing mean tweets. Don't get me wrong. No force on earth, aside from complete accountability on the Internet making the blanket of anonymity hard to maintain, would stop people from writing mean tweets, but part of me wants to go write one right now in the hopes of seeing it read on Jimmy Kimmel Live. I imagine this is a common feeling.
Check out the video below.
Image: YouTube