'Magic Mike XXL' Trailer Is All Shirtless Channing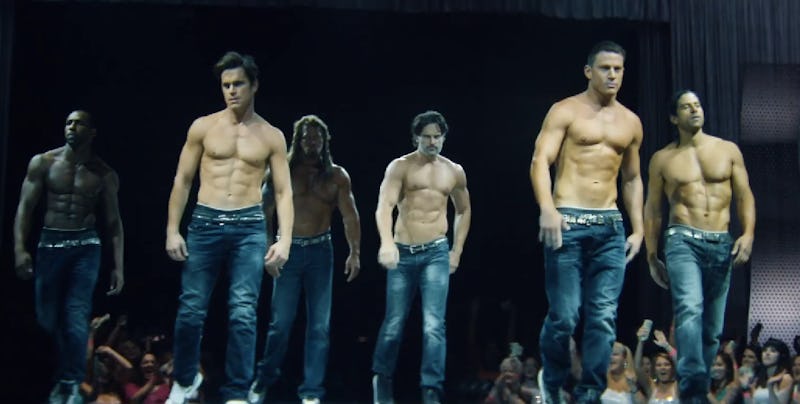 The Magic Mike XXL trailer is here, and you can probably count the number of clothed men on one hand. Channing Tatum kicks off the trailer wearing clothes, but as sparks fly (literally) when he uses power tools, then dances and thrusts all around some sort of garage, it's just as sexy as if he was totally undressed. And that's just the beginning. In the new teaser — which Tatum premiered on The Ellen DeGeneres Show on Wednesday — we see Mike's humble stripper beginnings with his familiar friends Big Dick Richie (Joe Manganiello), Ken (Matt Bomer), and Tito (Adam Rodriguez) getting down and dirty at clubs and making it rain in hotel rooms. Even though it's a short clip, we see enough bumping and grinding with lucky women onstage to know that Mike's start in the business was a little more gritty than where he ended up in Magic Mike.
Alex Pettyfer won't be returning in the sequel, but there are some fantastic new faces in the cast. We got a glimpse at Stephen tWitch Boss in his full shirtless glory, but did not see Michael Strahan, who also has a big role in XXL. There is also one more introduction to a new character at the very end: Amber Heard. "Nice to meet you. I'm Magic. Magic Mike," Mike tells her character as he does a little shimmy to exit the room. Is it July 1 yet? Because as the trailer tells us, it's time to "get back to the grind." Check it out below.