Call This New Makeup Line Your Fairy Godmother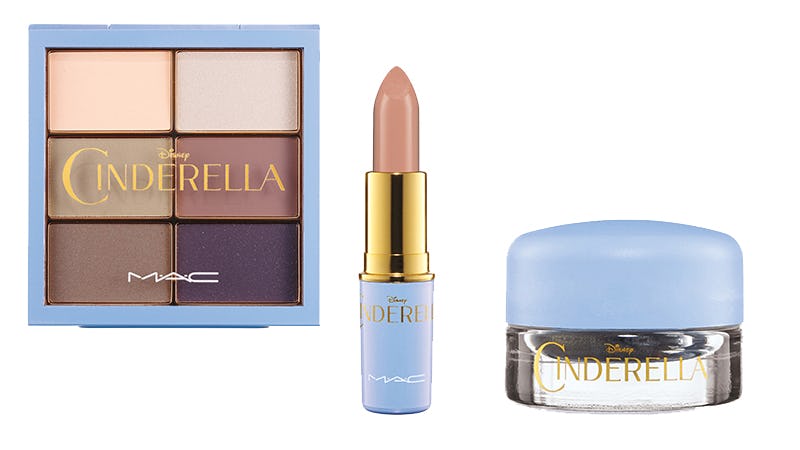 Disney disciples and fairytale followers alike were beyond elated by the news of Disney's plans to remake Cinderella in 2015. After months of attention to the costumes, casting, and potentially feminist angles of the film, Disney is targeting a different aspect entirely: beauty. M.A.C. has announced a forthcoming Cinderella-themed beauty line, Allure reports, for beauty junkies who don't happen to have an eyeliner-wielding, sorcerer godmother on speed dial for red carpet occasions. The M.A.C. Cinderella collection makes its online debut on February 26 and hits stores on March 5, so dust off your glass slippers and get ready to sprint to your local boutique before the clock strikes midnight and the products disappear.
To put it simply, the M.A.C. Cinderella Collection is unabashedly beautiful. An array of lightly shimmering Studio Eye Glosses add a wash of subtle sparkle to the lid, an Eyeshadow x 6 palette provides ultra-flattering hues to contour and line peepers, an array of custom Cinderella Fluidline eyeliners define the lashline, and the M.A.C. Cinderella Studio Fix Lash in Bold Black promises a come-hither wink to enchant any suitor.
Of course, a royal rendezvous requires a mirrored compact, a job which the Cinderella Beauty Powder in its sky blue case executes without a fault. Sparkling nail pigment in an array of luminous shades and a swipe of the collection's flattering rose-hued Happily Ever After Lipglass or nude Lipstick in Free As A Bird polish off a truly regal look. None of the line's enticing products are priced above $50, which is yet another work of magic in its own way. Get ready to take on 2015 as a princess in the making, because with this alluring makeup collection, you may rival even Kate Middleton's glow.
Check out some of the items below!
Images: MAC