Did NBC's 'The Slap' Really Happen?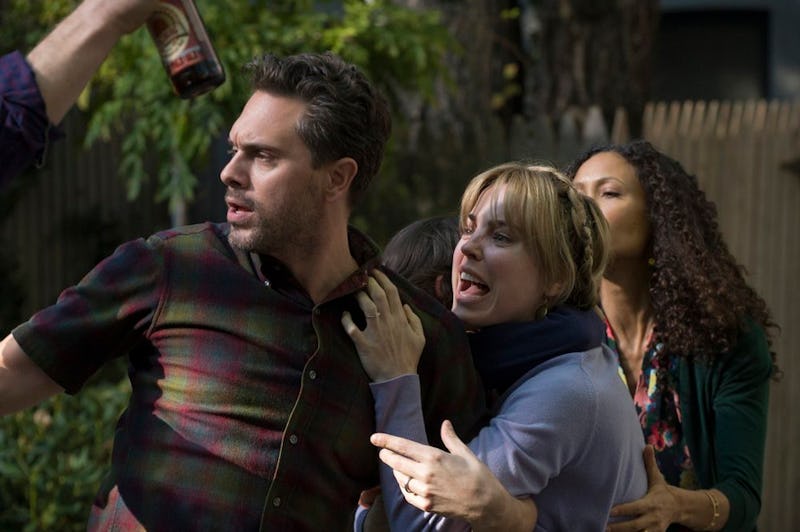 NBC is introducing viewers to a new miniseries called The Slap on Feb. 12, and it is certain to raise a few eyebrows. The show revolves around a family gathering that quickly becomes one they'll never forget when a guest slaps a boy, who is not his son, in a rage. Sounds controversial, right? Because of the context of the show, people are sure to be wondering if this honest and potentially difficult look at family dynamics is derived from real events. So, is The Slap based on a true story?
NBC's The Slap isn't the first time the story has been told. The Slap is actually a book by Christos Tsiolkas, which was published in Australia in 2008 and the U.S. in 2010. It received quite a few awards and nominations for its captivating story, leading it to become a television show in Australia in late 2011. The Australian series of the same name received a majority of positive reviews, even being called "arguably the best Australian drama series produced that year," by the Australian Daily Telegraph. The novel, Australian series, and upcoming NBC series all tell the same story, so because this story is known around the world, it's hard to not wonder if the titular slap actually did happen at some point.
After some research, it seems that this story is completely fictional. In an interview with The Telegraph UK, Tsiolkas said that he doesn't "read a lot of contemporary fiction that's true to the world," suggesting that his own novel is a work of contemporary fiction that is true to the world. The book, and subsequent TV shows, revolve around much more than the moment of the slap. They follow the repercussions of the slap at the family barbecue and how it tears a family apart, along with opening up old wounds for the characters. Other themes that the novel has been said to touch on are issues like domestic violence, infidelity, loyalty, misogyny, and family values and dynamics, all pointing back to Tsiolkas' "true to the world" comment. With that said, nowhere has Tsiolkas said that his novel is a story that has occurred in his or anyone else's life, so it is safe to assume that this story is only "true to the world" in relation to its realism.
With its honest and likely heartbreaking look at all of these issues and the struggles a family can face, The Slap is sure to be both poignant and polarizing when it premieres on NBC on Feb. 12 at 8 p.m.
Images: Virginia Sherwood/NBC (2)