'Saved By The Bell' Reunion Fashion Is On Point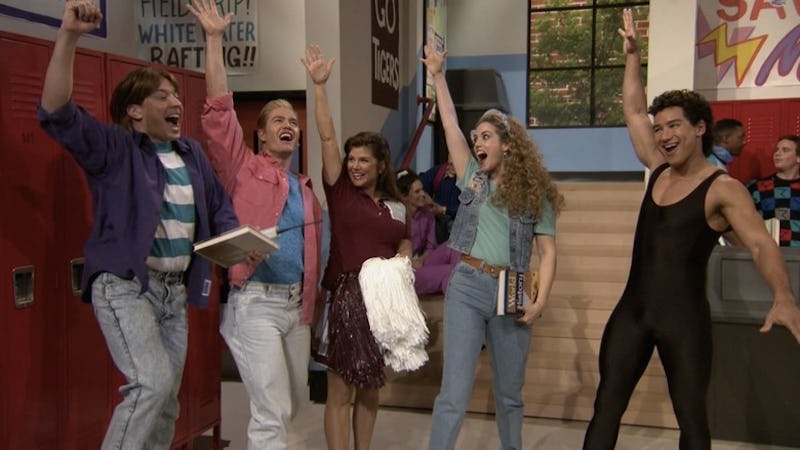 Unless you've sworn off social media in the last few days, you've no doubt seen the highly buzzed about Saved By The Bell reunion, orchestrated by Jimmy Fallon on The Tonight Show — which was better than anything we could have imagined. Not only did actors Mark-Paul Gosselaar, Tiffani-Amber Thiessen, Mario Lopez, Elizabeth Berkley, and Dennis Haskins do us SBTB fans proud, they did right by Zack, Kelly, Slater, Jessie and Mr. Belding by staying true to the wardrobe stylings of the decade in which the show first aired.
If you are at all a fan of the original show, you know that each character had their it piece. That one item you saw them wearing during almost every episode — it just defined who they were. I was pleased to see that the actors brought their on-screen counterparts' signatures back for the 2015 reunion.
Let's take a look at each of the characters' prominent fashion staples, shall we?
Jessie Rocked Vests Like It Was Her Job
And thankfully she brought back the famed denim vest in the Tonight Show reunion:
The hair is on point too — she totally nailed her "I tame my frizzy curls with a bow-tie headband" look.
Slater Was Into Tiny Chest-Baring Tank Tops
Mario Lopez took it to the next level — he actually wore that exact black leotard getup in the reunion show:
Zack Was All About The Layering
And he didn't disappoint when revisiting Bayside High:
Kelly Was Always In Her Cheerleading Uniform
Although the uniform has evolved a bit, the one worn by Tiffani Thiessen looks pretty damn close to this.
She can totally still pull off high school.
The cast then:
The cast now:
It's nice to see that not much has changed.
Images: NBC, Youtube