Romance is Budding on 'American Idol'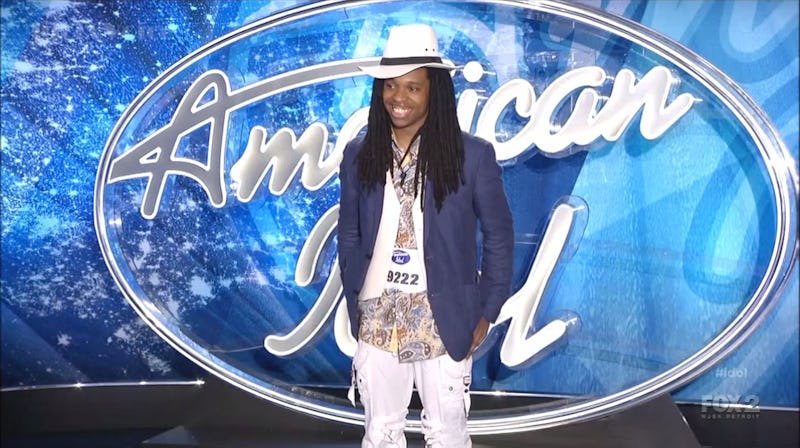 What's reality TV without a budding romance? Well, it seems that American Idol meets The Bachelor this season. A New York love connection has sparked in Hollywood between the very talented "Jax" Cole and the well-coiffed Qaasim Middleton. Cole was immediately smitten with the long-locked performer — did you see her eyes light up during his audition?! — and after hearing his smooth rendition of Ed Sheeran's "Give Me Love," we've fallen just as hard.
We already know a lot about Cole — she was a favorite from the Brooklyn auditions, is always clad in camo, and has knack for adding her own flair to popular songs. But what about Middleton? He didn't give a memorable first audition, but I have a feeling we'll be seeing a lot of him from now on. The Brooklyn native wowed the judges in Hollywood with a simple performance accompanied by his own guitar playing. The Sheeran song was a perfect pick for his classic voice — it was equal parts confident, charming, and needy. What makes Middleton even cooler, though, is that he already has a career in Hollywood. He is best known for his role in the 2007 Nickelodeon show The Naked Brothers Band, but has a multiple other acting credits to his name.
Let's think about this romance for a second. Both performers are from the tri-state area so they're relationship wouldn't be tested by distance. Some may disagree and say the trek from Brooklyn to Jersey is just too much — "I have to cross the river? Hell no." — but I think these two would make the effort. They have more in common than location, though. Both have great hair — seriously, Middleton's been working on his since he was two-and-a-half-years-old. Plus, they're both crazy-talented and would make a great duo.
But will their love survive Hollywood Week? At this point, the answer is yes since they both made it to group rounds. I'm hoping they team up, make audition magic, and fall in love in the process.
Check out Middleton's original audition:
Image: YouTube - IdolxVoice