'RHONJ' Son Comes to Meet 'Millionaire Matchmaker'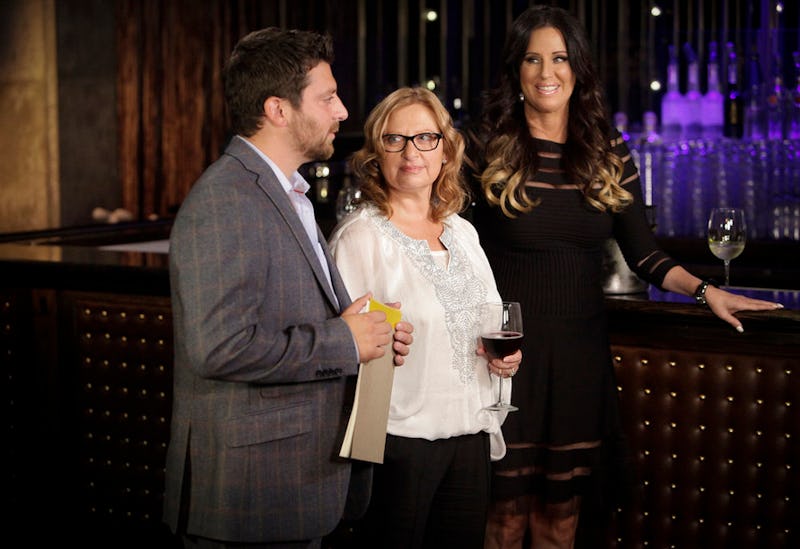 Oh my god. I can't believe it's been six years since Caroline Manzo brought her sons to Patti Stanger to match them up. So when Chris Manzo was on The Millionaire Matchmaker for the second time, tonight, it was enough to make you feel ancient. Other things that were going on back in 2009 when Chris and Albie first appeared? Patti was in New York, kicking off a disastrous experiment. RHONJ was still in its second season, which means there was Dina and Caroline together, Danielle was still stirring up all sorts of trouble, and Teresa Giudice was still free. Seeing Chris again, now 26 instead of 21 and the star of Manzo'd with Children instead of RHONJ, brings back those old memories.
I can't with the rehabilitation of Max, the blonde surfer dude from TMZ, because that show is enough to make you vomit. But while everything I've ever seen him in (and his attitude. And his posture. And his homeless affect) has given me the impression that he's a total douche, he did spout the usual platitudes that reformed bad boys say on this show. He just happens to be way more classically good-looking than usual. But then he says he "imports" girlfriends from other LA neighborhoods, and I yak all over again.
For some reason Jenna Marbles is the PERRRRRFEEEEEECT person to meet with Max and Chris because she knows the Internet? Not really sure what Patti was thinking other than this was an opportunity to add some jokes and another minor celebrity to add to the season's total. But she did school them in how to conduct a conversation like a human adult, which hopefully was useful. She also reminded me that David Beckham used to have long hair. What a world!
But we're not here for Jenna Marbles. All of this is just an excuse to see Caroline's Mommy Dearest + Mama Bates overprotective schtick.
She's very overprotective, and should probably calm down a little bit about Chris' potential dates, rather than stressing over every little detail of his date, even monopolizing the post-date rundown with Patti. But since she's no longer mothering the crap out of the entire RHONJ cast, she's got to smother where she can. Because Chris is family, and you know how Caroline feels about family...
But a lot of these women were so young, it seemed like the chemistry would wither and die simply because who meets the love of their life on a TV dating show at 21? But supposedly Amanda and Chris are making it work, and maybe we'll be seeing her cosplay again on Manzo'd with Children. I don't care about Max. Date, don't date, you'll always be the surfer from TMZ to me, dude.
Image: Nicole Weingart/Bravo; Giphy (2)