Where Did 'Breaking Bad' Leave Off With Saul?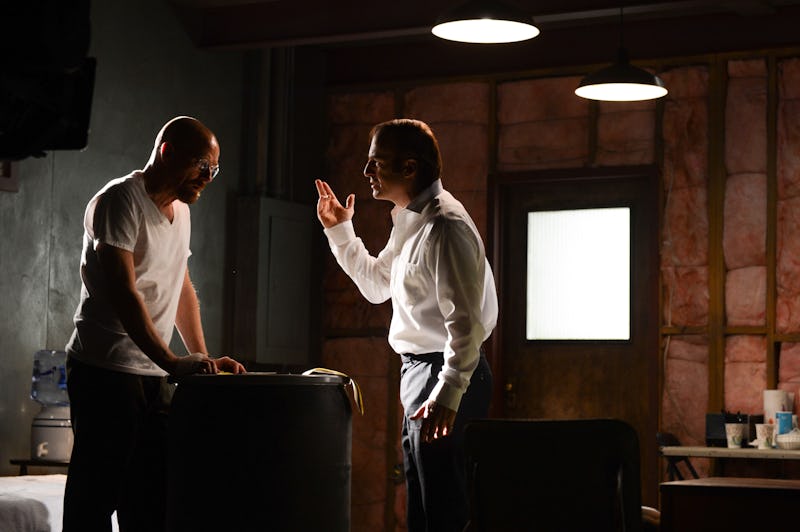 After such non-hits as Low Winter Sun, Turn, and Halt And Catch Fire, AMC continues its efforts to recapture its glory days with spinoffs of two of its most successful shows, The Walking Dead and Breaking Bad. While the tentatively-titled Fear The Walking Dead won't premiere until later this year, Better Call Saul premieres this Sunday, Feb. 8. And that likely has fans trying to recall what happened to Saul at the end of Breaking Bad.
Of course, most people know that Better Call Saul will primarily take place before the events of Breaking Bad, chronicling the misadventures of sleazy lawyer Saul Goodman, née James McGill, before he met the notorious Heisenberg, née Walter White. This is great news because it means fan-favorite character Mike Ehrmantraut (Jonathan Banks) is back as Saul's private investigator who was gunned down by Walt in Breaking Bad's final season. It also means the possibility of cameos by other deceased characters such as Gus Fring, Hank Schrader, and Lydia Rodarte-Quayle. But the end of Breaking Bad will still matter in the context of the new series.
That's because Better Call Saul isn't strictly a prequel. While the bulk of the action takes place prior to 2008, the show will also take time to explore events during and after the run of its parent program. That means we might finally learn what happened to Saul after the traumatic events of Breaking Bad's final season. So where exactly did the unscrupulous attorney leave off?
We actually didn't see Saul in the Breaking Bad series finale, "Felina" — the character's last appearance came in the penultimate episode, "Granite State," when he and Walt were both holed up in the basement of a vacuum repair shop. They were placed there by Ed, the extractor they hired to get them out of town. Saul was on his way to Nebraska and Walt to New Hampshire, both with new identities, and they were forced to spend a few days together in the small room while waiting for arrangements to be made.
Walt asked Saul for the name of a hitman he could hire to take out neo-Nazi Jack and his crew, but Saul refused, instead attempting to talk Walt into turning himself in rather than fleeing. Walt tried to intimidate Saul but broke down into a fit of coughing. No longer scared of Heisenberg, Saul picked up his bag and left his client and his life behind.
So in truth, it's not entirely clear what happened to Saul when Breaking Bad ended — all we know is that his life was greatly changed.
We can, however, know that Bob Odenkirk will once again be his fantastic character and deliver loads of simultaneously hilarious and despicable moments like these:
Images: Ursula Coyote/AMC; w0rldtour, winterthirst, was-jaimelannisters, gifthescreen (3), hannibalthecannible, officialheimskr