What Does "Our Dancing Days" Mean For 'Empire'?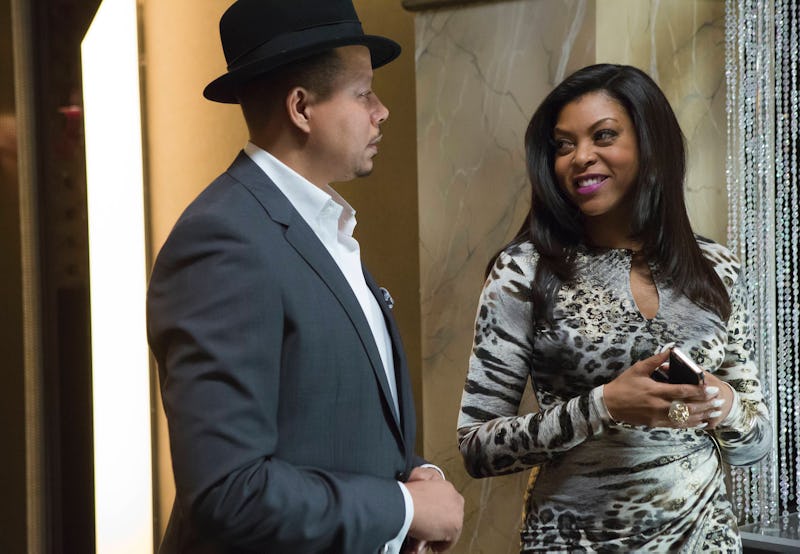 Are you ready for more Empire? Looking forward to next year's inevitable live performance of "Drip Drop" at the Grammys? Let's start with the Feb. 18 episode of Empire , titled "Our Dancing Days." What is that all about? The phrase actually comes from Shakespeare's Romeo and Juliet. Capulet says to one of his party guests, "Nay, sit, good cousin...for you and I are past our dancing days," meaning that they are too old to partake in the silly business happening around them. Well I bite my thumb at you, sir! Looks like King Lear isn't Empire's only Shakespearian reference.
In fact, many of the Empire episode titles have been lines from The Bard. This week's "Out Damned Spot" is from Macbeth (but please don't say the title out loud if you happen to be in a theater while you're reading this). "The Devil Quotes Scripture" was taken from Merchant of Venice. The episode "False Imposition" was taken from one of Iago's lines in Othello, "Reputation is an idle and most false imposition, oft got without merit and lost without deserving." Finally, "Dangerous Bonds" came from the lesser known Cymbaline.
But why this particular line from Romeo and Juliet, and why for next week's episode? "Our Dancing Days" could refer to several of the characters on Empire, especially when you consider the episode description from TV Guide.
Lucious tries to brand Empire Entertainment as a tight-knit, family-run business which, ironically, complicates the already tense relationship between Hakeem and Jamal. Meanwhile, Cookie and Anika don't hold anything back when it comes to taking over the company.
That is not giving too much away, especially with regards to this Shakespeare reference. Here are a few options to ponder.
Flashbacks
The most obvious answer, given the elimination of the word "past" from the original line, is that the title is referring to a flashback between Cookie and Lucious during their "dancing days." Perhaps we're going back to before they had kids and were as innocent and in love as Romeo and Juliet seem to be.
Change Of Heart
Another possible interpretation of this title has already started to happen on Empire. If a person decided, or was asked, to sit down because their dancing days were over, it is a call to put the past behind you and grow up. Cookie and Lucious are technically enemies, but we've had plenty of moments when the two of them get along and tease each other rather than threaten. What if they see how foolish their children's antics are and call a temporary truce?
This could also be referring to Andre Lyon and his wife Rhonda. The Percy Weasley of the family has revealed himself to have plenty of dirty tricks up his sleeve. Perhaps Lucious will catch his scent and attempt to call his eldest son off before he causes too much damage.
Spotlight
Sometimes, you have to learn the hard way. Could this be the episode in which we see Lucious perform, like really perform, on Empire? If he's trying to brand his company as home grown, it might be time for him to take the mic himself. We've hard a lot about it but we haven't seen it just yet.
Whether it's one of these things, several, or something completely different, this is shaping up to be an excellent episode of Empire.
Images: Chuck Hodes/FOX (4)