About 'Downton Abbey's Mixed-Faith Wedding...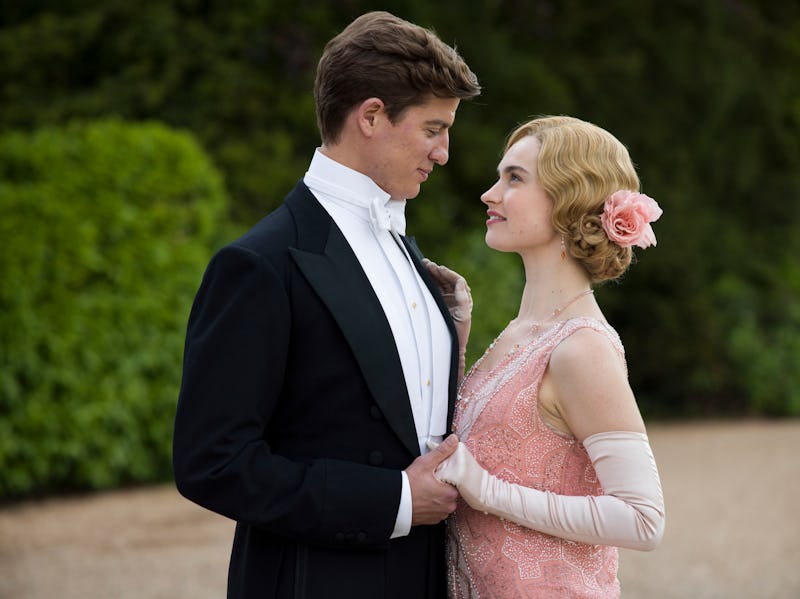 Lily James' character on Downton Abbey has always been a bit rebellious. She entered the series by sneaking out to go to jazz clubs. Now, her latest beau Atticus Aldridge is Jewish — Could Rose marry a Jewish man on Downton Abbey? Their relationship blossomed around the same time that Edith learns the father of her child was killed in a Nazi riot in Germany. Of course, 1924 is a far cry from the Second World War in some aspects, but this season of the show has given us a keen reminder that it was a long time coming. The real question is, would interfaith marriage be controversial in 1920s England?
The Crawleys don't strike me as particularly anti-Semitic, but they are old-fashioned. What about the social conventions of the early 1920s? Whether the Crawleys were ahead or behind, there still are the times to consider.
Atticus' family fled the pogroms in the Ukraine, a series of Anti-Semitic attacks lead by the Russian Empire that took lives and property away from many Jewish families. Not to over-simplify this horrifying era in history, but to put it in context — the pogroms during that period are also the subject matter of the musical Fiddler on the Roof. Atticus' family has escaped persecution once before. England may be more polite about it, but there was prejudice there at the time as well.
Of course, it was controversial when Lady Sybil Crawley married Thomas Branson, but more because he was working class than because he was Irish Catholic. So this isn't the first time that an interfaith relationship has graced the halls of Downton Abbey. Last week, Isobel commented that it was better than the Catholics because Rose would not be expected to convert. "There's always something, isn't there," retorted the Dowager Countess.
Branson's faith became more of an issue for little Sybbie, who he insisted be raised Catholic instead of Anglican, to the horror of His Lordship. What would happen to any of Rose and Atticus' children, should they tie the knot?
In 1926, Lily Montagu founded the World Union For Progressive Judaism. She was a lifelong advocate for Jewish women and the necessity of a more liberal or "living Judaism." Another important figure in the movement, Claude Montefiore, wrote a pamphlet on Anti-Semitism in England in 1920. So Downton Abbey is not too far off the mark. This was a serious issue at the time.
Lady Rose MacClare and Atticus Aldridge may be able to have a legal union, but not wholly religious for all parties. Such a union has never and still is not easy to obtain. Today in the United Kingdom, a rabbi cannot marry a mixed-faith couple in a synagogue. Only Liberal Judaism will perform "blessing" ceremonies after the couple has obtained what we Americans would call a "civil union," and none of the traditional Jewish marriage rituals are permitted. Today, the Liberal Judaism movement is at the forefront of advocacy for same-sex marriage in England. I can't imagine what it was like in 1924, when this season of Downton Abbey is taking place.
I hope it works out for Lady Rose & Atticus. Still, we don't even know what Rose and Atticus' parents might think of the coupling. The Crawley family, at this point in their tumultuous life, may be the most accepting of the lot!
Image: Nick Briggs/Carnival Film & Television Limited 2014 for MASTERPIECE