Are Models On Instagram Promoting Gymnorexia?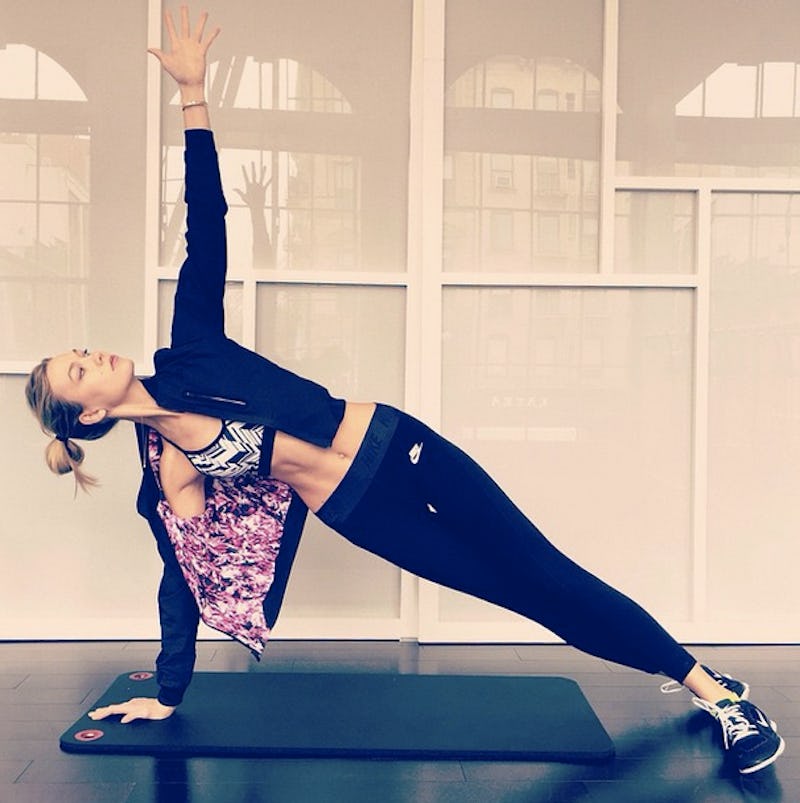 The other day, my sister sent me a Gchat telling me to look at Hilary Rhoda's most recent Instagram post. "So creepy," she said. I immediately took my phone out to see what the fuss was about.
For a bit of context, I'm an avid (read: obsessive) consumer of the model/socialite/fashion industry subculture, and there's no better platform to fuel my addiction than Instagram. Where does Eva Chen get her bubble tea? Did Derek Blasberg eat caviar in Paris this week? How many blonde friends did Taylor Swift have over for dinner last night? If Instagram didn't exist, I wouldn't care. But it does, and I do care, and my scrolling and tapping habits have all too often led me deep into the troves of some European socialite's account, eight people removed from wherever I started.
So it struck me as completely normal for my sister to tell me to look at a picture posted by a model I wouldn't have known was something of an It-Girl if it weren't for her Instagram presence.
Once I tapped into Rhoda's profile, I knew exactly what my sister was referencing. The model had posted a post-workout picture of herself with a caption that read, "The only bad workout is the one that didn't happen."
Huh? Creepy.
The post epitomized the consequences for body image that arise when models build their personal brands on Instagram. On the one hand, the transparency of models' lives, and by extension, their workout regimens, on social media acts as motivation to their followers to get up and moving. But on the other hand, it promotes an extreme and unrealistic attitude towards exercise.
Thanks to fitness trends like ModelFit and the Tracy Anderson method, working out has become an event to post pictures of — not unlike brunch and birthday dinners. Based on whom I follow, my Instagram feed has become increasingly inundated with selfies of beautiful people at the gym.
There's a lot of psychology behind why people share what they share on social media. Some of the top reasons, according to a study by Social@Ogilvy, are to promote a cause or stay connected to followers. It's obvious that people share parts of their lives that they want others to know about. When a model posts a picture of herself at the gym, she wants her followers to know that she works out. And because the person in question — be it Hilary Rhoda, Karlie Kloss, or Gigi Hadid — is one of fame, long legs, and influence, her social media shares have greater reach than do yours and mine. She's promoting exercise as a cause, far and wide.
Of course, it's a good thing that top models like Karlie Kloss are promoting fitness and the healthy lifestyle that it entails. One of the prevailing stereotypes of the fashion industry is that models are skinny because they don't eat, or they smoke like fiends, or they do more drugs than Hunter S. Thompson. While Kate Moss was photographed leaving nightclubs with cigarettes hanging out of her mouth, Karlie Kloss is photographed leaving the gym with Taylor Swift and a pair of Nike sneakers. Kloss is one of the highest-earning models in the world, and at a time when Instagram followers are currency, photos of her that show that she's toned because she works out daily are inspirational to girls who look up to her, and ultimately a win for the fashion industry.
However, the voice that Instagram has given models has its downsides. As evidenced by the Hilary Rhoda gym selfie, models aren't showing off a balanced lifestyle but an extreme one. Before the taping of the Victoria's Secret Fashion Show in December, Karlie Kloss posted a photo to Instagram of her working out at midnight, after a 17-hour day and an appearance at the British Fashion Awards (so says the caption). Yes, the post proves that Kloss works hard to maintain the body that graces the pages of Vogue and the runways of Paris, but it also suggests that if you skip a workout one day, you'll immediately gain weight. And, of course, the suggestion that weight gain is always a bad thing is further implied.
There's a term for all this: Gymorexia, whose definition according to Urban Dictionary is exactly what you'd think it is: "Someone who has an unhealthy obsession with going to the gym and pounding it out for hours." If a model is gymorexic, let her be gymorexic. The more pressing issue is that she's promoting gymorexia to her millions of followers.
Making fitness a top priority makes sense for someone whose career depends on the physical appearance of her body, but not for the rest of us, the majority of whom make up models' Instagram followers. It's not realistic for women who work all day in an office, make time to socialize after work, and still have time to brave the lines at Trader Joe's to dedicate more than an hour a day to exercise. And if we don't have an hour to spare for the treadmill, we'll survive.
Images: Getty; Instagram/HilaryHRhoda/ KarlieKloss