'Fifty Shades of Grey' Costumes That Are SFW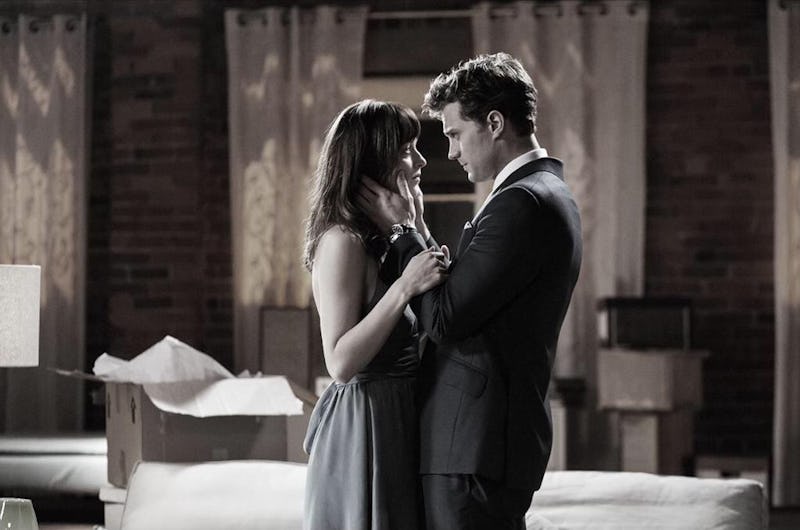 One of the best parts of going to a movie premiere is dressing up in costumes inspired by the film. Unfortunately for fans, some movie theaters are banning inappropriate Fifty Shades of Grey costumes and props. You know, the kind that could be seen as dangerous or make other people uncomfortable. But just because your options are somewhat limited doesn't mean you shouldn't dress up at all. There are several Fifty Shades of Grey costumes that would be totally appropriate for your movie going experience.
AMC is the first movie chain to make a statement about prohibiting certain costumes, with their spokesperson Ryan Noonan saying the following:
While we welcome those guests who want to show their excitement for a film by dressing up in costume, we do not permit weapons (real or fake), or props/costumes that would make guests uncomfortable, or detract from the moviegoing experience.
On the surface that policy seems a bit restrictive for Fifty Shades costumes. (Yes, that's a bondage pun, deal with it.) There are some ways you can abide by those rules and still have a killer costume. If you're looking to dress up for the big day, I recommend the following options.
Dress Up All In Red
To represent the red room of pain, of course. While you'll have to leave the whips and chains behind, decking yourself out in red will be a subtle reference to the movie that fellow fans will understand. Plus your outfit can double as a Valentine's Day ensemble if you see the film on Feb. 14.
Slip On A Silky Tie
Shhh...movie theater staff doesn't need to know that this business accessory doubles for a BDSM prop. They'll just think you like dressing fancy for movie premieres.
Do the Shy, Normal Ana Thing
Put on some skinny jeans, a t-shirt, and sneakers and say, "I mean look at me," a lot.
Go Literal
Puns are funny, and they don't hurt anyone. This kind of costume will be AMC approved, I'm sure.
Break Out The Leather
Nothing symbolizes sexual fetishes quite like leather. Whether you throw on a leather jacket or some leggings, your ensemble will be a nod to the movie's own brand of BDSM.
Throw On A Mask
Shades Of Grey Masquerade Mask, $11, Party Supplies
Reference the sequel Fifty Shades Darker by donning a masquerade ball-inspired costume. You can get a replica mask here for $11.
Slip On Some Appropriate Lingerie
Maybe you can't go all out, but you can try a slip dress or something strategically sheer. Remember you want to be both appropriate for the public and the bedroom.
Accessorize
50 Shades Of Grey Charm Bracelet, $21, Etsy
Maybe you don't want a full Fifty Shades ensemble, but you could always accessorize with a charm bracelet like the one Christian gives Ana. No one will know what it means except fellow fans so you could probably even get away with wearing your "costume" to work the next day.
Let Christian Claim Your Shirt
Property Of Christian Grey Shirt, $14, Etsy
It's like the clothing version of handcuffs.
AMC definitely can't get mad about any of these outfits, so try one out and have fun at the premiere!
Images: Universal Pictures (2); ABC; Etsy (2); 50shadesklaine, fuckyeahfriends/Tumblr; partysuppliesdelivered