A 'Fifty Shades' Beer To Put You In A Frisky Mood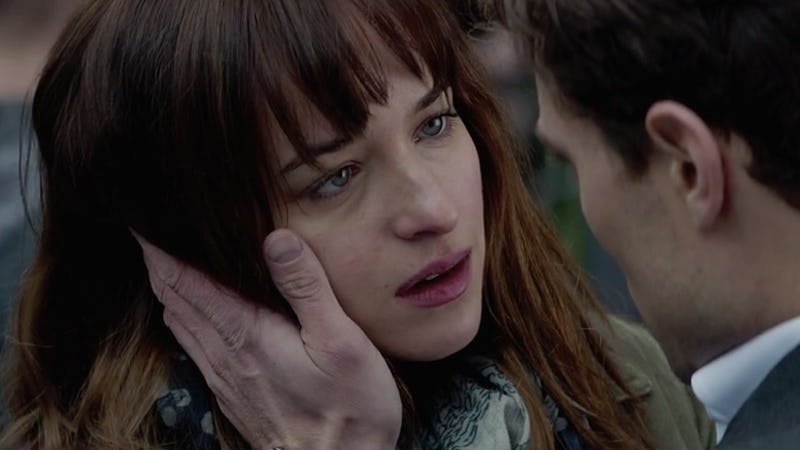 And now, a liquid treat that'll get you in the mood for blindfolds and handcuffs. A new beer developed by Scottish brewer Innis & Gunn and inspired by the wildly popular series authored by E.L. James is causing quite the sexy stir. The limited edition beer inspired by Fifty Shades of Grey is called "50 Shades of Green," and it contains 50 kinds of hops as well as added ingredients which tend to enhance overall friskiness, The Grocer reports.
As described by the brewers themselves, the drink is "mellow," "intense," and "seductively spicy." And the hop roster includes sirachi ace from Japan and pacific jade from New Zealand. The saucy added ingredient combination includes ginseng, which the brewers say will "get your sex drive firing on all cylinders," ginkgo, which gets blood pumping, and damiana, which is a nerve stimulant. Put 'em all together, and you've got yourself a beverage ride straight down Orgasm Road. Or rather, a drink replacement for Viagra and the steamy crooning from Boyz II Men.
Innis & Gunn CEO Dougal Sharp told The Grocer, "We had a lot of fun making this beer, doing things that have never been done before in brewing, much like couples will be doing behind closed doors once they've seen the film."
Only 200 bottles were made and will be sold on the brewer's website for €30 (roughly $34) a pop.
So if your Valentine's Day plans consist of a romantic dinner for two and then an evening showing of Fifty Shades of Grey (which opens in theaters everywhere on February 13), you might want to guzzle this down before your wild night begins. Because the story of Ana and Christian is all about taking chances together and exploring new sources of pleasure, right?
Happy trails to you, lovebirds.
Image: Fifty Shades/Focus Features; Beer/The Grocer