How 1 Emoji Can Affect A Criminal Investigation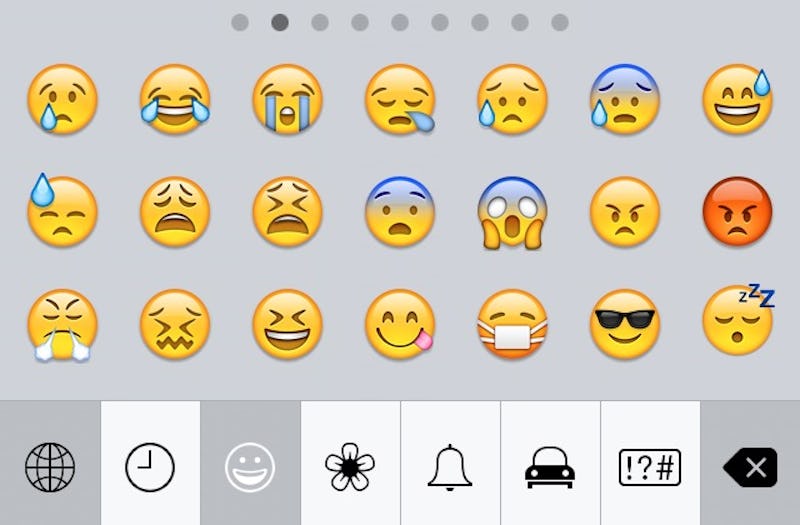 At the trial of Ross Ulbricht, the man charged with running the online black market Silk Road, a rather unique objection was made by the defense attorney. It turns out when the prosecution read aloud an Internet post written by Ulbricht, they had excluded one crucial component of the statement: a smiley face emoticon. In a time when our online lives are becoming more intrinsically part of who we are IRL, the objection — and determination by the judge, Katherine B. Forrest, that emojis should be read to the jury — demonstrates the unique challenges of incorporating online interactions into real-life decision making.
Does a smiley face emoticon change the context of a text message or Facebook post? Ask anyone who's received a perplexing symbol from a friend, or sent a winking face after a scathing comment to lighten the mood, and you have your answer. But now that emoticons are being used as evidence in criminal investigations, understanding their nuance is going to get more complicated than deciphering what your crush sending you a smiley face wearing sunglasses means.
In fact, the Supreme Court is currently considering how the First Amendment applies to social media. Before them is the case of Anthony Elonis, who was prosecuted for leaving messages on Facebook that his estranged wife deemed threatening. At the center of the case is Elonis' claim that the posts — which included a suggestion that his son's next Halloween costume include his wife's "head on a stick" — were in "jest," indicated by the inclusion of an emoticon of a face with the tongue sticking out. The Justice Department argues that Elonis' intent doesn't matter, and that Elonis can be punished for creating "fear and disruption."
But Dalia Topelson Ritvo, an assistant director of Harvard Law School's Cyberlaw Clinic, told NPR that context and intent are the most important factors in these types of cases.
The ideal situation would be that if I wrote a text, and my text was admitted as evidence in trial, then the attorneys could ask me what I meant by that. This is also the same thing that happens, for instance, when slang is introduced into evidence. Not everybody uses the same words in the same way, and it's up to the attorneys, in presenting their cases, to be able to clarify that.
Ultimately, emoticons used in texts and Internet postings presented as evidence are now being read in the Silk Road case. Joshua Dratel, Ulbricht's defense attorney, had requested that all online statements, chats and emails be read by the jury, as reading the statements out loud could "distort a writer's meaning." Instead, the prosecution is noting aloud each time an emoticon makes an appearance.
Issues like those in the Silk Road trial and currently before the Supreme Court exemplify what a difficult time the legal system has regulating and effectively prosecuting, if necessary, cases involving technology. Until they play catch-up, as Pacific Standard noted, you might want to watch what you emoji.
Images: iPhone screenshot (1); Getty Images (1)