Derek Luke Provides Some Security on 'Empire'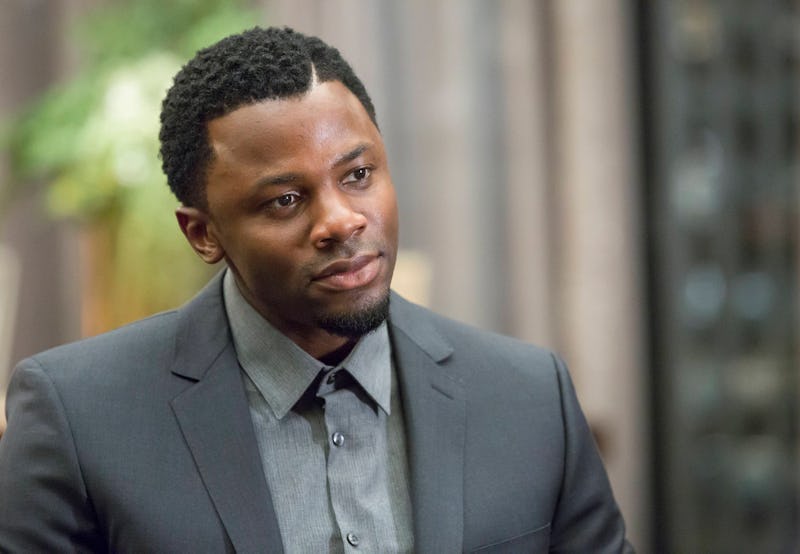 There have been so many exciting musical guest stars on Empire already this season — and even more on the way — that sometimes it's easy to forget that the actors making non-singing cameos are also bringing some serious heat with their performances. Like fellow non-musician Cuba Gooding, Jr. did earlier on the show, award-winning actor Derek Luke will appear on Empire, and he doesn't need a soundtrack to make a big impression.
Luke plays Malcolm Devoe, the new head of security for Empire Entertainment. Lucious hires Malcolm in the show's sixth episode, "Out Damned Spot," airing Feb. 11. Considering that Jamal's most recent recording session got shot up in an attempted robbery, and the fact that Cookie put out a fatal hit on a powerful gangster, I'd say Malcolm's services are about to come in very handy. Since it's clear he's going to be sticking around Empire for a little while, let's get to know Derek Luke's past work. The actor is best known for starring in 2002's Antwone Fisher, but he's appeared in everything from Marvel movies to medical dramas to hip hop biopics.
Here's the promo for "Out Damned Spot." Looks like Lucious and Jamal are both going to be dealing with some tough questions soon.
Empire isn't Derek Luke's first time on TV, and he's worked extensively in film as well. Let's take a look at a few of his most notable performances.
Sean Combs In Notorious
Notorious B.I.G. was one of the most successful rappers in history, but he didn't do it by himself. In this film about the famous wordsmith, Luke plays Puffy (aka Puff Daddy aka P. Diddy aka Diddy), the producer who discovered Biggie in Brooklyn when he was just a teenager. Most people know Diddy for his own music career (and for being J. Lo's one-time fiancé), but the multi-hyphenate is also credited for helping many rappers, including Biggie, make a name for themselves.
Cameron Boones In Trauma
In 2009, Luke was cast as Boones in Trauma, an NBC show about emergency responders and paramedics working in San Fransisco. The show only lasted 20 episodes (after being cancelled and then renewed several times by the network). Still, Luke got to show off some serious skills playing Boones, who had many emotional scenes throughout the series.
Gabe Jones In Captain America: The First Avenger
Though Jones' name isn't mentioned in the film until the credits, Luke had a significant role in Captain America. Jones is a member of the Howling Commandos, an elite World World II military team led by Cap after he frees them from a HYDRA prison camp. Though Luke hasn't yet been featured in any other Marvel movies, there's a chance we'll see him play Jones again: in the comic books, the character has a romantic relationship with Peggy Carter, who's currently the subject of her own ABC miniseries, Agent Carter.
Gregory Thomas In The Americans
Luke only appeared in three episodes of The Americans last year, but his character, Gregory, had a big impact on the series. Gregory is a civil rights leader until, disillusioned about the American government, he is recruited by Elizabeth (Kerry Russell) to join the KGB. They also form a romantic relationship. At the end of his run, Gregory sacrificed himself for Elizabeth and the cause they both believe in.
You can see Derek Luke's first appearance on Empire on Wed., Feb. 11 at 9 p.m. on FOX.
Images: Chuck Hodes/FOX; TheyDeserveVeryMuchBetter/Tumblr; Giphy