These DIY Confetti Cups Are Oscar-Worthy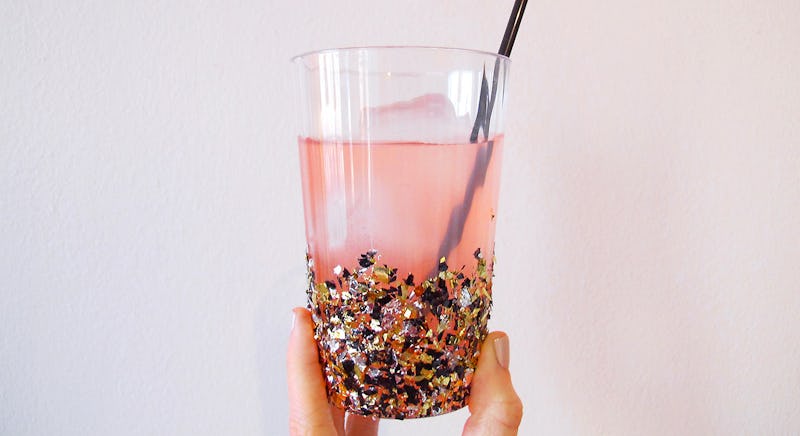 As far as I'm concerned, awards season is the greatest time of year. The Oscars might be my favorite non-holiday holiday, and for obvious reasons. Phenomenal (or sometimes totally heinous) billion dollar gowns, check. Narcissistic, oblivious-to-the-real-world excess, check. James Franco, check. An excuse to throw an Oscars party and enjoy copious amounts of fancy finger food and mix cocktails on a Sunday night, check-check.
Because The Academy Awards are pretty much an all-day event at this point (I think Giuliana Rancic gets up at like 2 a.m. to start hair and makeup), it is important that you are equally prepared for festivities in advance. This way you can start watching E! pre-shows at noon. You cannot risk topping crostinis (or putting some Trader Joe's frozen appetizers into the oven) in the kitchen when Emma Stone could be arriving in Lanvin at any moment. Just because the "Mani Cam" is maybe the worst/most embarrassing gimmick in recent live television history doesn't mean you can tear yourself away.
Throwing your own Oscar night soirée does not have to be stressful, expensive, or time-consuming. And as long as you're going to be watching the stars dress up on TV, you might as well amp up the glam factor at home, too. A few simple DIY party hacks done a day or two ahead can take your fancy fete from standard to stand-out. Don't believe me? Just take a look at this quick trick to dress up basic plastic party cups. It's almost too easy.
What You'll Need:
Clear plastic cups — I used these. The ridges make the whole thing look a little fancier. Like real crystal.
1 bag of confetti — I used an ultra fine mix of black, silver, and gold. You can use glitter instead, but I've found that confetti sheds less.
Clear Tacky Glue
1 sponge or tissue
1. Prep Your Cup
Squeeze a thick, quarter-sized bit of glue onto your squished-up tissue or sponge. Dab the glue along the bottom edge of the cup, and then vary consistency about a third of the way up the cup. Keep the bottom more evenly coated than the top to achieve a sort of ombré effect.
2. Dip Your Cup
I emptied my confetti into a wide-lipped jar to make this part easier. You could also use a paper plate or bowl — just make sure it's something that a little glue won't hurt.
Spin the cup around and up and down to ensure that all the gluey areas get covered.
3. Shake It Off
Tap the cup over the garbage or an empty bag to make sure all the excess confetti comes off. Do this again after the glue has gotten a chance to dry.
Make sure any confetti that snuck into the cup gets brushed out. You probably don't want to be drinking that.
4. Drink Up!
Fill your once-boring-now-festive cups with your drink of choice, and return to the important stuff like determining whether or not Jennifer Aniston played it too safe with her dress choice.
Images: Jenna Wexler (6)