Chris May Cancel His Own Rose Ceremony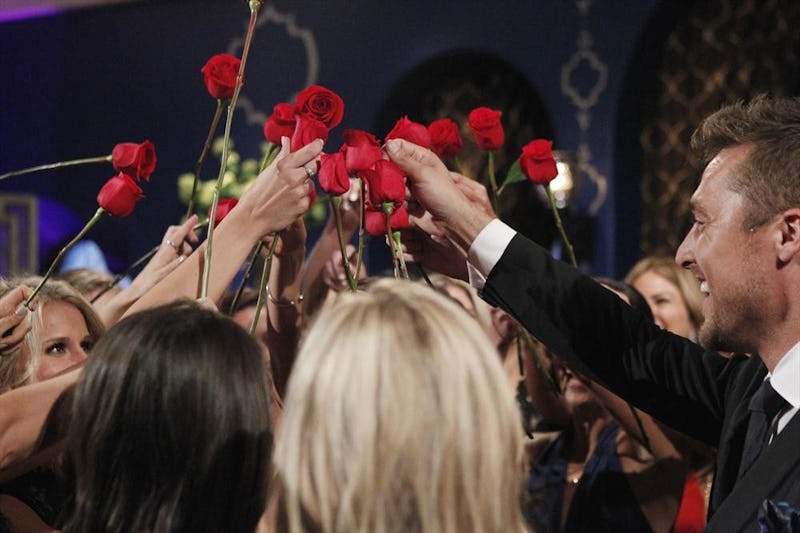 Chris Soules is getting closer and closer to finding his Mrs. Right (though Mrs. Right Now is more probable) on this season of The Bachelor, and every week we say goodbye to a few more lovely ladies. Sigh. Though many have called Chris "boring" and "a lame Iowa farmer" (OK, that last one was just me), his season hasn't been that uneventful at all. We have a few weird hippie chicks (Kaitlyn and Britt), an automatic villain (Kelsey), two virgins (Ashley I. and Becca), a girl with weird eyebrows (Casey), and then a bunch of other nameless girls no one will really remember after this. But don't worry — there's enough d-r-a-m-a to go around and potentially even a canceled Bachelor rose ceremony.
Last week, widow Kelsey snuck into Chris' room and told him her tragic story about her husband just suddenly dying out of nowhere. It's sad, but Kelsey's not that sad because "my story is amazing," you know? Chris is very affected by this very sad story (note: I know it's always tragic to lose a spouse, but from where I sit Kelsey appears way too cheerful about telling Chris about her dead husband), and he cancels the pre-rose-ceremony cocktail party because he is too overcome with emotion about "living life to the fullest" and "embracing life" and whatever other cat poster Kelsey recited in his suite. And now, with Kelsey's panic attack, it looks like the rose ceremony might get the axe too.
All of this got me thinking: Has a bachelor/ette ever cancelled a rose ceremony before?
Chris has played fast and loose with changing cocktail party rules: He morphed the cocktail party to a pool party a few episodes back (much to the chagrin of Ashley I., who wanted to "try out her Kim Kardashian look," which is not that pool-friendly), and he, of course, nixed this week's cocktail party because of Kelsey's sad story (which caused her subsequent self-diagnosed panic attack). And that sort of switcheroo has happened before — Bachelorette Andi Dorfman also knew when her mind was made up, canceling the cocktail party when she was with the guys in France. But no bachelor/ette has ever completely ditched a rose ceremony.
Honestly, it's not that surprising from the production side of things, because The Bachelor knows it needs a bunch of girls standing on risers in high heels to make things interesting. Lusty looks, worried glances, tentative smiles — these all happen during the rose ceremony. But from a suitor standpoint, many of the bachelor/ettes have to have known who they were going to eliminate even before the cocktail party, so what's the point of having a rose ceremony? Well, d-r-a-m-a, for one.
Due to the fact that last week's episode ended in a "to be continued" because of Kelsey's "panic attack," this week's episode should open with the rose ceremony and the eliminated girls, right? Wrong. Chris seems to have such a soft spot for Kelsey and her widow story that I wouldn't be surprised if he just
A. Told the producers who he wanted to eliminate and called it a night
B. Eliminated nobody
Why does this make things interesting? No bachelor has ever done it before, and it also forces this week's two-on-one date with Ashley I. and Kelsey into a pretty awkward situation. The virgin versus the widow: Who will win? It's almost ridiculous that there is no shortage of gladiator-esque pairings of women-on-women fighting this season. It really doing wonders for lowering the general depiction of women on television. Thanks, Chris. At least this season isn't boring? That's enough, right?
Image: Rick Rowell/ABC; Giphy (2)