22 Last Minute Halloween Costume Ideas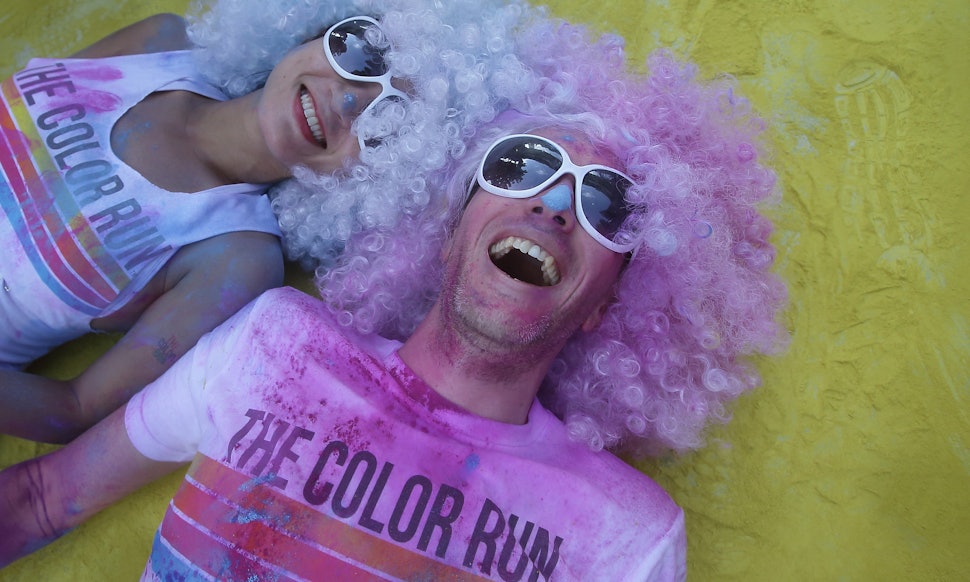 Suhaimi Abdullah/Getty Images Sport/Getty Images
Search for "easy" or "last-minute" Halloween costumes on Pinterest and you'll turn up a loooot of sexy cats, sexy cat-burglars and sewing projects only a Mormon mommy-blogger would deem DIY. If you want a costume that requires little-to-no advance planning and also covers your upper thighs, you're pretty much left to your own imagination. Or this post! I'm not saying these are the best low-effort, DIY costumes—But maybe they might jump-start your imagination. And if not? Just put on a wig. No one questions a girl in a wig.
RELATED: More Halloween Costume Ideas
Image: Fotolia
Theme Marathon Runner
Put on your workout clothes and tape a number to your stomach. Boom: You're a marathon runner! Take it one step further by adding glitter, face-paint and novelty socks and pretending to be someone in one of those ridiculous theme races.
Image: Pug Father via Flickr
Frida Kahlo
Just put on your brightest dress, draw in the unibrow and stick a few flowers in your hair. Bonus points if you have a monkey.
Image: libbyrosof via Flickr
Winona Ryder in 'Reality Bites'
If you've got brown hair, a red shirt and round glasses, you can go as Winona Ryder in Reality Bites. Bonus if you go around acting whiny and entitled all night long.
Image: Facebook
Janeane Garafalo in 'Reality Bites'
Red lipstick, awesome sunglasses and a baby-doll dress and you're Janeane Garafalo's Reality Bites alter-ego. With the 90s so hot right now, you can probably find all this stuff at Forever 21.
Image: Facebook
A Person in a Cut-Out Skull T-Shirt
Take an old t-shirt and cut it into an creepy scull face. It says: I'm not really trying, but I do have fine motor skills.
Image and DIY tutorial: via Desire and Inspire
Elaine from 'Seinfeld'
Put your first job interview suit (or any terrible 90s leftovers) to good use as Seinfeld's Elaine.
Image: NBC
Kerry Washington in 'Scandal'
It helps if you have a long white coat, but all you really need is some tailored business attire to pull off Scandal's Olivia Pope.
Image: ABC
80s Pat Benatar
Do you have an ill-thought-out Urban Outfitters or American Apparel purchase from the past few years? Chances are you can make it into a badass Pat Benatar costume. Just be sure to get the snarl down right.
Anonymous
James Dean
The Gloss suggests you find a red windbreaker, add jeans and a white tee and slick back your hair and you're James Dean in Rebel Without A Cause.
Image: Cinemascope
A Yogi
Throw on some yoga pants, a sports bra and a tank-top (bonus points if it's neon) and you can go as a yogi. This gives you a good opportunity to go around stretching and doing poses all night, if you're into that sort of thing. Plus you get to go barefoot all night, which is a worthy goal in any Halloween costume.
Image: lululemon athletica via Flickr
A Pumpkin
Coachella Attendee
If you're too self-respecting to wear a superfluous headband, bandeau top and 37 bangles at the same time in real life, do it on Halloween!
Image: Flickr
Annie Hall
Borrow your boyfriend/brother/dad's tie and vest, put on some khaki's and you're Woody Allen's most famous heroine.
Image: United Artists
A Down Marker
Costume idea via my lovely little sister. All you need is different colors of felt (pro tip: the headpiece will, however, make getting in and out of cars difficult).
Adele
Put on an old prom dress, flip your hair at the ends, do some glam make-up and make this face all night.
Image: Getty
Wendy Davis
Kermit the Frog
Draw eyeballs on two ping-pong balls and attach them to the top of a headband. After that, a green turtleneck or some green bunting around your neck are all you need. Blogger Rad Megan offers a great tutorial.
Image: kipbrin via Flickr
A Ballerina
Break out old ballet shoes or just go the tights and leg-warmers route. Add a leotard and a hoodie (bonus for an off-one-shoulder sweatshirt) and you're an off-duty ballerina.
Image: Getty
A Givenchy Glitter Model
Tina Belcher from 'Bob's Burgers'
All you need for Bob's Burgers' Tina Belcher is a blue shirt and some black-rimmed glasses. Consider it an aughts take on your old Daria standby.
Image: FOX
Angela or Rayann from 'My So-Called Life'
Because who doesn't want an excuse to wear flannel on Halloween?
Image: MTV