'RHOA' Claudia & Porsha Get Into a Coworker Fight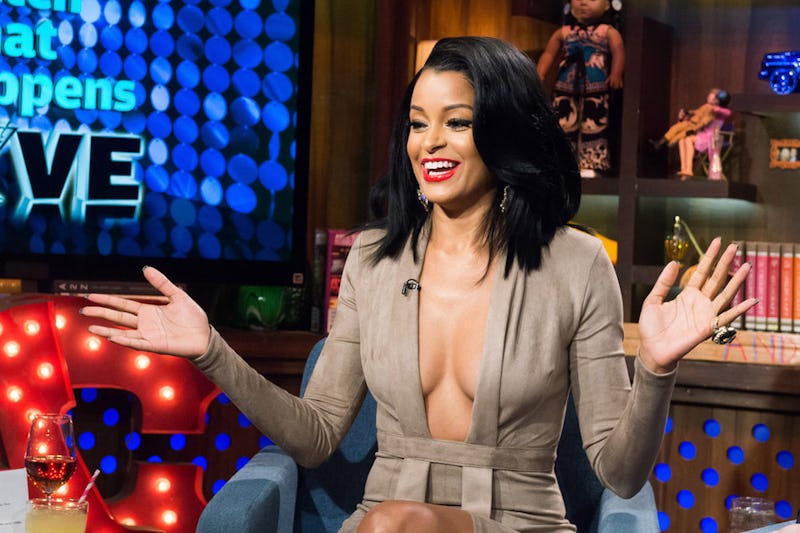 Does anyone still love Claudia Jordan? Besides me, I mean? Claudia and Porsha clashed at a Rickey Smiley Dish Nation party where Porsha was the guest of honor, celebrating her new job as a cohost on the TV version of the show. The rest of The Real Housewives of Atlanta didn't bother to show up to the event, but they missed out on a very passive aggressive fight between Claudia and Porsha. But don't worry, it was not over the potential date between Claudia and Kordell Stewart, Porsha's ex-husband. Thankfully, dude drama stayed far away from this conversation, and there was no discussion of clits, either.
In fact, it was over just some regular mean-girl ish. Porsha and her clique thinks they're above Claudia's clique, which is shrinking by the week. Pretty much only Kenya and maybe Cynthia are left to stick up for her. She wasn't even supposed to show up to the party, as Porsha said to NeNe at a shrimp n' grits lunch meeting they had seemingly only to talk crap about Claudia and Kenya being unmarried. The lamest of shade — and, by the way, Claudia was married, NeNe, so make sure to double check your facts.
But Porsha should have known — never extend an invitation to your enemies through your publicist. That always goes poorly. Claudia knew that she wouldn't be welcomed with open arms, so she put on a tight dress, a tighter wig (to prevent snatching), and went to the party in a show of Rickey Smiley Morning Show solidarity.
What I still like about Claudia is that she approached Porsha in order to congratulate her on a job well done and tried to mend the awkwardness between them by being the bigger person. Not beg for forgiveness, but just go from being in danger of having her wig snatched to polite smiles... because they do have to work together.
Sure, she rolled her eyes about Porsha trying to blow out a sparkler, but not to her face and not with any excessive force. She only resorted to shade after things turned out badly. But neither one came out of this smelling of roses, because after all, they did get into a huge argument at a work party. We'll have to wait and see if they can continue to work together in the following episodes. But things have not cooled off between these two one bit.
Image: Charles Sykes/Bravo