Kenya & Roger Bobb's Collaboration Is On Its Way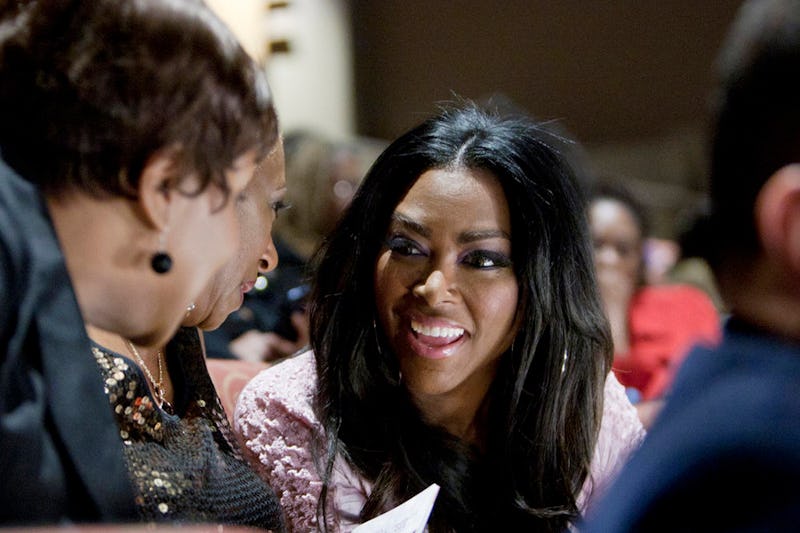 Roger Bobb & Kenya Moore: two names that suggest nothing more than endless Real Housewives of Atlanta drama, usually because of sketchy relationships. But Kenya has insisted that she's only ever been interested in Roger B. for his his production skills, so did Roger & Kenya work together? Their pitch meeting had the fade in/fade out crosscutting that's used in every reality show to suggest that something is boring and going on for a super long time. Roger was willing to play along with Kenya's shady single-spaced TV treatments. But he shut it down immediately when Kenya said she needed him "at her beck and call, 24 hours a day, seven days a week." Even after that rocky moment, they were able to end the meeting on tentatively good terms, with a promise to call one another's lawyers. But did that ever materialize into anything concrete? Maybe.
A site called "LA Late" has an exclusive story stating that one of the many different projects Kenya pitched in the meeting, Life Twirls On, is currently in post-production with Bobbcat, Roger's Atlanta company. The article doesn't make the timeline all that clear, and we haven't heard any confirmation from Kenya or Roger yet. But according to the article, the Life Twirls On pilot was filmed in late 2013 (so presumably before this episode takes place?) and was written, directed, and produced by Kenya herself.
We saw Kenya and her friend Brandon beating out the opening of Life Twirls On, with the shade removed and a small part for Cynthia, formerly of The Cosby Show, we found out. All we know of the plot is that it's a comedy that stars Kenya as a highly successful former supermodel whose wedding day is ruined by the revelation that her fiance is having sex with her sister. While that sure sounds like the type of part Kenya would write for herself, as being successful professionally but unlucky in love is basically her "thing," I'm not sure that 2013 production date checks out with a potential 2015 airdate on Bravo. But LA Late reports:
"And while fans of RHOA may see production preparation for Life Twirls On during the RHOA 2015 season, as of a few weeks ago details were still be ironed out as to whether Life would come to BravoTV this spring. The show, owned by Moore, went into Georgia production and then Los Angeles post production."
Maybe it's true and the show is just now getting close to getting picked up as a Bravo special. But it's also possible that we'll have to wait indefinitely for Life Twirls On... listen to "Gone With the Wind Fabulous" as you cry yourself to sleep.
Image: Wilford Harewood/Bravo