29 "Guilty Pleasure" Pop Songs You'll Love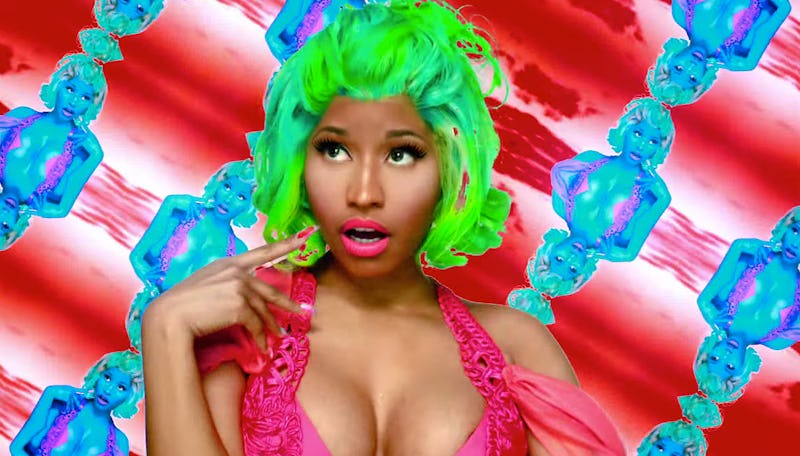 I think we've all experienced something like this before: there you are, sleepily driving to work in the morning, just minding your own business, when all of a sudden, the Spice Girls' "Wannabe" comes up on your iPod. In an instant, you're screaming "Zigazig-ah!" and dancing along to the track like a maniac. You feel incredible. The person in the car next to you is probably staring (correction: they're definitely staring), but you don't care! The song is just too damn good to sit still. Of course, if anyone ever asks, no, you do not like the Spice Girls, and, no, you do not know all of the words to their songs. That would be ridiculous! They're just a "guilty pleasure," that's all — your little secret. Sound familiar?
We all have songs that we don't want to admit to liking from time to time, but today, I'm urging you to try to have a little less shame in your music game. The term "guilty pleasure" is often used to describe music that is supposedly so bad that people feel "embarrassed" listening to it, but the way I see it, if you're enjoying a song on any level, then the artist and/or composer must've done something right... right? Right! So, the music really isn't that bad, and there's no reason to feel ashamed!
That being said, here are 29 of the best, catchiest, and most outrageous "guilty pleasure" pop songs from the last 10 years that you absolutely, 100 percent should not feel guilty about loving:
Natasha Bedingfield — "Unwritten" (2005)
Feel the warmth on your skin, everybody!
Hannah Montana — "Nobody's Perfect" (2007)
Strangely enough, this song might be perfect. Go figure.
Avril Lavigne — "What the Hell" (2011)
"So what if I go out on a million dates?" is an actual line from "What the Hell." I'm in love.
Ida LaFontaine — "Anthem" (2014)
Ida LaFontaine is beyond adorable.
Cassie — "Me & U" (2006)
You won't be able to get this one out of your head. I promise.
David Archuleta — "Crush" (2008)
Whatever happened to American Idol runner-up David Archuleta, anyway?
Wynter Gordon — "Dirty Talk" (2010)
Simply put: it's amazing.
Owl City & Carly Rae Jepsen — "Good Time" (2012)
This track is pure ear candy.
Meghan Trainor — "Lips Are Movin'" (2014)
Yeah, "Lips Are Movin'" is "All About That Bass 2.0," but it's super catchy, so I don't really mind.
Lil' Mama — "Lip Gloss" (2007)
Just so we're clear: this song is about magical lip gloss. OK, just wanted to make sure we're all on the same page.
Miley Cyrus — "The Climb" (2009)
The lyrics speak to me.
Bella Vida — "Kiss Kiss Me Bang Bang" (2011)
Bella Vida is (or was?) made up of Baywatch star David Hasselhoff's two daughters, Taylor and Hayley. I have no idea what the song's about, but I'm obsessed with it.
JoJo — "Too Little Too Late" (2006)
Tell him, JoJo!
Mariah Carey — "Touch My Body" (2008)
"Let me wrap my thighs all around your waist, just a little taste..." = lyrics of the century?
Cady Groves — "We're the Sh!t" (2012)
Guaranteed to make you feel like you can take on the world.
DHT — "Listen to Your Heart" (2005)
I'm always up for a cheesy up-tempo remake of an already cheesy '80s song. Always.
Jordin Sparks — "Tattoo" (2007)
Anxiously awaiting Jordin Sparks' comeback.
Shontelle — "T-Shirt" (Bimbo Jones Remix) (2008)
One of my forever jams.
Nicki Minaj — "Starships" (2011)
Anyone who can make it through the first chorus without smiling is a mutant.
Amy Grant — "Baby Baby" (David Audé Radio Edit) (2014)
Yes, this song did need a dance remix, thank you very much!
Neon Hitch — "Gold" (feat. Tyga) (2012)
It's kind of irresistible.
Jessie James — "Boys in the Summer" (2010)
Jessie James knows what she wants, and what she wants is for guys to take their shirts off. I can't really argue with that.
Lindsay Lohan — "Bossy" (2008)
Why wasn't this song No. 1 everywhere for months? I'm at a loss.
Glee Cast — "Loser Like Me" (2011)
The show's best original track.
Selena Gomez & The Scene — "Naturally" (2010)
I think I like this one so much because it reminds me of '90s bubblegum pop band Aqua.
Taylor Swift — "Love Story" (2008)
Beautiful. (Just kidding. It's pretty cute, though.)
Iyaz — "Replay" (2009)
Iyaz's first (and only) hit single is so catchy, it's almost annoying. Almost.
Britney Spears — "Radar" (2007)
An endless onslaught of hooks (and horses for some reason).
Reba McEntire — "Turn on the Radio" (2010)
With its "hip" references to texting and Twitter, this song feels a bit like a desperate attempt by Reba McEntire to remain "relevant"... but it's also really sassy and fun, so who cares?
Image: NickiMinajAtVEVO/YouTube