Meet Your New Rainbow Hair Inspiration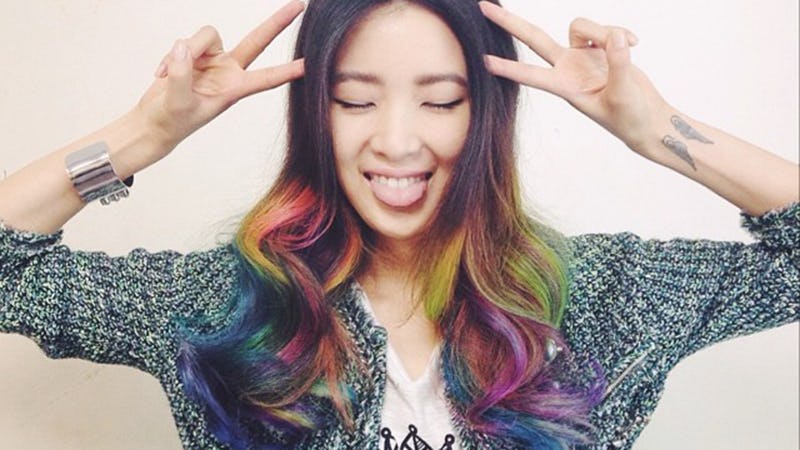 For a while now, Katy Perry has been reigning queen of the colorful hair world. Sure, fellow pop stars like Lady Gaga and Rihanna have been known to switch things up quite a bit hair-wise, it's probably Katy who does it with the most frequency — heck, she even changed her hair (color and length) twice during the Grammys. That said, there's a certain Korean American model who's got even Katy beat when it comes the spectrum of rainbow hair... meet Irene Kim (@ireneisgood on Instagram), model/street style queen/Korean TV personality/hair fairy princess, extraordinaire. She just happened to rock a very similar look to Katy's Grammys red carpet 'do — does a wavy pale purple lob sound familiar? — and it looks like she just might have won this particular style throwdown.
Kim's hair has quickly become her signature look — according to a profile on Refinery29, it's often what gets her recognized (in the same interview, she referred to her ever-changing hair as "an ongoing art project"). When it comes to Katy Perry comparisons, her hair is generally simultaneously more subtle and more ostentatious — she favors ombre, muted pastels, as opposed to slime green — and she's got the art of hair coloring down to an absolute science. Let's take a look at some of Kim's best hairstyles, starting with the aforementioned purple lob:
Purple
Pink and Purple
Ombre with Flowers
Fading Rainbow
Bright Rainbow
Aquamarine
Subdued Colors
Steely Teal
Peach and Purple
Fuchsia
BRB, making an appointment to dye my hair into a beautiful unicorn mane.
Images: ireneisgood/Instagram