Where To Get Your 'Fifty Shades' Gear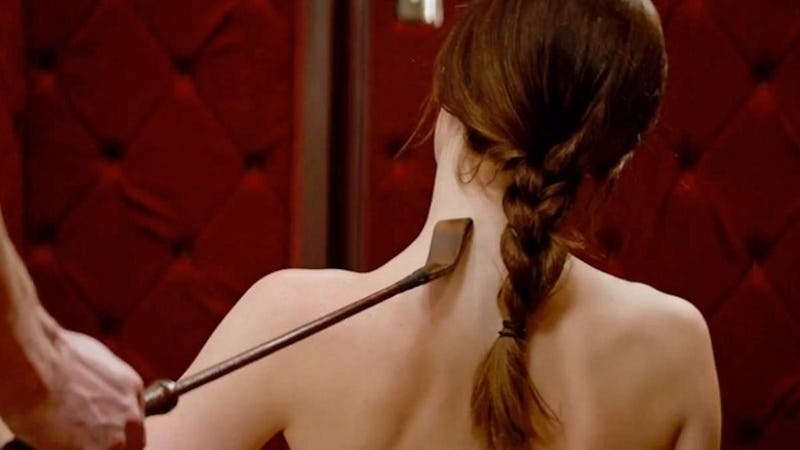 The release of Fifty Shades of Grey is almost upon us, so it's perhaps to be expected that many will likely be inspired to explore kink in the bedroom. But British home improvement retailer B&Q is taking that expectation to a whole new level: A recently leaked memo revealed that the hardware store is working hard to make sure its employees are prepared for any Fifty Shades- esque DIY bondage questions that may come to their attention from customers seeking to reenact Christian and Ana's hottest scenes. Given that the memo specifies at the bottom that it is not to be circulated outside the company, I'm sure whoever leaked it is going to have hell to pay; however, that doesn't change the fact that the Telegraph has managed to get its hands on the whole thing. You know what, though? I actually don't think it's that bad. It's certainly not scandalous; if anything, it paints B&Q as an understanding company that makes sure it's A) ready to handle whatever might be coming its way, and B) that they're able to handle it in a respectful fashion.
"When the book was released in 2012, DIY hardware stores in the UK and US reported increased demand of certain products and queries from customers as they tried to recreate their own Fifty Shades experiences," the memo reads. "We need to be prepared for the same effect when the film is released this month." Fair enough. Here's where it gets interesting, though: Although the memo does note that "it is always B&Q's policy that products should only be used for their designated purposes," they're essentially telling their employees not to lose their marbles if someone asks them about something a little more delicate than how to wire a light switch. "Queries may be unusual and sensitive in nature," the brief reads, "but staff are reminded of B&Q's commitment to assist customers in a polite, helpful and respectful manner. A level of discretion is also advised." Copies of the book will also be made available to the staff at each store so they can familiarize themselves with the context from which these questions might arise. All of that sounds smart and forward-thinking to me, so B&Q? Good on you. Well played.
But while we're on the subject, there's also this: I'm not into BDSM myself, so I'm by no means an expert; I will, however, caution anyone who's interested in exploring BDSM very strongly against getting their equipment at a hardware store. Yes, I know Christian gets a lot of his supplies from the hardware store; he's fictional, though, while all of you out there in the world are real, flesh-and-blood people who might inadvertently end up hurting themselves if they just use any old rope for their bondage play. May I suggest one of these other fine purveyors of fun sexytime items instead? They're regular online sex shops, rather than BDSM-specific places; as such, the might be a little easier for beginners to navigate. You'll have better luck finding what you need than you will at a home improvement store — and you won't end up with painful rope burns, either.
Babeland? It is the best. It's the most positive, all-inclusive place to explore your sexuality that I know. I used to live by the Brooklyn location, which was terrific for so many reasons; not only do they sell lots of fun things, but moreover, they offer loads of workshops and are happy to answer any questions you might have. You can purchase from them online (here's their bondage section), as well as consult one of the many useful guides they have if you're not sure where to start.
Pure Romance founder Patty Brisben also started the Patty Brisben Foundation for Women's Sexual Health to support research geared towards increasing our understanding of women's sexuality and sexual health — everything from the changes we undergo when we hit menopause to vulvovaginal pain disorders. Have fun and help a good cause while you're at it. Check out their Masterpiece Bondage Collection.
Jimmyjane isn't known as much for their BDSM supplies as they are for their phenomenal vibrators — but I just stumbled upon something on their site called "A Darker Shade of Sexy" that looks like a good place for beginners to start. It's described as "an intro to fetish collection for two," and like all of Jimmyjane's products, the collection is aesthetically pleasing as it is fun-looking. It includes leather cuffs, a leather blindfold, a pair of Ben Wa balls, and an "Intro to Fetish" booklet.
If you're specifically interested in BDSM thanks to Fifty Shades of Grey, you might want to check out Eden's Fantasy — they've got an official tie-in collection sanctioned by E.L. James herself. The products all have hilarious names inspired by the series (including a vibrator called "Holy Cow!") — and yes, there's even a Christian Grey necktie filed under the "restraints" section.
Tape? Rope? Cuffs? Blindfolds? Sex swings? Other things? Adam and Eve probably has everything a beginner could possibly need. There are five pages' worth of entertaining-looking items in their kink section, so get ready for one helluva night.
Images: Universal Pictures/YouTube; Giphy (6)