The Most Ridiculous 'Fifty Shades of Grey' Tie-Ins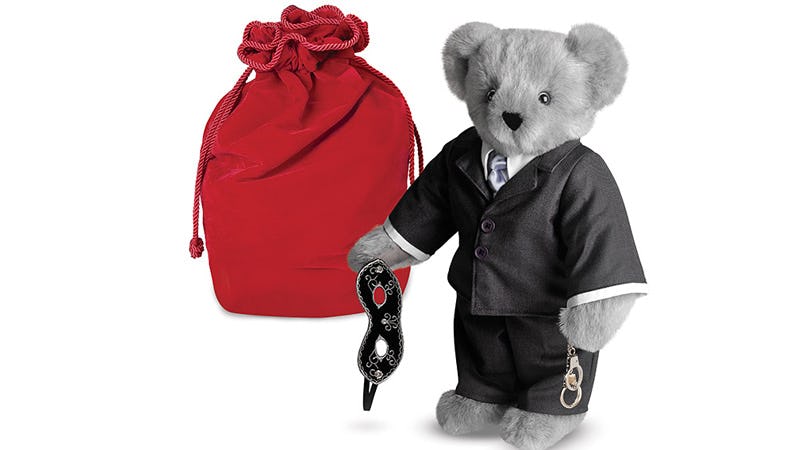 I realize that it's kind of old hat to go off about Fifty Shades of Grey tie-in products. After all, the hundred-million-copy bestseller — a piece of erotic Twilight fan fiction that went on to become an unparalleled international success completely by accident — has long had tie-in products available for fans eager to turn the book into a lifestyle, including the officially licensed Fifty Shades wines, the officially licensed Fifty Shades jewelry line, and the nightmare-ish (and thankfully unlicensed) line of Fifty Shades of Grey baby onesies, all of which might as well say "My Mommy Has Really Troubling Boundary Issues." (We'll get to the Fifty Shades teddy bear in a second.)
The run-up to the film's release has flooded our store shelves and Internet holes alike with a new wave of tie-in products — some of them quality items designed to help fans feel like they're fully experiencing their favorite book on every possible level, and others totally crass nonsense cash-grabs, a la the officially licensed Twilight hair straightener.
I'm not talking about the officially licensed nail polish collection (which includes shades besides gray, but hey, no judgments here) or even the officially licensed ben wa balls. I'm talking about tie-in products far more questionable; tie-in products that may make you question the nature and existence of tie-in products, and also the nature and existence of products, and also maybe the nature of human existence in general.
Do we want to share a world with the Fifty Shades of Grey teddy bear? Or would we all be better off going to go live in a canyon somewhere, living off what we forage, with nothing to jill off to except the sounds of our neighbors banging? I can't answer that for you. But if any of the five Fifty Shades tie-in products below send you running off to join a yurt-based nature cult and pursue a simpler way of life, I'll understand.
Was your last party a failure? It's probably because you forgot to bust out this question-based board game, which feels like nothing so much as a version of Girl Talk updated for sexually active adults. The game's promise of "intriguing vanilla style questions that will put you and your friends under the microscope and reveal the hidden truths" offers more questions than answers, of course, and the fact that almost every single Amazon product review of the game includes the word "wine" does make the game's inherent entertainment value seem a little questionable.
But hey, if you were looking for some sexually invasive questions to ask your friends in order to distract them from how much wine you drink, you could do a lot worse than this.
After a long day of being a glamorous, emotionally tortured billionaire who's addicted to spanking, sometimes, you just need to kick back and grab a cold one. A cold one that will also give you a boner, as this non-authorized tie-in product — manufactured in extremely limited quantity by Scottish brewers Innis & Gunn — promises.
How does it plan to deliver said boners? Through an infusion of powerful traditional aphrodisiacs, like ginseng, ginkgo biloba, and also ... beer. What does this beer have to do with bondage and private planes? Does E.L. James simply have a trademark on the concept of boners at this point? I don't want to say "yes," but I also feel like we've become too close for me to lie to you.
Concerned that the people standing behind you on line at the bank might not know exactly what you like to masturbate to? End that eternal struggle once and for all with these tights, which are actually pretty cute, and will almost definitely confuse whoever it is that you actually have sex with (the same way your mom thinks all the houses in Harry Potter are called "Pliffendorf").
It's, you know, a love ring. To place on your, you know, love. Right now, you might be saying to yourself, "Why is she going after the ring when she gave the ben-wa balls a pass?" I had to ask myself the same question, and it was a toss-up between the cutesy euphemism of "love ring" (even the Durex drugstore equivalent of this has the dignity to refer to itself as simply a "vibrating ring") and the logo placement. It has "Fifty Shades of Grey" engraved right on the vibrator part, in case your clitoris is all "Is this officially licensed merch?"
So much has already been said about the Fifty Shades of Grey bear, and yet, so much more could still be said. We could write graduate theses about him, compose epic operas in his honor, and still not have answers to half the questions we have for this bear.
Like ... okay, it's just ... alright, the bear is carrying a tiny bear-sized mask, but then also comes with one human-sized mask? And then also he has these handcuffs? And the Vermont Teddy Bear website's ad copy says "Bear seduces her with silky, smoky Grey fur." Is she ... me? Am I ... her? I mean ... just ... am I supposed to bang this bear??
I noticed that the Vermont Teddy Bear Company offers a phone hotline where you can make contact with Bear Counselors, who are hopefully trained to talk us all through this traumatic event, and send us back down the road to wellness. Yes, every day is a struggle after finding out about the Fifty Shades of Grey bear, but if we take it day by day, and always remember to support each other, perhaps we can get through this together.
But if you are actually supposed to do it with the bear, someone tell me, okay?
Images: Vermont Teddy Bear, Giphy, Imagination Games, Hot Topic, Lovehoney