Why Is This Lingerie Commercial Banned From TV?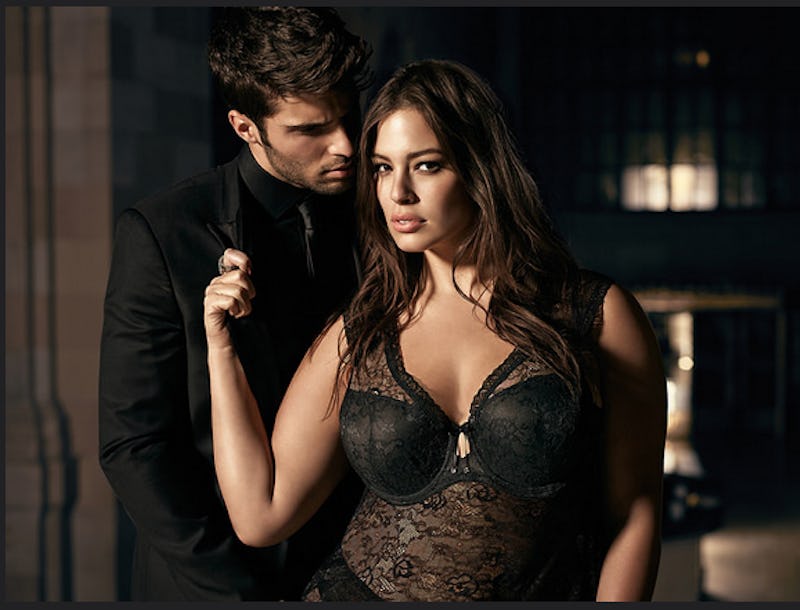 Maybe you're shopping for a little lingerie for yourself — or to reveal to someone special — this Valentine's Day. If you're plus-size, you probably already know and drool over Addition Elle's intimates collection with plus-size model Ashley Graham. But if you were hoping to get a peek at the latest collection she's been working on, you're going to have to look someplace besides TV. In a newly shared press release, the company has explained that the ads were deemed "too racy" to run: "The racy video of the Ashley Graham Lingerie Spring collection for Addition Elle was too hot to release on TV this season, so the provocative trailer will be released in theaters across Canada along-side the film 50 Shades of Grey and other R-rated films."
You can watch the video below to decide for yourself if this commercial seems flagrantly sexier than your average Victoria's Secret ad — but I'm going to have to stick with a hard "no." I mean, it was definitely less racy than this year's Carl's Junior Superbowl ad. So why was it, like Ashley Graham's 2010 commercial for Lane Bryant, not allowed onto TV screens? Only the censors can know for sure what prompted them to disallow the promos from running. But one thing's for sure: There's no way that a gorgeous plus-size woman in lingerie can possibly harm anyone's sensibilities more than a straight-size model can. If this whole controversy is to avoid "glorifying unhealthy lifestyles," I'm going to flip some tables: Our obsession with thinness is the first unhealthy thing we should be looking at banning instead.
Images: Addition Elle