Who Is Carl's Jr. Model Charlotte McKinney?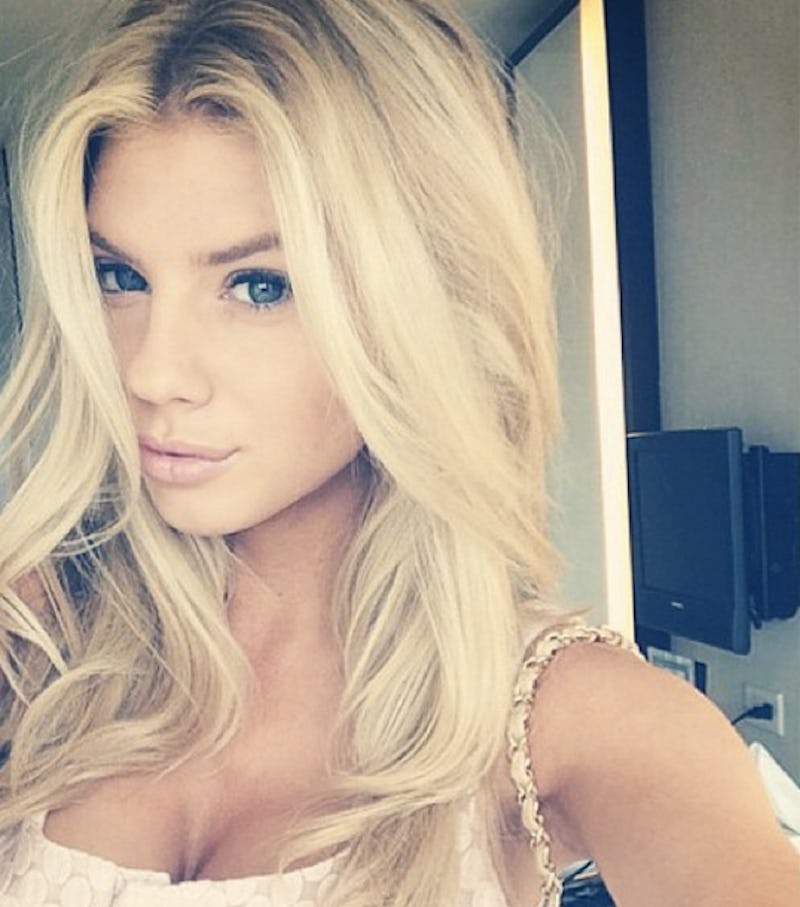 On Thursday, the world got another taste of one of the most important parts of the Super Bowl to come. When watching the annual program, people usually tune in for one of three reasons: (a) the actual football game; (b) the half time show; (c) the commercials. When Charlotte McKinney appeared in Carl's Jr.'s Super Bowl ad, I know I'm not the only one who was crying sexism just reading the description of it. However, no matter how you feel about the commercial, McKinney cannot be judged by the basis of walking through a fresh farmer's market in a bikini alone. So who is Charlotte McKinney? It might surprise you to know that the previously unknown model is not only Instagram famous, but essentially launched her career herself.
Of course, even as I side eye the Carl's Jr. Super Bowl commercial, knowing the story behind how McKinney got to this point is like putting a band-aid on the wound. With 226,000 Instagram followers and counting, and a career that caught fire when she was picked up as a Guess girl, McKinney has got a lot more going on than just the Super Bowl. She's quickly becoming a name to know, so here are seven facts about the model.
1. She's Body Positive
Believe it or not (believe it, because it's true), but McKinney was actually bullied a lot growing up, and confidence did not come easy to her. However, in an interview with Esquire, the model was quoted as saying, "I'm embracing what I have. I'm a curvier bombshell with big boobs. I'm not high-fashion. I don't do runway. You won't see me at Fashion Week." Modeling is a form of empowerment for her, and she owns it so well.
2. She Sympathizes With The Nude Hack Victims
In 2014, a horrific sex crime was committed against numerous celebrities when their personal nude photos were hacked and then leaked on the Internet. When asked by Fox News if McKinney thought Kate Upton was dumb for having taken the photos to begin with (not kidding), she responded with a classy, "When I saw it, my heart went out to her. It's horrible. It's happened to so many girls... Your phone is your privacy and you don't really think 'oh, the world is going to see this.' If anything, to me, it's more sad than [stupid]. It's tough."
3. She's A Self-Starter
According to the same interview with Fox, McKinney had "trouble with agencies" and booking jobs for a while. However, she refused to let that get her down. She asked her agent about the benefits of Instagram and then began using the website "more like a portfolio than just what I'm eating." She posted her modeling shots, personal selfies, and amassed over 200,000 followers before she ever landed her gig as the spokesperson for Carl's Jr.
4. She Values Hard Work — And Dissed Kendall Jenner
McKinney worked very hard to get to where she is, and thus she has no patience or love for those who don't seem like they have to work as hard. "A lot of girls have been working in this industry for years, and struggling," she said when asked about Kendall Jenner and Ireland Baldwin. "And they walk in one day because of their last name, but whatever. If people like them, then let them do it." Which is... a mature way of looking at things, at least.
5. She Dropped Out Of High School
According to numerous sources, McKinney dropped out of high school at the age of 17 in order to pursue her modeling career. However, according to Esquire, that's not the whole story. Her decision to drop out was made "in large part to bullying and girls being mean," a common problem faced by numerous people across America. (I'm sure there's nothing that will shut her bullies up faster than turning on the Super Bowl on February 1, so she's on the right track here.)
6. She's Close With Her Family
McKinney has a sister, a fact you can find out about her just from glancing through her Instagram. Not only is she frequently shown taking pictures with her sister, but the two of them dedicated their afternoon yoga session to their mother as part of their Mother's Day celebration. Can you say awwwwww?
7. She Found True Love
Okay, okay, just kidding. But whether this little boy is a son, a brother, a nephew, or a cousin... how cute is he?!
Image: charlottemckinney/Instagram