Gift Someone You Love an Edible Butthole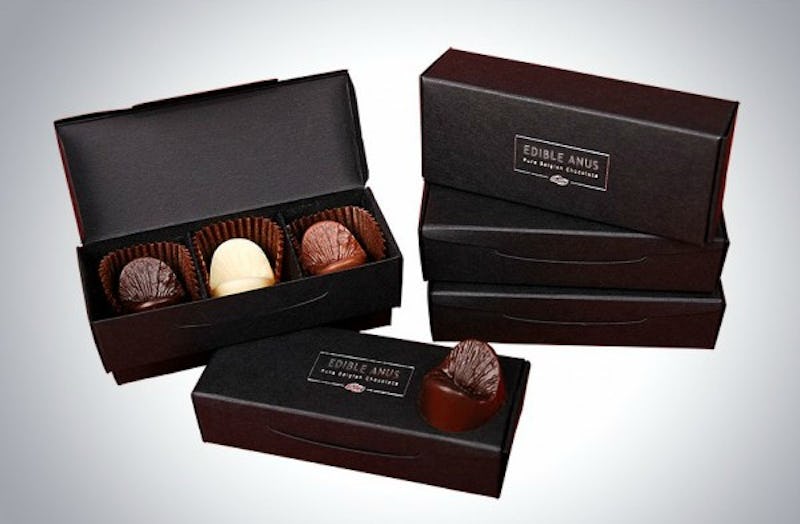 You may have seen this next little tidbit floating around the Internet in recent weeks; just in case you missed it, though, brace yourselves — things are about to get weird: Edible chocolate anuses are a thing that exist. For real. You can buy them. You can eat them. You can give them to your friends to eat. I'm not sure I'd go so far as to say that they're this year's candy of choice for Valentine's Day gifting, but, well… they're certainly… something.
We actually included these magnificently bizarre creations in one of our super weird Valentine's Day gift roundups earlier in the month — but you know what? They're notable enough to deserve their own post. Because, I mean... you guys. Someone actually thought, "Gee, you know what would make my Valentine's Day complete? A chocolate butthole. In fact, let's just make whole boxes of chocolate buttholes. Because who doesn't want to eat a box of chocolate buttholes?"
Who, indeed.
According to the Edible Anus website, the idea is the brainchild of London-based artist Magnus Irvin. In 2006, Irvin created a range of multi-colored chocolate anuses to present in an exhibit; during this exhibition, Irvin met Dutch businessman Michael Rizema, who was interested in turning Irvin's anuses into a marketable product. Perhaps the most hilarious part of the whole thing, though? Is the fact that they're modeled after a specific person's anus. Reads the website's "About" page:
"Initially Mr. Irvin tried to cast his own anus with messy and disastrous results. Whilst explaining his failure to a chance acquaintance at a bus stop, he was gratified to find that his fellow bus passenger was willing to allow him to cast her anus. The job was done in just over half an hour later that afternoon and all subsequent anuses have been based on this casting."
Thank you, kind stranger; you and your butthole have done the world a great service.
Irvin's edible anuses, which are made of the finest Belgian chocolate, come in boxes of three, with each box containing a "meek milk" chocolate anus, a "dilated dark" chocolate anus, and a "tight white" chocolate anus. All of those are technical terms, by the way, as specified by EdibleAnus.com itself. It appears the smallest order size available is a set of five boxes, which will set you back $38.95; if, however, you have a wide variety of people you would like to surprise, you can also get a package of 10 boxes for $72.95. Be warned, though: They've been so popular this year that they're currently out of stock. Reads the product page, "Due to high demand we will not be receiving more stock until Thursday, 13th Feb. These orders will not arrive in time for Valentine's Day. You can still place orders which will be shipped on the 13th but please consider this if you are buying for Valentine's Day!" Noted, EdibleAnus.com; we appreciate the fact that you've been so up front for us.
Ready for the close-up? Don't say I didn't warn you. Here you go:
Even though these chocolate sphincters have become a profitable venture, they still look back to their artistic origins. "We… believe the anus range can dissolve cultural boundaries of race, gender, class, and sexual orientation," Irvin and Rizema proclaim on their website. But how? How can a delicious chocolate novelty do this? When Phoebe Hurst of Vice's Munchies blog asked Irvin what he meant by this, he replied simply, "Well, most of us have got one and they're more or less the same." And you know what? He's right. However you want to put it, we're all, at bottom, the same: We're just trying to make sense of our time on this crazy planet we call Earth. We'd do well to remember that from time to time.
For the curious, Irvin has no plans to make other chocolate body parts; as he put it, "People ask why I don't make penises or vaginas, but it just doesn't have the poetry for me." In the meantime, though, let's all do what EdibleAnus.com asks of us: "Spread the joy and… teach the world to LOVE EACH OTHER AND LOVE THE ANUS." Ayyyyyyyy-men.
Images: Edible Anus (2); Giphy (2); WiffleGif