'Empire's Michael Is Already A Star In Venezuela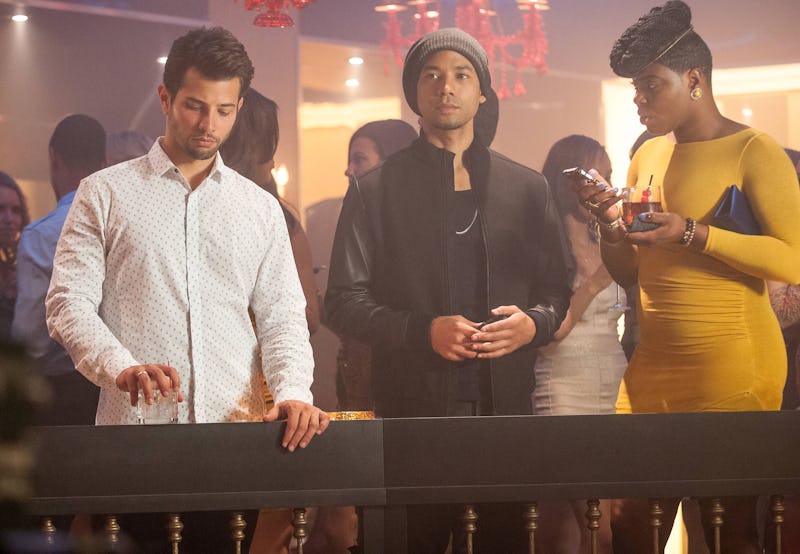 How do you make a great TV couple? Mix two parts romance with several obstacles, add a dash of sexiness, and there you go. Empire has mastered this equation with Michael and Jamal, the two men who make up the show's most stable relationship. But just because these guys are currently in a good place doesn't mean it will stay that way — Empire is a soap opera, after all. Soon we'll see how Michael, played by Rafael de la Fuente, deals with his boyfriend's newfound fame. From promos, it doesn't look like Jamal (Jussie Smollett) does a great job with the whole "publicly acknowledging his partner" thing.
Some members of the Empire cast, like Terrence Howard, Taraji P. Henson, and guest stars Courtney Love and Cuba Gooding, Jr., have been in the spotlight for years. But most of the cast are relative newbies, which means now is a great time to get to know them. De la Fuente in particular has an interesting backstory. The Venezuelan cutie has been a working actor for a while, but he only recently made the jump to English-language projects. But before we delve into why you should know Rafael de la Fuente, let's take a look at what to expect for his Empire character this season.
Here are three things you need to know about de la Fuente.
He Started Out On Telenovelas
In 2011, de la Fuente got his big break when he was cast in Grachi, a Nickelodeon Latin America series about a young witch who must battle against her evil high school principal who wants to take away her powers. Not exactly Shakespeare, but the show was broadcast throughout Central and South America, giving it a huge tween audience. De la Fuente played Diego, a student at the school who can control the four elements. It started out as a supporting role, but by the end of Grachi three seasons later, Diego had become a main character.
Then He Moved To An English-Language Remake
Starting last year, Grachi was remade for English-speaking audiences as Every Witch Way, which currently airs on Nickelodeon in the United States. For the remake, all the roles were recast with different actors, but de la Fuente was still able to be a part of the series. Too old to play a high school student, his new character is Coach Julio, the students' swim coach. Turns out, Julio is perfect for the job. As it was later revealed, he's actually a frog who was transfigured into a human being. Magic!
And He Sings Too!
As de la Fuente told Latina.com, his first love was actually music, not acting. The performer comes from a musical family, and he grew up singing with his guitarist father and in church. He even earned a degree in music, but switched to acting because was having more success in that field. But de la Fuente also told the website, "I'm starting to sing again because I've been inspired by the show." Does this mean that a duet between Michael and Jamal could be just around the corner? I can't be the only fan with their fingers crossed.
Image: Matt Dinnerstein/FOX