If 'Mindy' Is Canceled, It Had Better Wrap This Up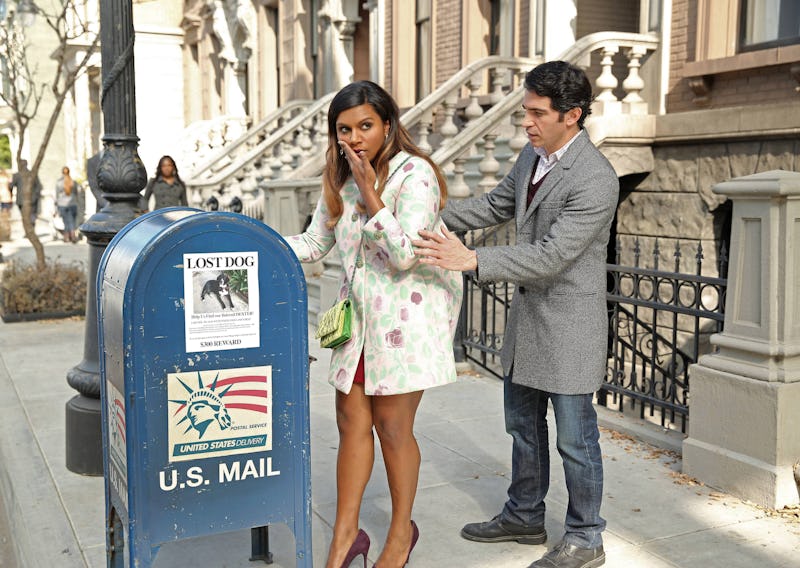 The Mindy Project has spent the last three years making us clutch our stomachs and double over with crazy-eyed laughter. The jokes on this show are spectacular, jarringly relatable, and gender neutral enough to tickle the funny bone of their loyal male and female viewers alike. So why hasn't it been picked up and ordered by Fox for the next 12 seasons? Well, probably because networks don't renew shows for that many seasons. And also probably because the ratings have bounced around from impressive to abysmal and not really hitting a consistently stellar pattern, making the possibility of The Mindy Project getting canceled a real one.
Every year since the pilot episode, Mindy's Mindians have had to cross their fingers and click their heels for a next season, and The Mindy Project Season 4 is no different. But at this point, fans who are still watching the show are locked in. We are invested. We are in love with these characters. And we do not want to say goodbye. But if that day should come, and Mindy doesn't get a fourth season, there are several loose ends in that desperately need to be tied up. We Mindians need some closure, Fox.
1. We Need To See Peter Again
It's only been a week and the void Peter left on fans is the size of the Grand Canyon. Peter brought this show to another level of awesome, and we need at least a few more d-bag jokes and maybe even a scene where he teaches his child how to play Flip Cup.
2. Beverly Needs a Crazy Career Change
Fans of The Office probably see Beverly like I do, as the Creed Bratton of Mindy's practice. She needs to be the point person on a Vegas casino heist, or behind bars, because she's a wild card and this job is too tame for her.
3. Tamra Needs To Become Rich & Famous
Based on her occasional antidotes, it sounds like the world views Tamra as a goddess who deserves her own reality show. And you know what? That's a show I would totally watch, so let's make that a thing, pretty please.
4. Mindy's Besties Need To Come Back
Did they disappear? Were they kidnapped? Why haven't they been mentioned? Even just one more Best Friend Day would be nice, because we know Mindy has a life outside the practice that doesn't involve Danny (right?), so let's see some BFF action!
5. Danny's Mom Needs a Happily Ever After
Because Rhea Perlman is a comedic treasure, she already feels like a main character of this show. Rather than Danny taking care of her, I'd like to see her falling in love or living with her best friend Dot and having girls' nights at da club.
6. Morgan Needs To Be Head Nurse or Running An Animal Shelter
Morgan "Ransom" Tookers is such a gem. He's loyal and loving and is constantly surrounded by puppies. He should end up with a successful career doing what makes him happiest, whether that's being Head Nurse at the hospital or running a shelter and making sure all the dogs in the world are going to good homes.
7. And Morgan & Mindy Need to Stay Close, No Matter What
These two need to end up together, friend-wise, because their banter is everything and they love each other in a very sweet undeniable way. Wherever Mindy goes, Morgan needs to be close by.
8. Jeremy Needs... Something
I have no idea what, because I feel like he's been in the background since the start of Season 2, but something needs to change for him because the dude can't seem to catch a break.
9. Danny Needs To Unleash His Old Man Rants On a Blog
Fans need to know that his grumpy thoughts are being shared, because those are the lines we, as fans, cherish most.
10. Mindy Needs to Meet Beyonce And/Or Lady Gaga
She's in the Bey Hive and a Little Monster, so fans deserve to witness what it looks like when Mindy meets a personal hero who is also extremely famous. I bet it's a glorious sight.
11. Mindy Needs To Be Completely Fulfilled (Whatever That Looks Like)
Whether it's being a kick-ass mom and wife to Danny and staying at home, or if it's being a working mom trying to keep a healthy work/life balance, or if she's a single mom and crushing it at work, Mindy needs to be happy. Because Mindians know one thing to be true: Mindy is all of us and we are Mindy. However she achieves said happiness is important to all of us.